Rebels roll over Jackson State, 63-13 — PHOTOS
September 1, 2016 - 11:49 pm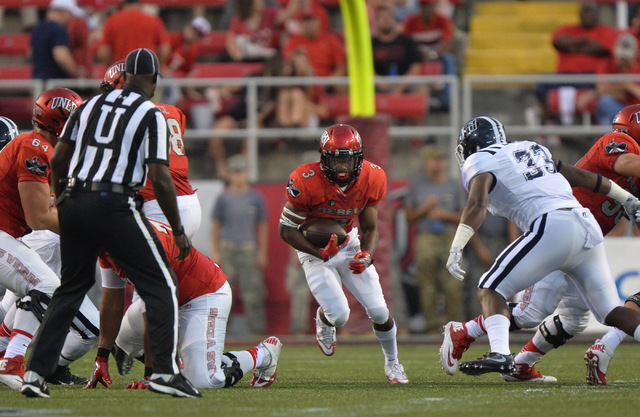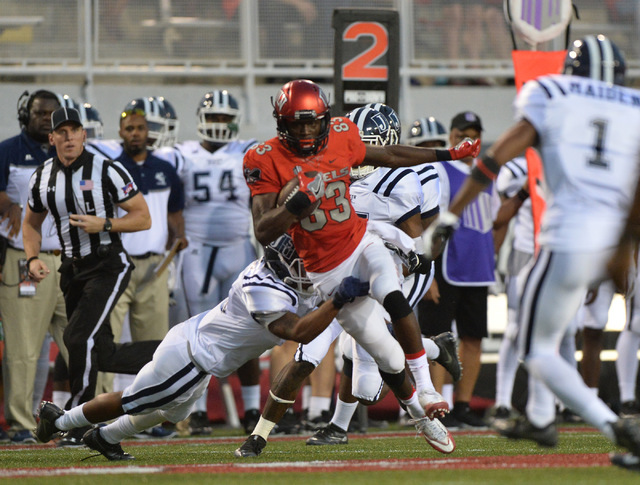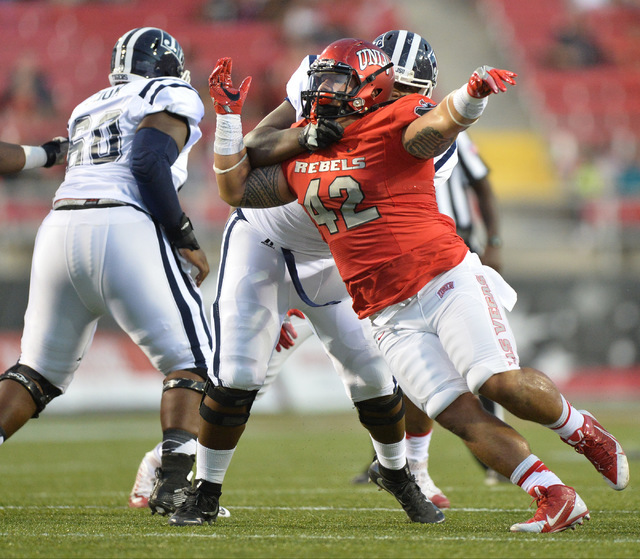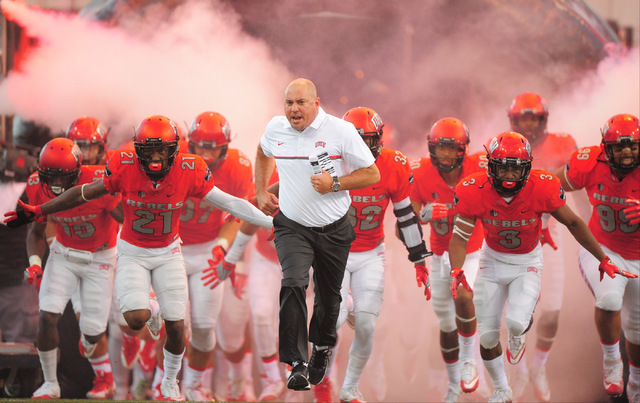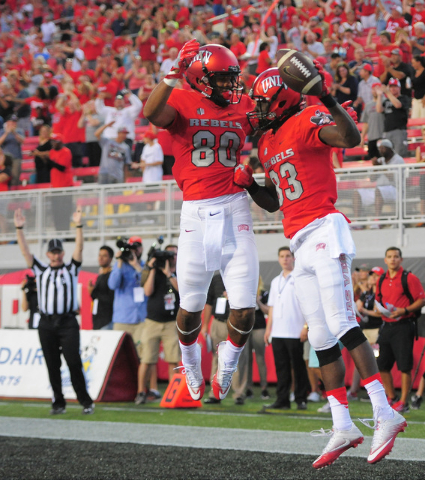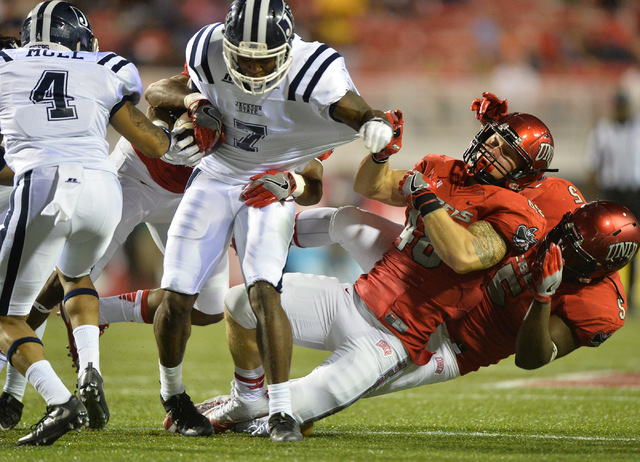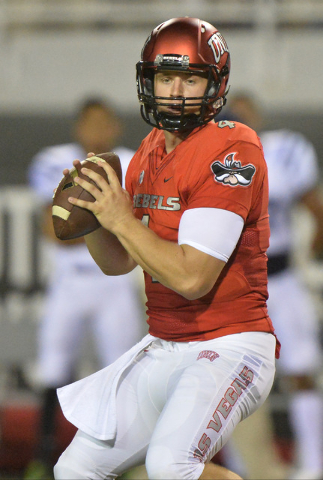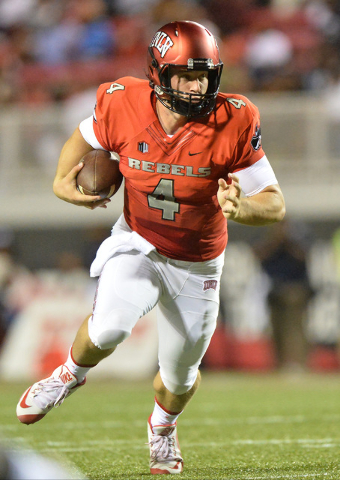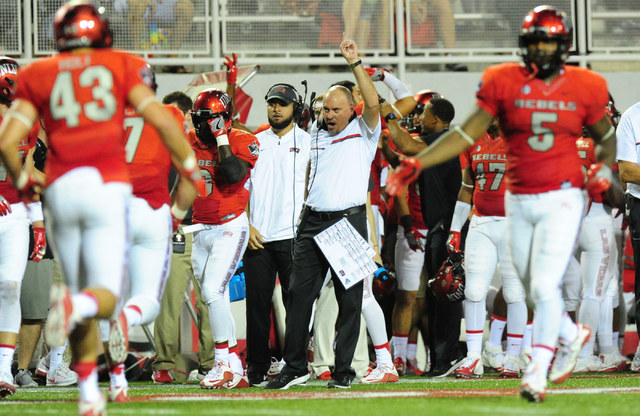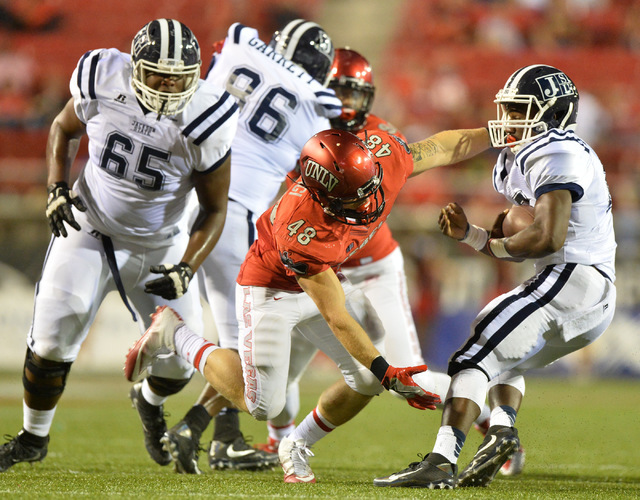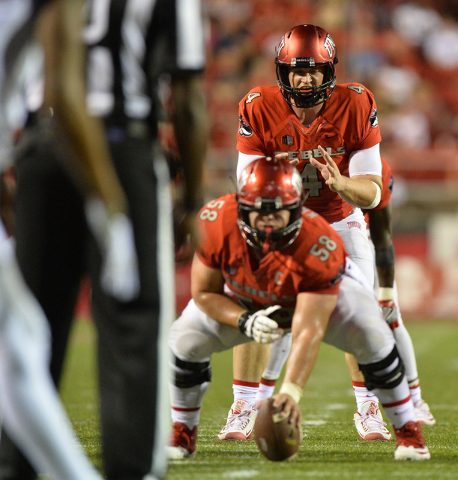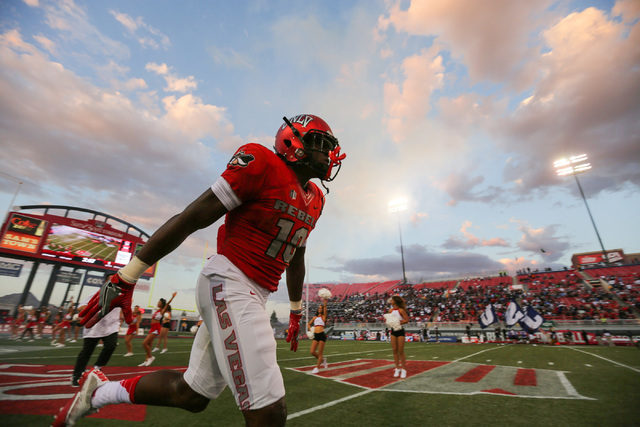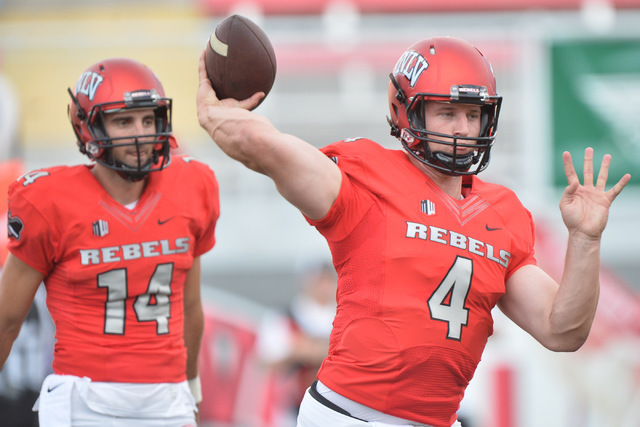 Jackson State's renowned marching band, the Sonic Boom of the South, left Sam Boyd Stadium after halftime Thursday night. The Tigers football team probably wished it could have joined it after UNLV opened a 42-10 halftime lead en route to a 63-13 season-opening rout of the Football Championship Subdivision school.
The 42 points were the second-most ever scored in a half by UNLV behind the 52 it put up in the first half of last season's 80-8 rout of Idaho State. The 63 points tied for the fourth-most in school history.
Rebels coach Tony Sanchez said earlier this week that the win over Idaho State exorcised the FCS demons that had haunted UNLV in losses to Southern Utah in 2011, to Northern Arizona in 2012 and in a 13-12 win over Northern Colorado in 2014.
Those demons showed no signs of returning Thursday, as the Rebels took the field as 40½-point favorites and played like them in rolling to their first season-opening win since 2009 before an announced crowd of 18,575.
"You feel such a sense of relief," Sanchez said. "You know there's more work to do, but it's so great to get that gratification in Week 1 out of all that hard work. When you don't, it's a tough pill to swallow.
"I feel a whole lot better than I did a year ago."
UNLV, which lost last season's opener 38-30 at Northern Illinois, started fast, as quarterback Johnny Stanton — making his first career Division I start — found Devonte Boyd on a crossing route on the third play of the game for a 56-yard touchdown.
After Troy Hawthorne intercepted a tipped pass by La Montiez Ivy on Jackson State's first play from scrimmage, Stanton ran to his right before lobbing a short pass to Boyd, who cut across the field for a 32-yard TD and a 14-0 lead less than two minutes into the game.
Lexington Thomas added TD runs of 17 and 3 yards for a 28-7 lead after the first quarter, and the rout was on.
Stanton hit Boyd in stride down the sideline for a 30-yard score and 42-7 lead with 8:08 left in the first half. The junior wide receiver from Basic High School had four catches for 135 yards and three TDs in the first half before calling it a night for his ninth career 100-yard receiving game, which trails only Ryan Wolfe (12) and Devante Davis (11) on the school's all-time list.
"It was awesome," Boyd said. "I've been waiting to be 1-0 for a long time."
Stanton, who appeared in only two games and five snaps in two years at Nebraska before transferring to Saddleback College, made the most of his start after winning the job Sunday following a lengthy battle with Kurt Palandech.
Stanton completed his first five passes and was 7-for-8 for 180 yards and 3 TDs in the first half. He finished 10 of 12 for 217 yards and three TDs.
"It was a good first game to build on," Stanton said. "Before the game, I was telling my family and coaches that it's been way too long a journey for me to not go out there and have fun. So no matter what, I was going to go out and have fun."
The 6-foot-2-inch, 245-pounder also rushed for 35 yards on four carries while initiating contact and lowering his shoulder into defenders.
"I'm not Devonte and going to run around guys," Stanton said. "Luckily, I have a little weight on me, so I see if I can get a few yards after contact."
Palandech was expected to play but sat out with a sore right shoulder. Redshirt freshman Dalton Sneed relieved Stanton early in the fourth quarter and completed his only pass attempt for six yards.
The Rebels rolled up 503 yards of total offense (280 rushing, 223 passing). True freshman Charles Williams led UNLV in rushing with 96 yards on 12 carries, breaking several tackles on a 28-yard run in the third quarter before scoring on a 17-yard scamper.
After a slow start, the Rebels defense delivered two TDs in 75 seconds late in the third, as redshirt freshman defensive tackle Nick Dehdashtian scored on a 28-yard fumble return and senior cornerback Torry McTyer returned an interception 43 yards for a TD.
The band turned in a much crisper performance than Jackson State's quarterbacks, who completed only 16 of 42 passes for 139 yards and two interceptions.
UNLV now has nine days to prepare for its Sept. 10 date against UCLA at the Rose Bowl.
"It's a big momentum booster, but we still have a 24-hour rule," McTyer said. "We'll celebrate for the first 24 hours, but after that we're back to work."
Contact reporter Todd Dewey at tdewey@reviewjournal.com or 702-383-0354. Follow him on Twitter: @tdewey33
Visit our GameDay page for full coverage of the UNLV-Jackson State game.