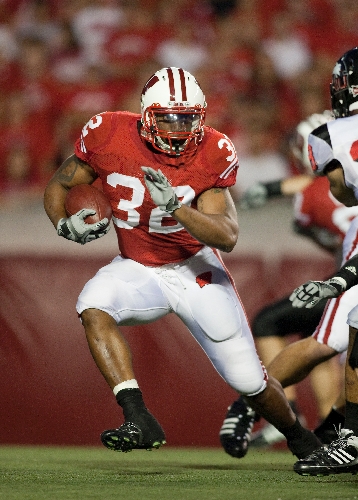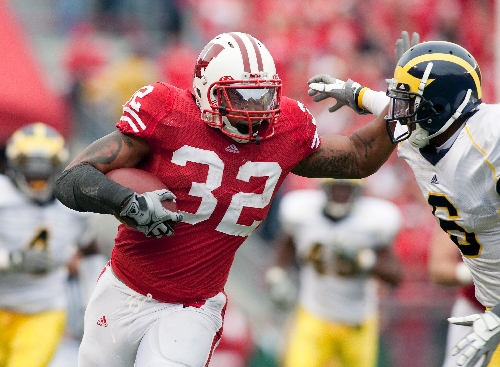 UNLV fell short in many areas the past several football seasons, and no shortcoming was more pronounced than the Rebels' inability to stop opposing running attacks.
Heck, forget stopping them, the Rebels often failed to even slow them.
And now they open the coach Bobby Hauck era by welcoming one of the nation's top running backs to Sam Boyd Stadium when junior John Clay and No. 12 Wisconsin visit at 8 p.m. Saturday.
Clay rushed for 1,517 yards and 18 touchdowns to lead the Big Ten Conference in both categories last season.
How the Rebels defend Clay, the reigning Big Ten Offensive Player of the Year, will determine whether UNLV can make the game much closer than the 20½-point spread that favors the Badgers.
"That's the major key because they love to run," UNLV defensive tackle Isaako Aaitui said. "We're really improved from the last couple of years. I think most of the guys now know and understand the defensive scheme, and I believe that we're going to do better than the last couple of years."
The Rebels better be improved because Clay could be even more effective this season — hard as that might be to believe. He played on a pair of injured ankles last season and then underwent offseason surgery on both.
At 6 feet 1 inch, 255 pounds, Clay obviously has the ability to pick up tough inside yards. But he isn't the stereotypical big back who relies just on 4- and 5-yard gains to keep the chains moving.
He also has game-breaking ability to get behind the defensive front four and into the secondary. Fresno State got an up-close look last season when Clay blasted past Bulldogs defenders for a 72-yard touchdown.
"Once he hits his top speed, he holds it pretty well," Rebels linebacker Calvin Randleman said. "So you don't want to let him get going, you don't want to let him come downhill on anybody."
Clay runs behind one of the nation's top offensive lines, and the Badgers use pulling linemen on nearly every play to help create holes.
"He's very good at timing up plays," UNLV defensive coordinator Kraig Paulson said. "That's what makes him so good. He gives you the illusion that he's just dancing back there, and now all of the sudden, you'll get him north-south.
"He's a hell of a challenge."
Paulson said the answer isn't necessarily to run blitz, that the most successful defenses against Clay have been those that received strong play from the line.
But the Rebels also will try to make Clay guess, so they won't stay in their base 4-3 all game, either.
In the end, Paulson said "there's no one answer" and it simply comes down to "playing good, sound defense."
The danger for the Rebels is keying too much on the run and setting themselves up for play-action passes.
Badgers quarterback Scott Tolzien completed 64.3 percent of his passes last season for 2,705 yards and 16 touchdowns.
"You watch people who gang up on the run, and their quarterback and their receivers hurt you," Hauck said.
But Hauck knows the priority is defending the run, and the Rebels must defend it far better than they have the past two seasons when they allowed more than 200 yards per game.
They were last in the Mountain West Conference and tied for No. 112 nationally in 2009 after allowing a 220.6-yard average. Opponents also averaged 5.7 yards per carry and scored 27 touchdowns — both marks also at the bottom of the conference rankings.
UNR lit up the Rebels for 559 yards rushing, Air Force for 431, Texas Christian for 390 and pass-happy Brigham Young for 291.
Even three-win Colorado State rushed for 201 yards.
"If that's the way we play next Saturday night," Hauck said, "then Wisconsin's going to have their way."
Contact reporter Mark Anderson at manderson@reviewjournal.com or 702-387-2914.