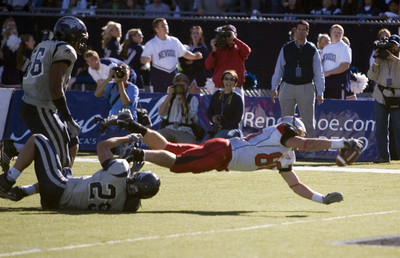 His calm voice belied the powerful words that came out of Ryan Wolfe's mouth following UNLV's 48-23 loss Saturday to Colorado State.
The Rebels' outstanding wide receiver blamed some of his teammates for not focusing and being prepared.
The comments carried implications. Are players taking weeks off? Are coaches failing to properly prepare the team?
Wolfe, who put the fault on the players, said his comments actually had a different — though, still troubling — meaning. He said some players have a difficult time being mentally tough — forgetting about bad plays and coming back stronger during games.
But Wolfe said he sees Saturday's 11 a.m. PDT game at Wyoming as an opportunity to put bad habits to rest.
"It's got to be kind of like a blank slate," Wolfe said. "None of us are happy with how the last game ended or how anything turned out in the game. So this gives us a chance to kind of prove the caliber of team we can be."
Coach Mike Sanford has said changing player expectations from negative to positive is one of his biggest challenges in trying to turn around UNLV, which is 2-6, 1-3 in the Mountain West Conference. The Rebels have not had a winning season since 2000.
"I think we've made some progress on that, but that's an ongoing issue," Sanford said.
But Sanford acknowledged pregame focus and preparation — as suggested by Wolfe's initial comments — were an issue. How large of a problem, Sanford said, was uncertain.
"I'll just say it's a portion, and it's hard to identify who they are, too, sometimes," Sanford said. "They may be a high level one week, two weeks, three weeks, and then for some reason they let worries about tests, maybe family issues, their girlfriend, just distractions in their life (affect them).
"Number one, I would say that's my job (to get everyone focused), and that's what I'm working to get done. And I believe we will get this done. Now it is a big challenge. We've made headway, but we've got a long ways to go.
"There have been times this year when we've played at a very high level. In some cases, maybe above our level, which is what I'm trying to get done here. But in some cases, some individual players have not played. They have gotten distracted and haven't prepared the way they should have."
Sanford said it was the players' responsibility to do their parts in preparing for games. The coaches, he said, can only do so much.
"That's one of those things that's really hard for us to evaluate because we're only with them four hours a day," Sanford said.
That was evident last week. Colorado State came to Las Vegas with a 13-game losing streak but had victory essentially wrapped up by halftime.
Sanford said some of his players didn't believe how much of a threat Colorado State posed to them despite the coaches' efforts to convince them otherwise.
So the Rebels have a set of considerable problems on their hands.
The players must improve focus and preparation during the week and not get down when plays don't go their way on Saturday.
"Once something like that happens, it's got to be set in somebody to say, 'You know what, I'm not thinking that way. I'm going to come out here and make that play,' " Rebels linebacker Beau Bell said. "But it's real difficult."
• NOTE — UNLV defensive end Faauo Faga (knee) and linebacker Omega Faga (calf) are doubtful.
Contact reporter Mark Anderson at manderson@reviewjournal.com or (702) 387-2914.
UNLV Football
HETRICK TO GET FIRST START AT QB FOR WYOMING
LARAMIE, Wyo. — Redshirt junior Ian Hetrick will get his first career start at quarterback for Wyoming, replacing sophomore Karsten Sween.
The Cowboys host UNLV on Saturday in a Mountain West Conference game at War Memorial Stadium.
The Cowboys (4-3, 1-2 Mountain West) are coming off consecutive MWC losses to New Mexico and Air Force in which their offense produced just one touchdown, three field goals and turned the ball over six times, including three interceptions.
Overall, Wyoming has turned the ball over 20 times in its first seven games, including 13 in the last three games.
THE ASSOCIATED PRESS