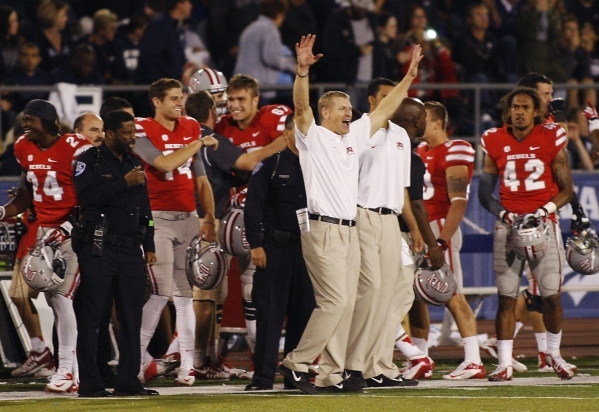 RENO — The last time coach Tony Sanchez brought a football team to Reno, he walked away with Bishop Gorman's sixth consecutive high school state championship.
So he knows what it's like to win in Reno. And he even knows what it's like to go into Mackay Stadium and try to beat the home team, making the trip there in 1994 as a player at New Mexico State and losing 45-24 to the Chris Ault-coached Wolf Pack.
"That was one of the toughest environments to go to," Sanchez said. "You go there, and there are students there, and they're on you and they're yelling at you and throwing things at you."
Ault is no longer on the UNR sideline, but Sanchez will be at Mackay for the first time as UNLV's coach, and he knows the challenge ahead for his players when the teams meet before an expected sellout crowd at 4 p.m. today. Those in Las Vegas can watch the game on a live stream at unlvrebels.com.
Some of Sanchez's players know what it's like to go to Reno and win. They did it two years ago, beating the Wolf Pack 27-22 on the way to an appearance in the Heart of Dallas Bowl.
"It was crazy for me to play in that game," linebacker Tau Lotulelei said. "For the seniors and the veterans, it meant a lot to them. Playing that game was really an experience, and I can't wait to play again."
This is a new experience for many Rebels, however, so those who have been there and won are especially helpful this week. They can let their teammates know what kind of hostility to expect, as well as the importance of keeping on their helmets so they don't get hurt by flying objects.
"I've told them a little bit about how crazy it gets there, but, honestly, we need to focus on what's going on on the field and not the stands," tight end Jake Phillips said.
Sanchez knows a little about the rivalry.
It's one that has featured benches-clearing brawls, a helmet thrown near Ault's way and a plastic beer bottle that hit former Rebels coach John Robinson in the head. Robinson was so incensed during the 2001 game at Reno that he called for a late touchdown in a 27-12 victory to stick it to the local fans.
"I hope I don't get hit with a bottle, but we know the history of the game," Sanchez said. "We know the intensity of the game."
This game not only will be intense, but it's also important because it's the Mountain West opener for both teams. UNLV (1-3) and UNR (2-2) are playing as well as any other team in the down West Division, so the winner will have an early inside track.
UNR is a 6½-point favorite, and this looks like the kind of matchup that will go into the fourth quarter before the outcome is determined.
Both teams rely on the run, and each averages more than 200 yards per game. Both teams also are vulnerable to the run, each giving up averages around 200 yards.
So there is little secret how this game will play out. The team that runs more effectively probably will be the one taking possession of the Fremont Cannon after the game.
That cannon has belonged to UNR nine of the past 10 years, so history works against UNLV. But the Rebels were badly outmanned in most of those games, and they are playing with a new-found confidence.
Beating Idaho State 80-8 helps, but so does a series of promising efforts against Northern Illinois, UCLA and Michigan.
Nothing would mean more to the Rebels, though, than to beat their fiercest rival.
"I know coach-talk is that every game's the same and this and that, and the process is the same," Sanchez said. "But this does mean a little bit more. It's a little more special."
Contact Mark Anderson at manderson@reviewjournal.com or 702-387-2914. Follow him on Twitter: @markanderson65
Check our GameDay page for all the news leading up to the UNLV-UNR game.