Rejuvenated rushing attack powers UNLV's fast start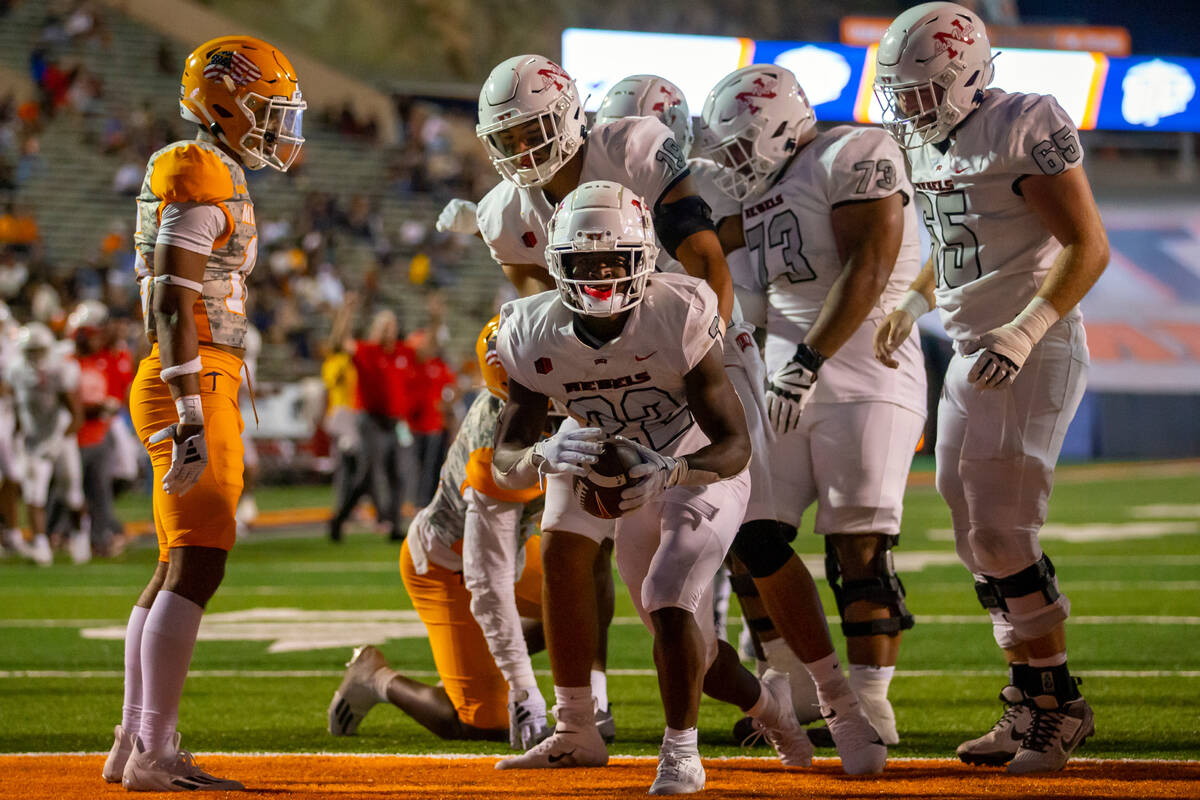 Jai'Den "Jet" Thomas wouldn't leave the visiting locker room inside Texas-El Paso's stadium on Saturday without honoring the teammates who helped him post what was an award-winning effort in UNLV's 45-28 victory
"Thank you, great game," he told each and every offensive lineman after rushing 13 times for 1oo yards and four touchdowns en route to Mountain West football Freshman of the Week honors.
"It's a little bit easier to block for someone like that who shows love the opposite way," said senior center Jack Hasz.
Thomas, Hasz and the Rebels have refined their running offense throughout the course of nonconference play, rolling up 307 yards Saturday against the Miners.
UNLV ranks 45th nationally in rushing yards per game (165). Last season the Rebels finished 83rd, averaging 136.4 yards per game en route to a 5-7 record.
Their improvement coincides with the start of Mountain West play, which UNLV begins at 1 p.m. Saturday against Hawaii at Allegiant Stadium.
"We definitely take pride in it," Hasz said, referencing the offensive line's blocking for Thomas and other running backs. "It's nice to do as an (offensive) line to have numbers kind of show in your favor like that. But at the same time, you don't really think about it during the game."
Thomas teams in the backfield with senior Vincent Davis, who has rushed for 211 yards through four games. Senior Courtney Reese has 104 yards, scoring Saturday via a 32-yard run to help the Rebels top 300 rushing yards for the second time since 2018.
They married on Saturday their rushing offense with timely plays on defense and on special teams, displaying the kind of complementary football that coach Barry Odom and his assistants are seeking.
The Rebels had four sacks and three takeaways, blocking UTEP's first punt in the first quarter.
"When those three things line up that way, you're playing winning football," Odom said. "Obviously, this team needs to be able to do that. Coaches, we have to put them in a position to do that."
Regardless of who lines up behind Hasz.
Incumbent starting quarterback Doug Brumfield returned to practice Monday in a limited capacity, per Odom, who remains hopeful that we "get a little more (Tuesday) and continue to advance it from there."
Redshirt freshman Jayden Maiava started Saturday against the Miners, completing 15 of 27 passes for 190 yards and an interception.
Pleased as he is with the offensive improvement, Odom emphasized his dismay with the lack of execution that produced 10 penalties for 96 yards against the Miners.
"We know that won't be good enough to win a close game," said Odom.
Won't be good enough to win consistently in the conference, either.
"(We need to) keep going. Keep full throttle on the gas," junior defensive lineman Jalen Dixon said. "We're not trying to have (another year) like last year" when UNLV followed a 4-1 start with losses in six of its last seven games.
"It's really just 'Keep going, keep going, keep going.'" he added. "Let's go to a bowl game this year. It's on. Come on."
Contact Sam Gordon at sgordon@reviewjournal.com. Follow @BySamGordon on X.