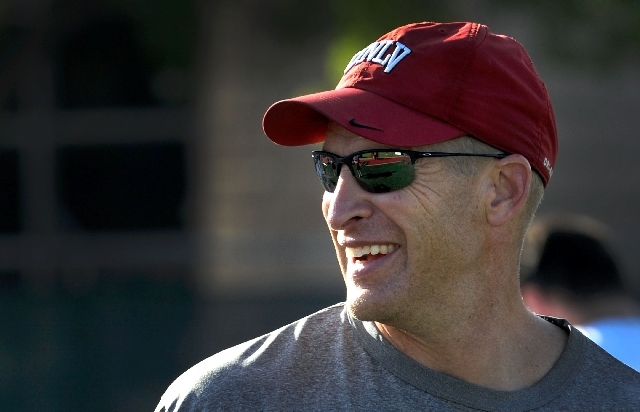 Bobby Hauck follows the same routine for traveling to road games at UNLV that he did at Montana.
The difference is he won at Montana.
"The fact of the matter is when you're good enough, you win home or road," Hauck said after Wednesday's football practice at Rebel Park. "So we need to just keep getting better and be good enough. I don't think there's some kind of mental block."
Hauck still is searching for his first UNLV road victory; his Rebels are 0-20 in away games spanning three seasons.
But he isn't the first UNLV coach to struggle on the road. Hauck's predecessor, Mike Sanford, lost his first 12 road games and first 17 in Mountain West play.
The Rebels' benchmark for road futility is 26 consecutive defeats from 1994 to 1998. All were under coach Jeff Horton.
And now Hauck's Rebels are inching dangerously close to breaking Horton's record. Including the two road losses that closed Sanford's tenure at UNLV, the Rebels' streak is 22 games.
They open the season Aug. 29 at Minnesota, where they are 14½-point underdogs, and would love nothing more than to put the questions about the ignominious streak to rest.
Senior linebacker Tim Hasson said to get such a victory would be a "big confidence booster and kind of backs up the idea that we can be a real good team this year. I think that would bring us forward and get everything rolling the right way."
UNLV has had its chances to end the streak.
The Rebels were favored to win at New Mexico two years ago and at Colorado State and Hawaii last season but lost all three games.
"We're not going out there and playing good enough," senior running back Tim Cornett said. "It's easier for us to play good at home when we've got our fans cheering for us. We've got to get over the hump of other fans cheering for their team."
The Rebels have five road games this season, and their best chance to end the skid appears to be Sept. 28 at New Mexico.
UNLV also plays at Fresno State on Oct. 19, UNR on Oct. 26 and Air Force on Nov. 21. The Rebels probably will be underdogs in all three games along with the Minnesota trip.
"If we can't win a road game, we make it too tough for us because that means we have to win every home game," Hasson said. "Realistically, that's kind of tough for any team in the country to do. So we know that in order to become that good team we're capable of being … we've got to start winning some road games. We're easily capable of doing it because, like I tell my teammates, it should be no different whether we're at home or away."
Hauck went 80-17 — 26-8 on the road — and appeared in three national championship games at Montana. Like at Montana, he takes UNLV on the road in time to do a walk-through in the opposing stadium the day before the game to give players a better idea of what to expect.
The rest of the trip also is identical to what he did at Montana, from meeting times to meal planning.
Though at a loss to completely explain why UNLV has struggled on the road, Hauck doesn't run away from the issue.
"I'd say generally in life when you ignore your problems, they don't go away," Hauck said. "We talk about it all the time, but again our conclusions remain the same. We just say, 'We've got to win games, guys. We've got to win at home. We've got to win on the road. We have to be good enough to go in there and take it from people when you're on the road.' "
Contact reporter Mark Anderson at manderson@reviewjournal.com or 702-387-2914. Follow him on Twitter: @markanderson65.