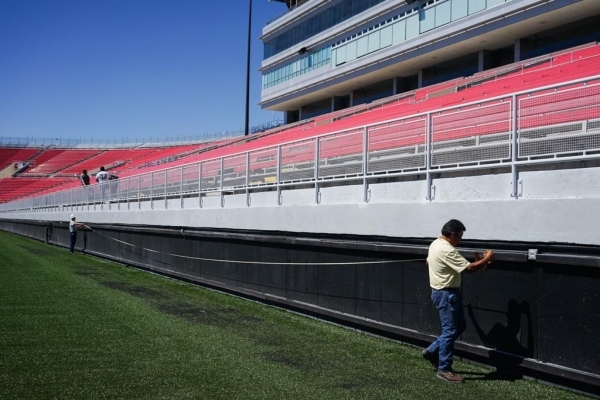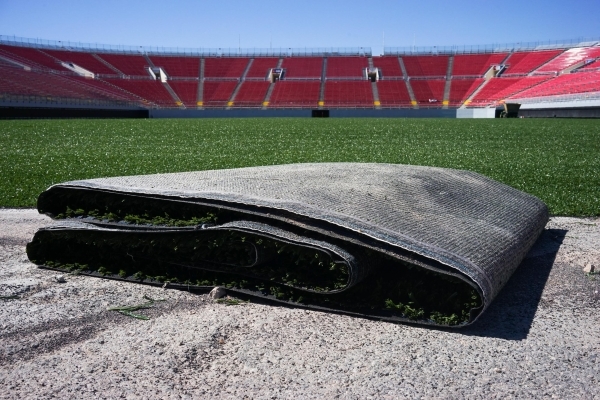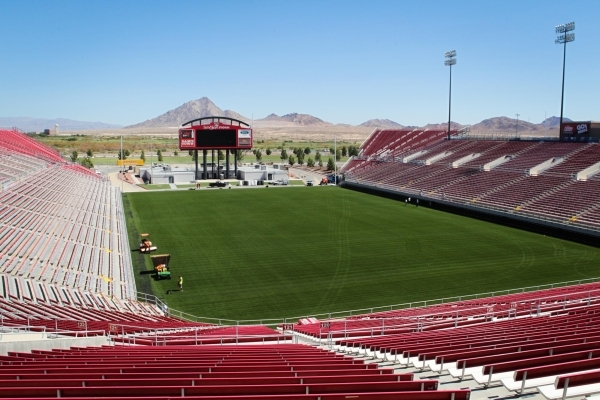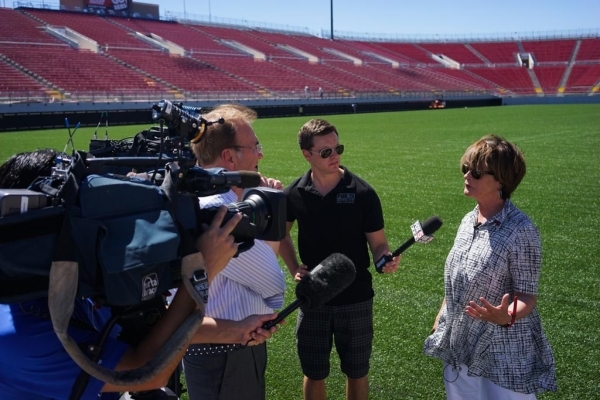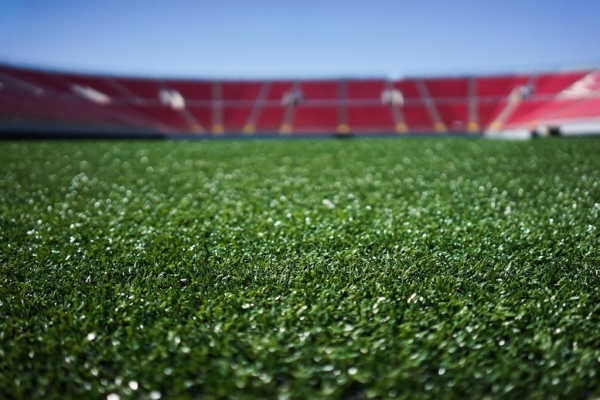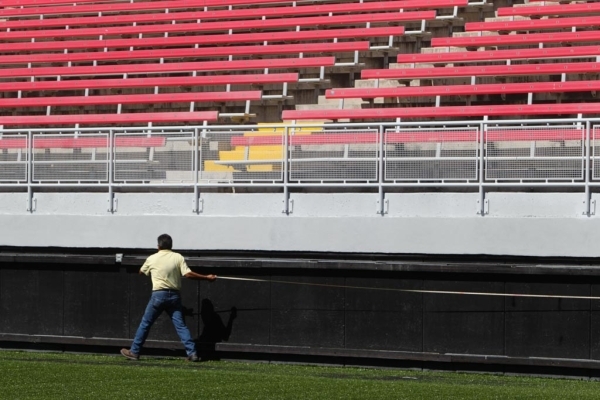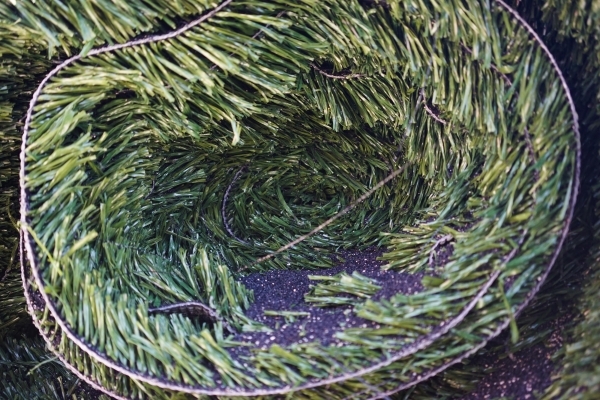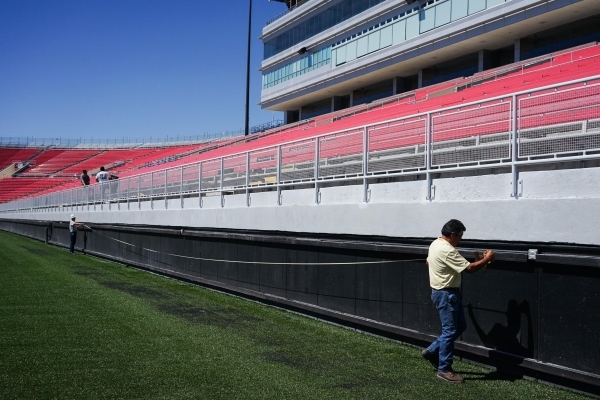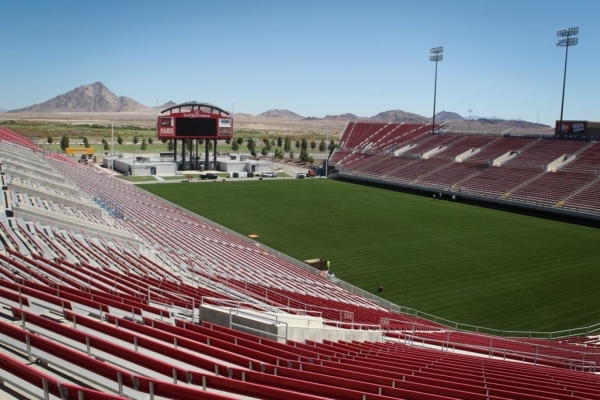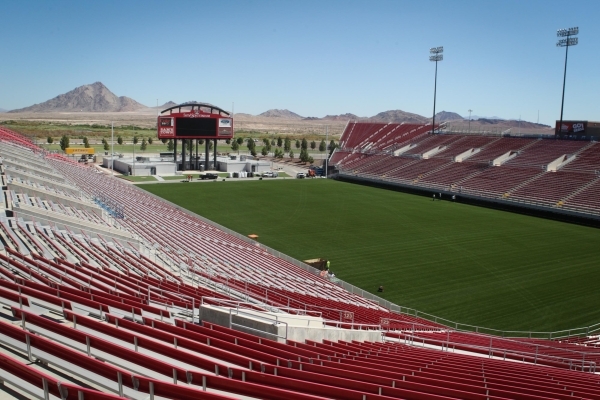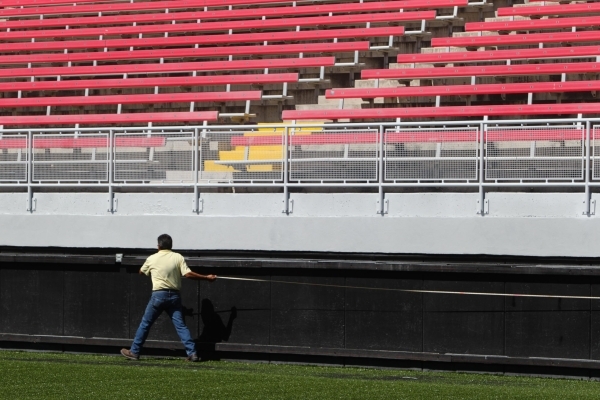 The field at Sam Boyd Stadium always felt claustrophobic, the seats so close to ground level that it looked like the fans were in sideline meetings with the players.
That won't be the case anymore.
On Thursday morning, Sam Boyd was a green sea of unpainted and bouncy synthetic turf, the sideline walls no longer on the edge of the benches.
Two rows of seats were removed on the east and west sides to make room for the widened field, eliminating 860 seats and dropping capacity to 35,500.
The $1.2 million project — paid for by the Thomas & Mack Center/Sam Boyd Stadium — benefits not only UNLV football but also the annual USA Sevens rugby tournament and soccer matches occasionally played on the field. Both types of events were key reasons the field was widened, and the SPRINTURF synthetic grass complies with regulations for both sports.
But Sam Boyd is mostly UNLV's football home, and first-year coach Tony Sanchez intends to practice there far more often than his predecessors. He also plans one practice at Nellis Air Force Base next month.
"The good thing about Coach Sanchez is … he feels Sam Boyd Stadium is his home," UNLV athletic director Tina Kunzer-Murphy said. "He's going to make it his home. We'd just come out and play a game and leave, and he's going to have some things for the Football Foundation and his team. I love that because we do need to get a home-field advantage."
The previous turf was installed in 2003, but not much had been done to improve the stadium in the years since. A $400,000 videoboard was added last year, the most significant change until now.
UNLV administrators had wanted to make other upgrades, but were delayed because of a push over the past three years for an on-campus stadium. The proposal has been shelved until 2017, the next time the state Legislature is in session.
A stadium could go up at some point near McCarran International Airport on a 42-acre plot of land the university is trying to purchase.
As for future improvements to Sam Boyd, Kunzer-Murphy said she hopes to replace the locker rooms and scoreboard. The entire look of that end zone could change with premier seats going up in addition to new locker rooms.
"So those are some things we have on our to-do list," Kunzer-Murphy said. "Our to-do list is quite long."
Next on that list is an on-campus football building. Kunzer-Murphy said she didn't know when an announcement would be made, but erecting such a facility would serve as a crucial recruiting tool and an even bigger boost to the program than stadium upgrades.
The Sam Boyd field was widened by 6 feet on either side, extending the length from stadium to sideline to 33½ feet.
The turf is called a Shock Pad, which provides a springy feel that is meant to increase player safety because it creates more give when players run on it.
Field markings and logos will not be sown onto the field, but instead will be applied by paint. It's a type of paint similar to dry erase markers that is easy to apply and remove.
More unannounced changes are coming before UCLA visits on Sept. 12 for the Rebels' home opener.
"I think this is going to be a wonderful place to play college football," Kunzer-Murphy said.
Contact Mark Anderson at manderson@reviewjournal.com or 702-387-2914. Follow him on Twitter: @markanderson65.