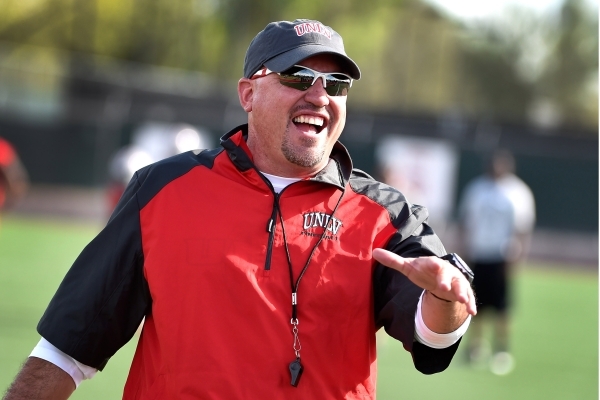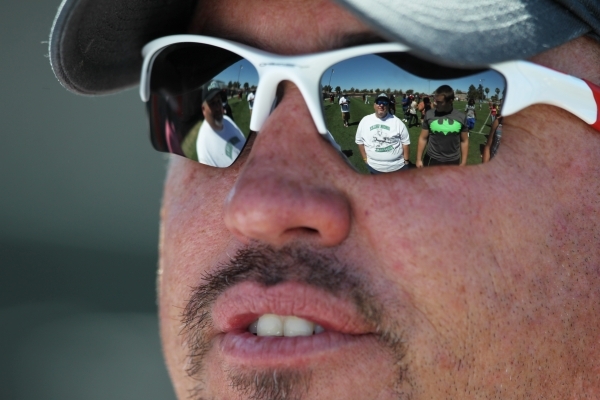 For many years and under many coaches, the UNLV football calendar has been split into three distinct parts —€" the season itself, spring football and the two months of the recruiting period leading up to signing day.
The lines are more blurred under new coach Tony Sanchez, at least when it comes to recruiting. He doesn't limit the recruiting season to early December to early February.
For him, it's a year-round effort, and there is no surer sign that times are different at UNLV than the drip of commitments that continues to flow in.
The latest was wide receiver Marquis Wimberly, a wide receiver from Chaffey College in Rancho Cucamonga, Calif. Last week, he became the sixth member of the Rebels'€™ 2016 recruiting class, but the first from a junior college.
Landing so many commitments this far out from next year'€™s signing day is business as usual for many top programs. The Mountain West'€™s marquee program, Boise State, has received commitments from 11 players, according to the Idaho Statesman.
At UNLV, though, it's unheard of to get so many players this early.
Consider this. By the time coach Bobby Hauck announced his resignation in late November, he had one commitment for the 2015 class. Sanchez honored the commitment, which came from quarterback Dalton Sneed in June of last year.
Hauck preferred to wait to get commitments, as did his predecessor, Mike Sanford. Both coaches believed they could haul in top players caught up in numbers games with power-conference schools who suddenly became available close to signing day.
UNLV even picked up a key commitment on signing day last year, landing defensive back Chazz Eldridge, a one-time Arizona pledge.
But Hauck, Sanford and many UNLV coaches before them didn'€™t bring enough of those types of players. Hauck had one winning season, Sanford never broke even, and going back to John Robinson'€™s final year in 2004, the Rebels have ended eight of the past 11 seasons with two victories.
So the waiting game also was a losing one.
Sanchez showed from the beginning he wasn'€™t willing to wait, quickly assembling a veteran staff after being hired in December out of Bishop Gorman High School.
Then Sanchez and that staff went to work to put together an impressive initial recruiting class despite getting off to a late start.
They didn'€™t waste time turning their attention to next year'€™s class, landing the first two commitments not even a month after signing day. Gorman offensive linemen Jaron Caldwell and Julio Garcia announced their decisions on Feb. 28.
UNLV has since added offensive lineman Matt Brayton, wide receiver C.J. Harris, offensive lineman Donovan Outlaw of Coronado High and Wimberly.
The aggressive approach doesn'€™t mean it ultimately will be the winning one, but it goes with how Sanchez has attacked trying to turn around one of college football's worst programs.
Even if Sanchez becomes the latest in the long line of failed UNLV coaches, it won't be because he sat still.
Contact Mark Anderson at manderson@reviewjournal.com or 702-387-2914. Follow him on Twitter: @markanderson65.