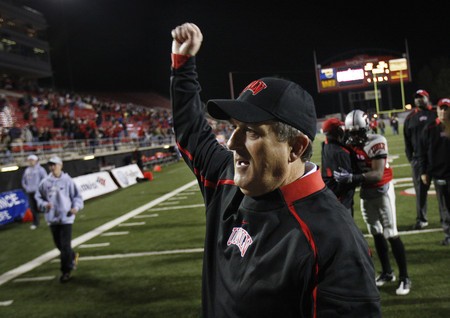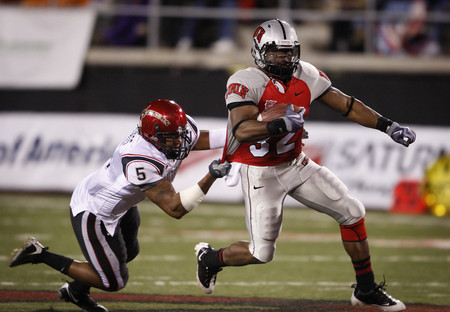 UNLV had every chance to give up Saturday, to accept the finality of the Mike Sanford Era by slinking out of Sam Boyd Stadium with another loss.
But the Rebels kept coming, refusing to wilt in the face of a 17-point deficit or what could have been a crushing missed chip-shot field goal.
They got one last chance to send their coach out a winner and did it on quarterback Omar Clayton's 17-yard touchdown pass to wide receiver Phillip Payne with 1:24 left to beat San Diego State, 28-24.
UNLV then survived a last-gasp Aztecs pass into the end zone.
"This win today is not about me," Sanford said. "It's not about the coaching staff. It's about our seniors. It's about our players.
"I'm very proud of how they played today."
The Rebels finished their season 5-7, 3-5 in the Mountain West Conference. It gave the 54-year-old Sanford a 16-43 record in his five seasons on the job.
"We wanted to send Coach Sanford out with a win," Payne said. "All the people on scholarship, he brought everybody in. He gave us a chance. He's like my dad."
Many top names such as Dennis Franchione and Dirk Koetter have been mentioned as possible replacements, but no candidate can be considered the favorite until an athletic director is named, which could be in days.
Sanford will look for a job at another college or in the NFL, and he leaves UNLV on the high note of this victory.
His receivers stepped up for injured Ryan Wolfe (broken foot), with Michael Johnson catching six passes for 41 yards, Payne five for 107 and Jerriman Robinson four for 77.
Clayton overcame two first-half interceptions to complete 21 of 35 passes for 274 yards and the winning touchdown.
"I can't even explain how good it feels to end the season with a smile," Clayton said. "I didn't play well in the first half at all, and came out in the second half and decided to make it happen."
San Diego State (4-8, 2-6) appeared to have the game in hand, leading 24-7 in the third quarter.
But after UNLV cut the deficit to 10 points later in the period, the Rebels showed they were in the game early in the fourth quarter. Nickel back Terrance Lee returned an interception 40 yards to make it 24-21.
The Rebels later drove for what appeared to be the tying field goal. But kicker Kyle Watson missed from 37 yards with 3:29 left.
Many UNLV games would have been over. This one wasn't.
The Rebels forced a three-and-out to force a punt.
"We struggled a lot on defense throughout the year, and we came together in the second half," Lee said.
And that set up the game-winning drive. Clayton completed passes to three receivers, finally hitting Payne with the game-winner.
Contact reporter Mark Anderson at manderson@reviewjournal.com or 702-387-2914. Read the latest UNLV football updates at lvrj.com/blogs/unlv_sports.
UNLV — 28
SAN DIEGO STATE — 24
KEY: Omar Clayton hit Phillip Payne with a TD pass with 1:24 left for the Rebels.
View the slide show