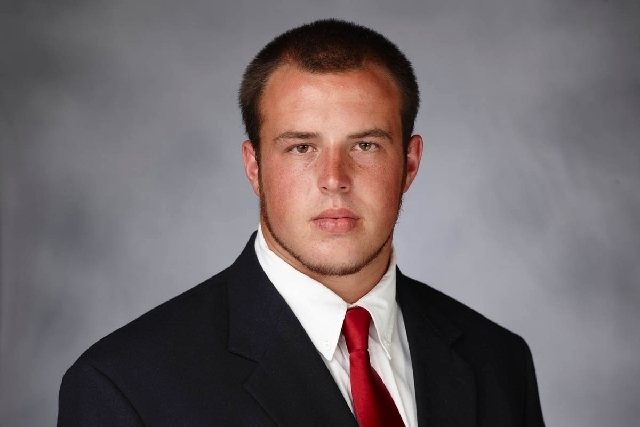 senior Klorman honored with 'battle born jersey'
ELY — All you need to understand what senior defensive tackle Alex Klorman means to UNLV's football team is the jersey number he wears.
He was given No. 36, this season's recipient of the "Battle Born Jersey," which goes to a Nevada product who sets the example of what coaches look for in players.
"It's an honor," Klorman said. "A lot of great people have worn the jersey. I've got to keep the number going strong."
Coach Bobby Hauck instituted the practice in 2010. He wanted to honor a local player by not only providing the jersey number — which represents Nevada as the 36th state in the union — but also with a patch of the state flag on the back.
Hauck and his staff found that player for this season in Klorman.
"He's had a good camp," Hauck said. "He had a great offseason. He was a terrific leader this offseason."
It's a long way to go for Klorman (6 feet 2 inches, 285 pounds), a former walk-on from Del Sol High School. He heads into his third season as a starter, and last year Klorman made 34 tackles, including four for loss, and a sack. He also broke up two passes.
Klorman didn't imagine his college career playing out like that.
"I was just trying to get on the field as fast as I can," he said.
NOTABLE
UNLV stages a scrimmage at 8 a.m. today, and, similar to Saturday, it will be fairly short, probably about 50 plays. … Freshman running back Henri Jussila worked with the main offense in the scout team drills Tuesday. Hauck still is weighing whether to redshirt or play him this season. "I would say right now it would probably take some injury before he would play this year," Hauck said. "He's done a really good job." … Jeremiah Valoaga worked ahead of fellow sophomore Sonny Sanitoa at defensive end during one drill. "(Valoaga) has had a good camp, so he's pushing," Hauck said. "We need depth up front. All those guys are going to play. It doesn't really matter who the starters are. It's who the two-deep is because they're going to play a pretty equal number of snaps." … The Rebels leave for Las Vegas after the scrimmage. They are scheduled to practice at 7 p.m. Thursday at Rebel Park and go through a mock game Friday at Sam Boyd Stadium. The mock game is closed to the public.
SITTING OUT
PlayerPos.Status
Matt LeaSOut
Taylor SpencerWROut
MARK ANDERSON/LAS VEGAS REVIEW-JOURNAL