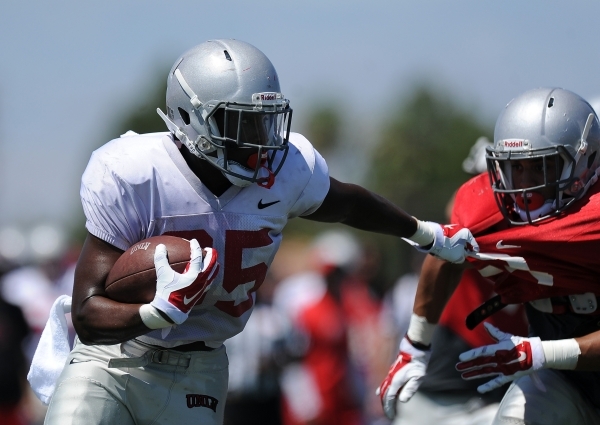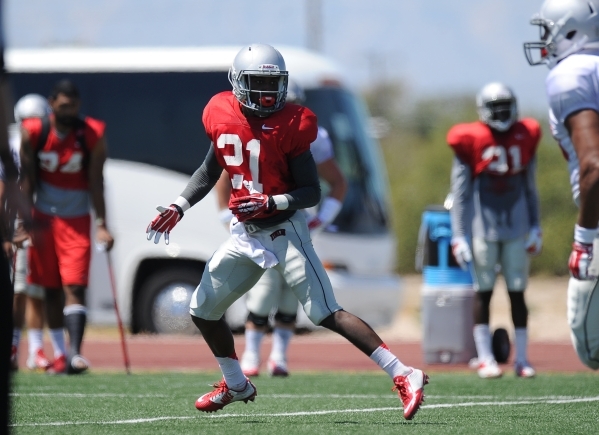 Three freshman offensive linemen, in an ideal world, would sit this season.
But seldom is anything ideal in UNLV's football world, and first-year coach Tony Sanchez knows more likely than not he is going to have to play all three first-year players.
"You hate not redshirting guys that aren't going to start as a freshman, especially in the line area," Sanchez said. "We're going to have to play more than five guys, if it's seven or eight guys up front throughout the game. Those guys are solid twos (backups), and they're going to have to be ready to go and travel and play."
Coaching changes usually occur for two reasons.
Either the coach won big and moved on to a more prestigious job, or he was run out after failing to win enough games. Talent is usually left behind under the first scenario, but in the second one, the successor is presented with a significant rebuilding job.
So Sanchez is forced to play a lot of incoming freshmen this season, which starts Sept. 5 at Northern Illinois. Some would have played anyway because they are too talented to keep off the field, but others could have used an extra season of eligibility to get bigger and stronger.
Previous Rebels coach Bobby Hauck experienced a similar circumstance in 2010, his first season on the job. He played 14 incoming freshmen.
What will the number be this season?
Sanchez looked at the roster after Tuesday morning's practice at Rebel Park and counted 11 incoming freshmen who will play. Another five are maybes.
So 16 freshmen could get into games this season.
"Regardless of age," Sanchez said, "if you're ready to go and ready to play, you're going to play."
Some players might have earned their way into playing time anyway, such as running backs Lexington Thomas and Xzaviar Campbell, who are second and third on the depth chart behind junior Keith Whitely. Thomas and Campbell signed out of Houston-area high schools.
"When we first came out on a visit, we were talking about this," Thomas said. "We knew we had a chance to come play together. It's a dream come true now."
Thomas has had such a strong camp that coaches didn't give him any carries in Saturday's scrimmage so they could take a closer look at other backs.
Darius Mouton probably would have found his way into the secondary no matter the situation. He has held down the No. 1 nickelback position for about a week.
"Knowing that we're not going to redshirt, you've got to put in your mind that it's extra work," Mouton said. "Now you've got to work harder. You've got to be able to compete for your spot."
It's an easier recruiting pitch when high school seniors are told they can expect to play as college freshmen, so in that sense UNLV was in an advantageous position. Getting players such as Thomas and Mouton was made easier because the Rebels' coaches could promise a realistic chance of immediate playing time without needing to take a lie detector test.
With the running backs and Mouton, look for immediate playing time from linebacker Bailey Laolagi, wide receivers Darren Woods Jr. and Brandon Presley, defensive linemen Salanoa-Alo Wily and Nick Dehdashtian, and offensive linemen Nathan Jacobson, Alex Neale and Justin Polu.
So, upperclassmen, beware.
"We should have an environment here where everyone knows they've got to come to work and fight for your job on a daily basis," Sanchez said. "You've got to compete at a high level every single day because we're going to keep bringing in talented guys every single year. We want a culture of competition."
Contact Mark Anderson at manderson@reviewjournal.com or 702-387-2914. Follow him on Twitter: @markanderson65.