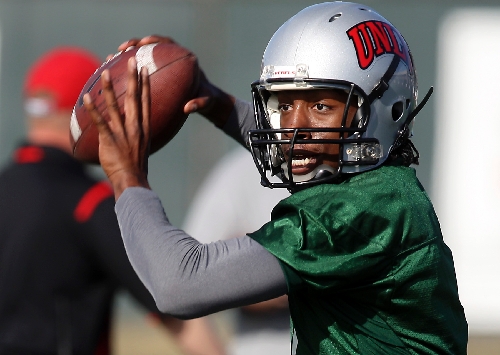 There was no question last spring, last training camp and last season that this was quarterback Omar Clayton's team.
But after Clayton's turnover-prone season and with the arrival of a new coaching staff, UNLV faces plenty of questions this spring.
Will Clayton retain the starting job?
Will two quarterbacks split snaps?
How much will redshirt freshman Caleb Herring play?
How much of the offense will be a mix between the spread and the run-based scheme coach Bobby Hauck prefers?
These are questions with no immediate answers, but last season at Montana could provide a hint of what to expect at quarterback this year for the Rebels.
Andrew Selle and Justin Roper shared quarterback duties for the Grizzlies through the regular season and one game into the Football Championship Subdivision playoffs, before Selle took over the job exclusively.
"We were one of the top offenses in the nation, and both guys were kind of interchangeable," said new UNLV offensive coordinator and quarterbacks coach Rob Phenicie, who held the same position with the Grizzlies.
All three contenders for the Rebels' top spot are getting repetitions with the first-team offense, but the early order for taking snaps is Clayton, Mike Clausen and Herring.
"It's hard to get one ready, it's difficult to get two ready, and it's darn near impossible to get three ready," Phenicie said. "The thing that's good is everybody's starting from ground zero."
Clayton, who will be a senior, owns the deepest resume, starting three games in 2007 and winning the job the following season. For one of the rare times in recent UNLV history, there was no quarterback controversy entering last season.
He then played well enough to keep the job, throwing for 2,230 yards, but Clayton threw 12 interceptions, eight more than the year before. And his touchdown total dropped from 18 to 13.
Now, especially with a new staff in place, he knows he has a fight on his hands. Clayton knows he's not the only one competing for a job following consecutive 5-7 seasons.
"It's not like we are reigning Mountain West Conference champions," Clayton said. "We should act like we have something to prove. We didn't have the season we wanted to have last year."
The chief challenger to Clayton (6 feet 1 inch, 205 pounds) is Clausen (6-2, 210), who was more than simply a backup the past two seasons. Clausen, a junior, played in 21 games, passing for 1,230 yards, with nine touchdowns and four interceptions.
He also had his moments, leading the Rebels to victories over New Mexico and Wyoming in 2008. Last season, he came off the bench to rally the Rebels for a late lead in a 23-21 loss to Oregon State.
"Experience always helps," Clausen said. "You're not out there with cold feet, with big eyes."
Herring figures to receive at least some playing time next season. He was one of UNLV's top recruits last year, even turning down a late push by Oregon.
Phenicie said he would like to see Herring bulk up to 205 pounds on his 6-3 frame. Though listed at 170 pounds, Herring said he's at 185.
"Caleb just needs some physical maturity," Phenicie said. "It's not for lack of want-to. He works great in the weight room."
In addition to the uncertainty at quarterback position, coaches have to decide how to mix in the spread offense with the ball-control scheme they prefer. Because the talent was recruited to play the spread, coaches will keep at least part of that offense.
"Part of our offensive philosophy is to always have the option, and (the spread) is how we get the option play," Phenicie said. "We have some foundation things that we do. We run the ball. We'll always have the option."
Contact reporter Mark Anderson at manderson@reviewjournal.com or 702-387-2914.
CAMP REPORT
• HELMET STICKER: Wide receiver Phillip Payne caught a nice deep pass over the middle and later jumped high for a reception down the right sideline.
• NEWS AND NOTES: The Rebels did more full-team work than on Monday but still not as much as will take place when the team goes into pads today. … Tailback Bradley Randle and wide receiver Michael Johnson each made nice catches, and quarterback Caleb Herring had a nice scramble for a big gain. … Tackle Malo Taumua made the top defensive play by stripping the ball from tailback Channing Trotter. … Former major leaguer Lenny Randle was at practice watching his son.
• COACH-SPEAK: "We'll get a better feel for things (today) and Saturday when we put the pads on them. We're doing a lot of learning out there." — Bobby Hauck
• WHAT'S NEXT: UNLV returns to Rebel Park at 4 p.m. today.
MARK ANDERSON / LAS VEGAS REVIEW-JOURNAL