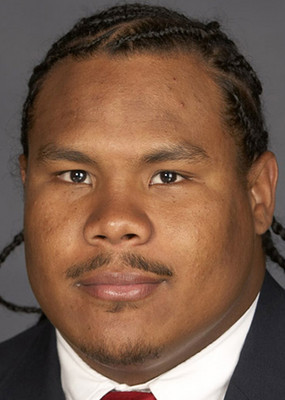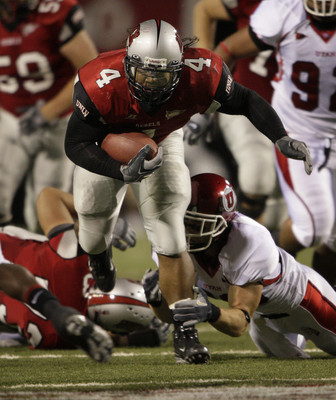 UNLV running backs coach Reggie Davis met with Frank Summers on Friday, a day before the Rebels played Utah, to make sure his starting tailback was completely on board despite his lack of carries in the first three games.
Summers told Davis he mostly wanted to win, but also wanted a larger role — even by playing on special teams.
So Summers ran with the kickoff and punt teams, but also ran all over Utah from out of the backfield. He made up for his previous lack of attempts by rushing for 190 yards and two touchdowns on 29 carries. Summers also caught a 29-yard scoring pass in the Rebels' 27-0 victory.
On Monday, the junior was named the Mountain West Conference's co-offensive player of the week. Rebels senior linebacker Beau Bell won the defensive award after making 10 tackles, forcing a fumble and breaking up a pass.
"I felt like I had been let out of a cage," the 240-pound Summers said. "The first few games were kind of rough on me, but I understand football. We couldn't go to the running game like we wanted to and I'd like to. We were trying to win games, and you can't win games running the ball (trailing by) 21."
Various situations dictated the lack of a ground game that resulted in only 30 carries for 108 yards for Summers in first three games. The Rebels passed to back off Utah State's blitz, to counter Wisconsin's strong run defense, and to try to catch up to Hawaii, which eventually won by 35 points.
"The good thing about Frank is he is a team guy, and never one time did he even come to me saying he wants the ball more," Davis said. "Never one time did he show in his demeanor that he wasn't happy."
Davis and head coach Mike Sanford said each game will provide a different scenario, including Saturday's 1 p.m. kickoff at UNR. Sometimes Summers will be asked to carry 25 to 30 times. Other times, quarterback Travis Dixon will have to carry the load.
There will be games where there is a fairly even mix between the two.
Against Utah, Summers showed early what kind of game to expect. With 2:01 left in the first quarter, he slammed into three Utes — including safety Robert Johnson, now out three weeks with a dislocated right shoulder — and dragged a fourth for a 24-yard gain.
"It was a huge lift for our team," Sanford said. "We talked about … setting a tone for the game and being physical."
In the second quarter, Utah defenders had gone from trying to tackle Summers high to going low.
"We watched the film today, and we just kind of laughed at all the people that dived at my ankles after a while," Summers said. "People were just throwing themselves in front of me."
That was the sort of physical presence the Rebels expected of Summers when he transferred from Laney College in Oakland, Calif., where he was a junior college All-American. He began his college career at California.
Summers said on his 4-yard touchdown run early in the fourth quarter, Utah defensive end Paul Kruger avoided him rather than attempt what could have been a tackle for a loss. Instead, Kruger jumped on Summers after the big back had entered the end zone.
Sanford said Utah became afraid to tackle Summers.
"It's very evident on tape," Sanford said. "They were avoiding trying to tackle him, no question in my mind."
UNLV Football