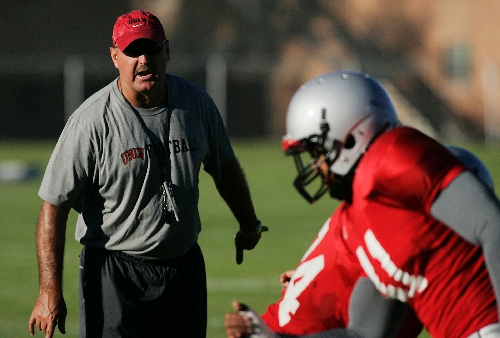 ELY — Brent Guy was in the middle of moving from Kentucky to Arizona when he got a call from UNLV football coach Bobby Hauck.
Guy had already signed the paperwork for his new house in Phoenix, unloaded some boxes and returned to Louisville to pack up another truckful.
But he knew he couldn't pass up the opportunity to coach the Rebels' linebackers. It was June — late in the process for hiring coaches — so this would probably be his only job offer this season.
"I'm a 50-year-old coach still learning stuff," Guy said. "That's what's fun about it for me. I enjoy working with the kids and having my own group. It's been enjoyable. I'm excited about the season. I am very fortunate to have a job."
Hiring Guy was a coup for Hauck, who had to scramble to fill the post after UNLV forced out linebackers coach Ty Gregorak following his May arrest in Boulder, Colo. Gregorak was accused of vehicular trespassing and theft, but the charges were later dropped.
Guy coached Utah State from 2005 to 2008 and has served as the defensive coordinator for Boise State, Arizona State and Louisville, where he spent last season.
Guy lost his job when Louisville coach Steve Kragthorpe was fired in November.
Hauck said he wasn't surprised that a coach with Guy's resume was still available in June, pointing out that many top coaches are out of work even now with a new season about to begin.
Hauck said he likes the energy Guy brings to the team. In a goal-line drill Friday, Guy charged onto the field after a fumble to signal a takeaway for the defense.
"I think the best thing about him is he's never really lost his passion for the game," Hauck said. "He's excited about practice every day."
Senior linebacker Ronnie Paulo said Guy is about more than just passion, he's also a teacher.
"He goes into detail about everything," Paulo said. "He really slows the game down for the new guys. It's really easy to learn things."
Guy should have a quality group of starting linebackers in Paulo and fellow seniors Starr Fuimaono and Calvin Randleman. UNLV also has some promising backups in juniors Nate Carter, Chris Jones and Beau Orth and freshman Tani Maka, who originally signed with UCLA and is running with the second team.
But how long will Guy be around?
UNLV has essentially two defensive coordinators in Kraig Paulson and J.D. Williams. Paulson has coached under Hauck since 2004, and Williams left Utah to oversee the Rebels' pass defense and serve as assistant head coach.
Someone with Guy's background figures to attract attention when the usual slew of openings occurs after the season.
Hauck said Guy "is excited about being here" and indicated there was a good chance to retain him because of factors such as the quality of life in Las Vegas and the work environment with the Rebels.
"Even if you aren't paying him as much money as some other places, sometimes those good things personally are worth a little bit," Hauck said.
Guy said he felt welcomed from the moment he arrived and already knew many of UNLV's coaches, including Hauck.
"If the opportunity came along, I'd certainly consider it," Guy said of possibly leaving for a more lucrative job. "It'd have to be the right situation, but that's certainly not on my mind right now. All I want to do is make these linebackers the best group I can and help UNLV every day get better."
Contact reporter Mark Anderson at
manderson@reviewjournal.com or 702-387-2914.