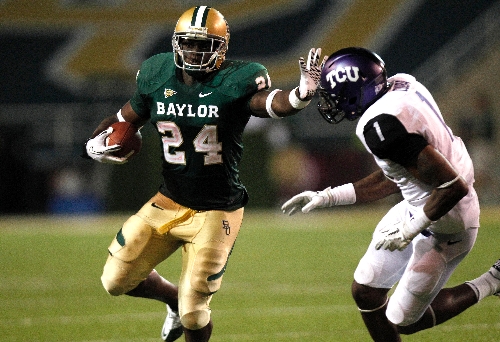 TCU must take steps to fix surprisingly porous defense
Texas Christian's defensive breakdown Friday at Baylor was one of the more surprising events from the opening week of the college football season.
The Horned Frogs made their name on defense, but couldn't corral Baylor quarterback Robert Griffin III in an un-TCU-like 50-48 loss.
Frogs coach Gary Patterson said Tuesday he counted 20 missed tackles, including 12 by the safeties. Former standout Tejay Johnson no longer roams the secondary, and his absence was noticeable.
Patterson was asked if he might make changes at safety.
"If you gave up 51 points … all positions are open," he said.
TCU's challenge is magnified this week because the Frogs visit Air Force and its unique triple-option offense. That takes a different kind of defensive preparation for an attack difficult to stop, which also means the Frogs can't directly address their long-term issues this week.
But TCU has certainly shown it can play defense. The Frogs led the nation last season in total defense (228.5 yards per game) and scoring defense (12 points per game).
One benefit from the loss to Baylor is Patterson won't have to worry about motivating his team.
"I'll be surprised if we don't come out and have a great practice (Tuesday)," he said.
AROUND THE MWC
Colorado State opened the season with nine sacks, tying Rutgers for the national lead. Lineman Nordly Capi had 3½ of them, earning conference defensive player of the week. He also forced a national record four fumbles. … Boise State is on this week's Sports Illustrated's regional cover, which distributes to Nevada, following its 35-21 victory over Georgia. Louisiana State, which defeated Oregon 40-27, is on SI's national cover. … San Diego State has scored at least 34 points in each of its past five games.
RANKING THE TEAMS
1. No. 4 Boise State (1-0, 0-0 MWC), off. Quarterback Kellen Moore has 39 career victories, just six short of the national record set by Texas' Colt McCoy.
2. No. 25 TCU (0-1, 0-0) at Air Force (1-0, 0-0). Horned Frogs will try to avoid first 0-2 start since 1999.
3. Air Force (1-0, 0-0) vs. TCU (0-1, 0-0). Falcons have scored at least one rushing touchdown in 22 consecutive games.
4. San Diego State (1-0) at Army (0-1). Running back Ronnie Hillman has rushed for at least 150 yards in seven of his 14 career games.
5. Colorado State (1-0) vs. Northern Colorado (0-1). Rams lead the series 16-0-1, but this is first meeting since 1986.
6. Wyoming (1-0) vs. Texas State (0-1). Cowboys are 8-0 against Football Championship Subdivision schools since 2000.
7. UNLV (0-1) at Washington State (1-0). For first time since defeating Arizona State and Iowa State in 2008, Rebels play back-to-back opponents from Bowl Championship Series automatic qualifying conferences.
8. New Mexico (0-1) vs. No. 14 Arkansas (1-0) at Little Rock, Ark. Lobos coming off a 14-10 loss to Colorado State despite beating the Rams in several statistical categories. Offense allowed nine sacks and lost three fumbles.
GAME OF THE WEEK
TCU at Air Force. The Frogs appear wounded, so this is Air Force's chance to establish itself as the top challenger to Boise State. For TCU, this is a must-win game as it looks to make its final MWC season memorable.
TRENDING
Mountain West teams are scoring points, and great blocking is a major reason why. Boise State, San Diego State and TCU didn't allow a sack in their openers, and the Aztecs have gone three games in a row without giving up one. All three scored at least 35 points in the first week, and they were joined by Air Force (37) and Wyoming (35).
ON THE HORIZON
New Mexico coach Mike Locksley put pressure on himself by saying the Lobos needed to win at least six games. They gave away a great chance for one victory in a 14-10 opening loss to Colorado State, making the road to six that much more difficult. The hot seat isn't getting cooler for Locksley, who went 1-11 in each of his first two seasons.