This UNLV QB chose to stay and finish the job
Updated April 7, 2023 - 8:25 pm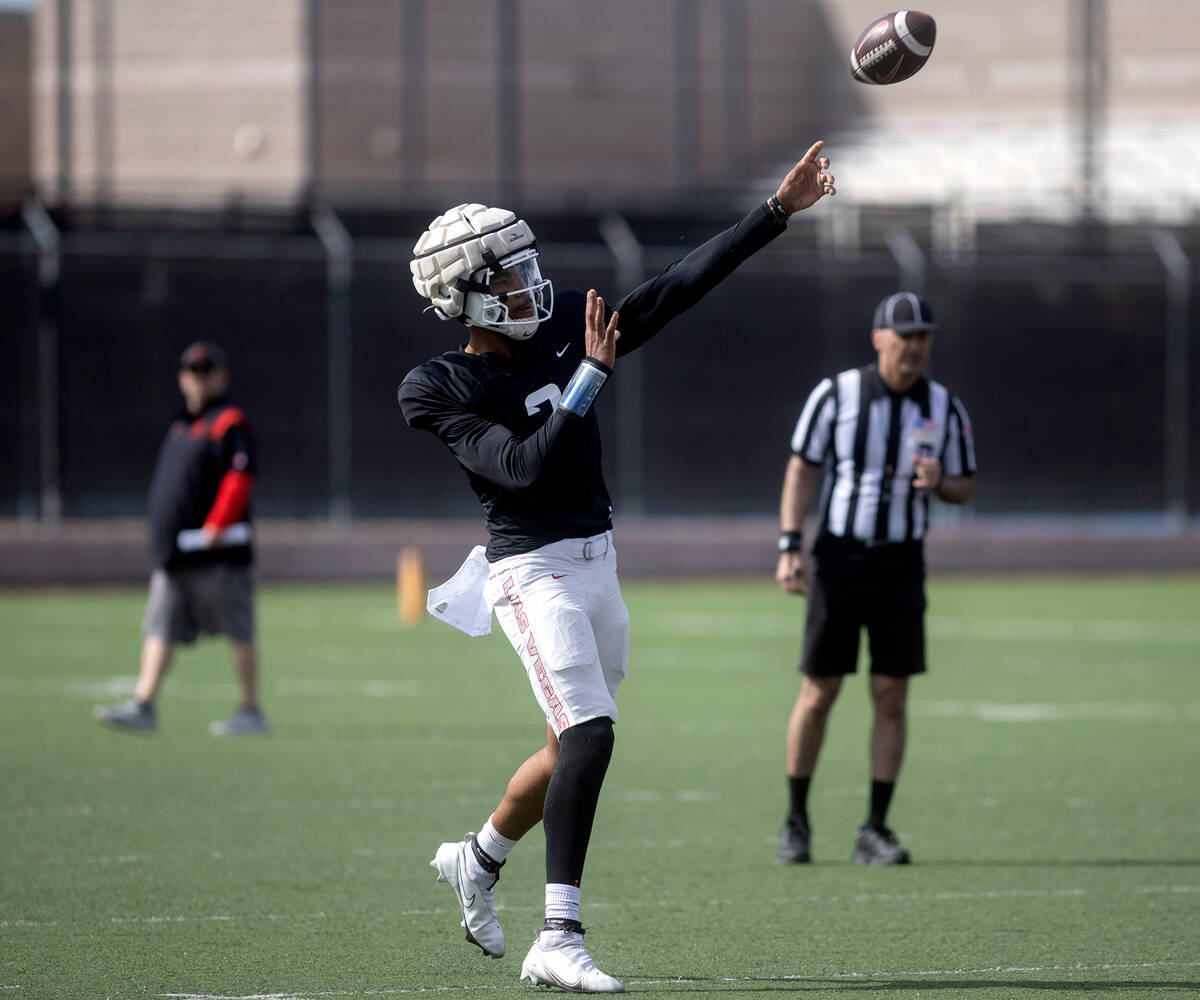 Loyalty …
He could have left with the others, skipped town in search of a different opportunity. Could have decided a fresh start was the right play.
But then Doug Brumfield remembered what this was about from the beginning, from the moment he committed to UNLV on an official recruiting visit in 2019.
It was never about him.
"These are my brothers, guys I came to college with," Brumfield said. "I made a promise to them that we were going to be the ones to turn this program around. That's what we're working on right now."
The Rebels under first-year coach Barry Odom hold their Spring Showcase at Allegiant Stadium at 1 p.m. on Saturday. Brumfield, the junior left-handed quarterback, will lead UNLV's new Go-Go offense of motions and shifts and unconventional formations.
Running back Aidan Robbins transferred to Brigham Young. Center Leif Fautanu to Arizona State. Wide receiver Kyle Williams to Washington State. All three key players.
It happens all the time. Any new staff will undoubtedly lose some faces from the team it inherits.
But not the 6-foot-6-inch Brumfield.
He originally committed to Tony Sanchez but never played for the coach, who was fired in November of 2019. Brumfield then spent three seasons under Marcus Arroyo before the latter was let go. The quarterback now studies under Odom and offensive coordinator Brennan Marion.
"As long as we got the right man as head coach, everything was going to be OK," Brumfield said. "I knew we got a guy in (Odom) who knew what he was doing and had a plan. There was a sense of relief and comfortability from start."
A mentor
Loyalty …
Maalik Murphy was a 5-star QB recruit who signed with Texas. He was a freshman at Junipero Serra High in Gardena, California, when Brumfield was a junior.
Murphy arrived with all the fanfare and promise you would expect from someone so talented.
And all Brumfield did was mentor the younger player. All he did was try to make the kid better.
"That was Doug," said Serra coach Scott Altenberg. "He was never worried about being beaten out as the starter — which didn't happen — but instead tutored Maalik. Doug was so generous with his time. If you ask Maalik, he would tell you Doug had a lot to do with the quarterback he became."
Brumfield was a leader in and around Serra since the sixth grade, when he first attended the school's youth camp. He was then like he is now, more actions than loud and boisterous speeches.
Never lost his cool. Poised in the pocket.
"We'd be playing in the biggest game against the biggest team and Doug would be yawning next to me during a timeout," Altenberg said. "He was never fired up in a bad way. So calm, so mellow. So smart."
Brumfield took just one recruiting trip other than UNLV. He went to Kansas, looked around, surveyed the opportunity and left after one day. It wasn't for him.
Utah and William &Mary and Rutgers and UNR also came calling.
And, as often occurs when late in a recruiting cycle and teams still need to sign a quarterback, the likes of Ohio State and Southern California tried to make runs at him.
"Doug wanted nothing to do with it," Altenberg said. "He said 'UNLV is my school. That's where I want to be.'"
Second thoughts
Loyalty …
For about five minutes, UNLV wasn't the place.
Brumfield actually entered the transfer portal in April of last year, even writing on his Twitter page, "Thank You, Las Vegas."
Eight days later, he returned to the program.
"I had a lot of outside noise about the portal and things like Name, Image and Likeness," Brumfield said. "But it wasn't my personality to get up and turn my back on these guys. I needed to mentally get my head out of the clouds and come back."
It's important he remain healthy. The last two seasons Brumfield has missed games due to injury. He suffered a fracture to a vertebrae in his lower back in 2021 and spent time in concussion protocol last year.
He said it all made him a smarter player, that he won't put himself in such harm's way this season.
But it's football. Things happen.
Marion's offense is more reactionary than adhering to strict X's and O's, more feeding off what a defense shows than feeling a need to get the ball to a specific teammate.
"Just make it a positive play and move on to the next one," Brumfield said.
He's a point guard playing football. The Go-Go quarterback needs to see the entire field before making a decision on where to attack. He's in complete control. It's not an offense strictly led by a coordinator on the sidelines. Each play has several options — be it pass or run.
"The guys who have gotten it and understood it have done really well," said Marion, architect of the offense who was last the passing game coordinator and wide receivers coach at Texas. "I think Doug has always had the skill set and we've just been developing his toughness and mindset and will to win.
"He's in charge of the show. The ball is in his hands. Make it right. Make the right play. He doesn't have to look over and check with me about this or that. Just make something happen."
What has surprised Marion: That his quarterback is a better runner when also looking to pass. That the player on film last year ran mostly off scrambles and didn't run to throw it. That he just took off when things broke down. Now, there will be more of a purpose to all of it.
It's important also that Brumfield hasn't hit a wall in spring practice, hasn't missed a day where improvement isn't obvious. That when he talks, teammates listen.
He understands this much: Whether by actions or words or both, he needs to be one others look to.
It's one way to allow UNLV the best chance at success.
"He has the ability to be a great leader," Odom said. "Whether it's high school, college or the NFL, if you have a tremendous leader at quarterback, your offense will be able to execute efficiently.
"Those are things Doug is getting a better feel for. I'm proud of what he has done. He knows how important the position is and what we're trying to do on offense, He has embraced that."
Proud Papa
Loyalty …
Things most folks might not know: Brumfield was a child actor for about a second, seen in the Nickelodeon comedy, "Bella and the Bulldogs." He was an extra on two episodes. Not surprisingly, he played a football player.
"They had me throwing the ball because no one else could and I even returned a kick," Brumfield said.
But it wasn't in him to continue. Wanted to compete in real football too much.
His coaches in Little League played him right-handed until his father, Doug Sr., corrected them. Brumfield's quiet nature comes from being an only child until a sister was born four years ago.
He was actually recruited to play on a better Pop Warner team as a youngster. Turned it down. He was then recruited to a more prestigious high school program when at Serra. Turned it down.
All to the approval of Dad.
"Nowadays, loyalty is a lost art," said Doug Sr. "People can't wait to leave, even in pro leagues like the NFL and NBA. Doug picked UNLV for the school and the city. He just fell in love with it all.
"I'm proud of the young man he has become. Mature, loyal, stays out of trouble. I don't think he could be in a better spot than he is right now."
He could have left with the others, skipped town in search of a different opportunity. Could have decided a fresh start was the right play.
Doug Brumfield instead chose to stay. He has more work to do. His goals aren't near yet realized.
"Never be a prisoner to your past," Brumfield said. "Three to four years from now, new guys will be here and I won't. So it's all about this moment and setting a high standard. Execute when our moment is here and hopefully the guys who follow all of us will do the same or a lot better.
"But let's be the ones who make a positive change. Who turn this program around."
Contact Ed Graney at egraney@reviewjournal.com. Follow @edgraney on Twitter.
UNLV FOOTBALL
What: Spring Showcase Scrimmage
When: Saturday
Time: 1 p.m.
Site: Allegiant Staidum
Event is free and open to the public.
Autograph session on the field will follow scrimmage.