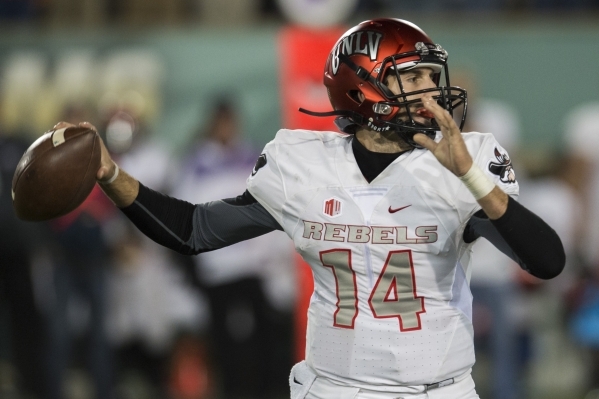 When Tony Sanchez became the football coach at UNLV more than 11 months ago, he took the job with a long-range view of turning around a program some even thought shouldn't exist anymore.
He vowed not to cut corners, but he also made a promise to those who would be seniors in 2015.
They would get all he had to make it a memorable final season for them.
This season hasn't quite worked out the way the Rebels hoped, but improvement is apparent as they near the end of Sanchez's first year. UNLV's seniors will play their final game at Sam Boyd Stadium at 7:30 p.m. today when San Diego State visits.
"I know it's going to be an emotional night," Rebels senior wide receiver Anthony Williams said. "It might not be the last time some of us play football in general, but that's the last time we play at Sam Boyd in collegiate football."
UNLV (3-7, 2-4 Mountain West) is a 16-point underdog to the Aztecs (7-3, 6-0) in a game that will be televised on CBS Sports Network. Both teams are heading in opposite directions, with the Aztecs riding a six-game winning streak and needing a victory to clinch the West Division. That would put them in the Mountain West title game on Dec. 5.
UNLV had hoped to make a push in the division, or at least a run at a bowl, but quarterback Blake Decker has had trouble staying healthy. His absences helped cost the Rebels winnable games against San Jose State and at Fresno State, changing the trajectory of the season.
He isn't expected to play against the Aztecs after suffering ankle and hip injuries in last Saturday's 49-35 loss at Colorado State. But his replacement, Kurt Palandech, showed some promise in that game, running for a touchdown and throwing for another. He would have had a second TD pass, but Aaron Criswell dropped a perfect throw in the closing seconds, and Palandech threw for 154 yards in just more than two quarters of work.
After previous struggles when filling in for Decker, perhaps his performance against Colorado State will help tonight.
"I feel like I've improved, and there's still a lot of room for improvement," Palandech said. "Even in that game, there are some throws I wish I had back and I feel like I left out there, but there were some good things. I'm just trying to build off of that and hope to get this win."
The assignment isn't easy for Palandech, and it wouldn't be for Decker, either, if he were somehow able to play. San Diego State's defense has allowed 62 points during this winning streak, and the Aztecs allow just 17.1 points and 287 yards per game for the season, best in the conference.
Offensively, they dare opponents to stop the run, having rushed 476 times and thrown 196 passes. Donnel Pumphrey, who went to Canyon Springs High School, has run for 1,171 yards and 12 touchdowns.
The Aztecs are rolling, but UNLV's seniors hope for a memorable final night at Sam Boyd. An upset victory would certainly do that.
"I cannot reiterate how much I appreciate our senior class and their buy-in and their enthusiasm and how they've led, and they've done some great things," Sanchez said. "They've been a true change agent. Without that group, you wouldn't see the progress you're seeing right now."
Sanchez wants to see a whole lot more progress before he's done at UNLV.
He knew a turnaround wouldn't happen in one season, but it had to start somewhere. Maybe it did with this senior class.
"We want to leave behind a good example for the future of this program," UNLV senior safety Peni Vea said. "Coach Sanchez has done a great job building it, and we want to be that class that left a legacy of what the classes after us can follow."
Contact Mark Anderson at manderson@reviewjournal.com or 702-387-2914. Follow him on Twitter: @markanderson65
Check our GameDay page for full coverage of the UNLV-San Diego State game.