Tony Sanchez looks for answers in Rebels' first scrimmage
Updated August 10, 2018 - 7:15 pm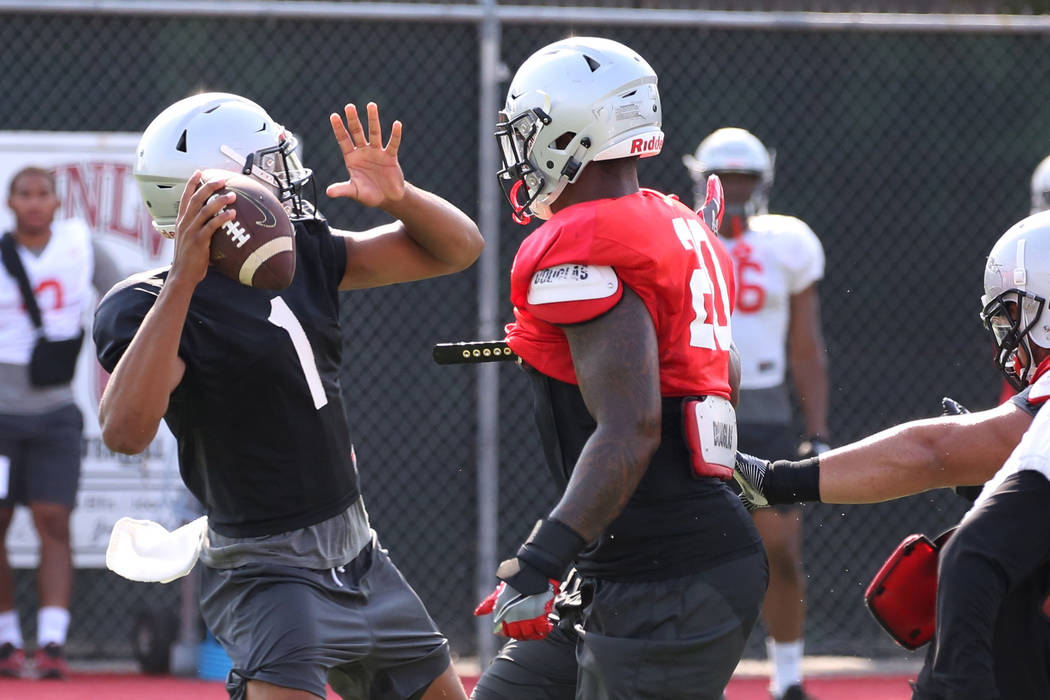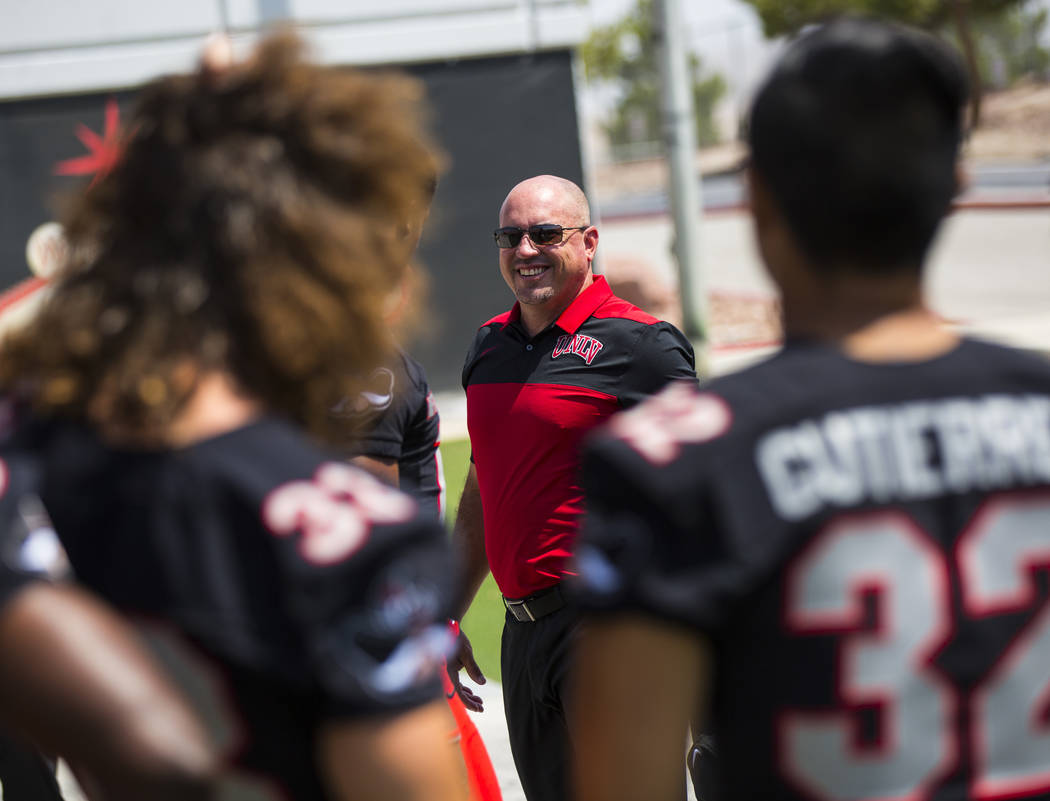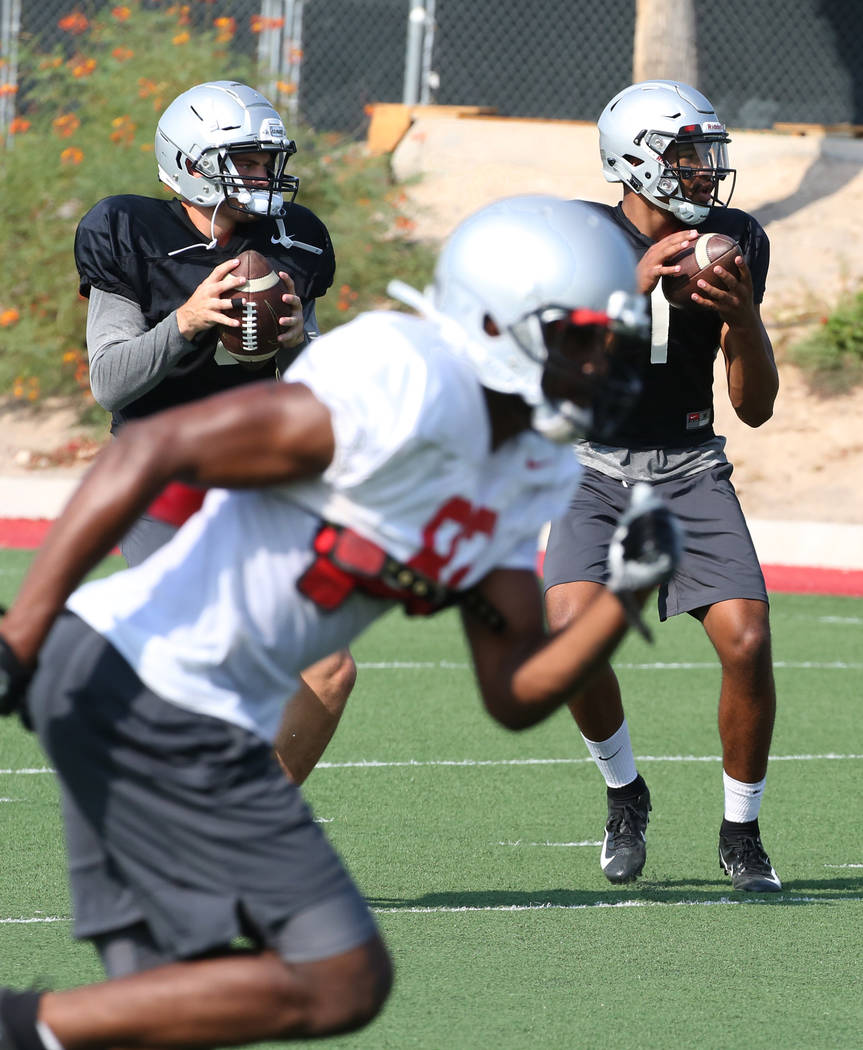 UNLV's first football game is three weeks away, but the Rebels will get their first game-like setting Saturday.
They will go through a closed scrimmage at Sam Boyd Stadium, playing two 30-minute halves with a running clock and with the goal of getting in 70 plays.
That will give coaches another indication as to where the Rebels stand at this point in training camp and with the Sept. 1 opener at Southern California looming.
Coach Tony Sanchez said emphasis will be on short-yardage and goal-line situations, how the quarterbacks manage the game, how the coaches communicate and adjust, how the kickers perform under a live rush, and how defenders tackle, force turnovers and pressure the quarterbacks.
"The problem is when you get in a scrimmage, one side is doing really good and the other one is not," Sanchez said. "So you want to see some good give and take. But whoever does well, I go, 'Yeah, those are my guys!'"
He was speaking with tongue in cheek, but Sanchez will want a serious effort. Here are three other areas that will be important to monitor in the scrimmage:
1. Quarterback Armani Rogers' accuracy.
UNLV's offense hasn't looked much different in practice than from last season when the Rebels relied on the run game and a deep passing attack. That kind of approach can lead to big plays, but also make it more difficult to reach the 60-percent completion mark that is the target for Rogers.
Maybe Rogers, the Mountain West Freshman of the Year in 2017, will be asked to complete shorter passes in the scrimmage and into the season. If so, that could expand his downfield game and help him greatly improve on his 52.4 completion percentage from last season.
If nothing else, having a season of experience that was partly successful — Rogers totaled 2,251 yards rushing and passing — should help as he prepares for another year.
"It's a big benefit," Rogers said. "It's like knowing the back of your hand, being able to tell people where to line up and telling them what to do when they don't know. Just being a field general out there."
2. The battle up front.
Defenders did a good job of getting to the quarterbacks in Friday's practice at Rebel Park. It's something they need to build upon. UNLV registered only 11 sacks last season, second to last in the Mountain West. Air Force had 10.
Rebels defenders will try to get past an offensive line that did an adequate job protecting Rogers last season, allowing 24 sacks to rank sixth in the conference. Four starters return from that line, which should be among the Mountain West's best and deepest units.
3. Injuries.
No matter what else happens, if the Rebels get out relatively unscathed, that will be a win.
The last thing they need is for Rogers or running back Lexington Thomas or a key defensive starter to get hurt.
UNLV has been fortunate in camp with only defensive linemen Nick Dehdashtian (left foot) and Kolo Uasike (conditioning) missing any substantial time. Sanchez said he expects both of those players to return soon.
More Rebels: Follow online at reviewjournal.com/Rebels and @RJRebels on Twitter.
Contact Mark Anderson at manderson@reviewjournal.com. Follow @markanderson65 on Twitter.
UNLV Football Schedule
(All times Pacific)
Sept. 1: at Southern California, 1 p.m., Pac-12 Network
Sept. 8: Texas-El Paso, TBA
Sept. 15: Prairie View A&M, TBA
Sept. 22: at Arkansas State, TBA
Oct. 6: New Mexico, TBA
Oct. 13: at Utah State, 1 p.m., Facebook
Oct. 19: Air Force, 7 p.m., CBSSN
Oct. 27: at San Jose State, TBA
Nov. 3: Fresno State, 7:30 p.m., CBSSN
Nov. 10: at San Diego State, TBA
Nov. 17: at Hawaii, 8 p.m.
Nov. 24: UNR, 6:30 p.m., CBSSN