Toughman Marc Philippi gives Rebels 'whacks and whams'
March 10, 2016 - 10:28 am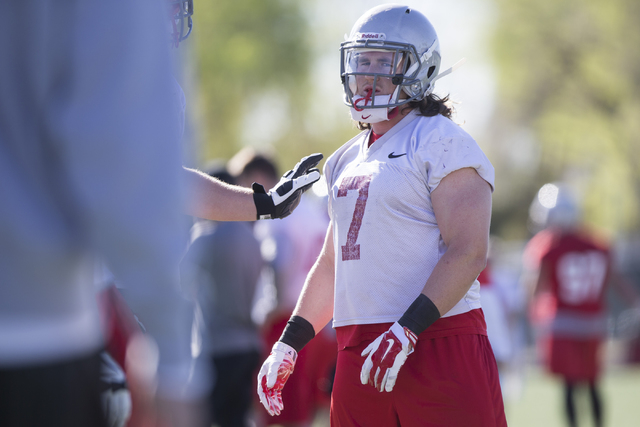 Marc Philippi's father, former longtime UNLV strength coach Mark Philippi, earned the title of America's Strongest Man in 1997 and competed in seven World's Strongest Man events.
If the Rebels football team had a toughest man competition, Marc Philippi, a senior fullback/H-back from Bishop Gorman High School, would be one of the front-runners.
"He's a tough guy. He's a blue-collar guy," said UNLV coach Tony Sanchez, who also coached Philippi on the Gaels. "He's got a very specific role, and he'll also add depth on special teams, and he'll do some really good, hard-nosed, tough things that will represent who we are."
Asked to describe Philippi's role, Sanchez said: "He's the kind of guy who's going to lead on power (formations), and he's going to kick out on whacks and whams.
"He is a hard-nosed, old-school fullback. There ain't nothing skill about him. He's a warrior."
What, exactly, are whacks and whams?
"When we don't block somebody and wham! We whack their (butt)," Sanchez said.
After missing last season with a broken right foot suffered before fall training camp, the 5-foot-10-inch, 225-pound Philippi is healthy again and eager to whack and wham unsuspecting opponents on the football field.
"It was extremely disappointing not playing last year," said Philippi, 22. "One of the hardest things is sitting watching your team knowing you can contribute, but you can't. It teaches you not to take anything for granted. You never know when your last play is. When you're sitting out, it gives you a different perspective.
"It kind of lit a fire under me. I'm ready to go. I feel like I'm moving well, and I've got my legs back, so it's fun flying around."
The Rebels finished last season with one available tight end, but are expected to showcase returnee Andrew Price and junior college midyear transfers Tim Holt and Trevor Kanteman at the position this season. Philippi is expected to see action at H-back, which is similar to tight end but set back from the line of scrimmage, and at fullback with returnee David Greene.
"We have some extra depth that we didn't have last year," Philippi said. "It's good. I like that brand of smash-mouth football where we have a bunch of tight ends and fullbacks in there.
"My primary role is going to be opening up holes and blocking, and that will set up the chance to get some touches."
Philippi played quarterback as a freshman at Bishop Gorman, which he helped to three consecutive state titles under Sanchez, before moving to safety and linebacker and fullback. He was recruited by UNLV as a safety and moved to outside linebacker his sophomore year before moving to fullback last spring.
"It's a little different mindset from defense," Philippi said. "You know the play before the defense does. They're reading you, so I try to use that to my advantage and get to my spot quickly and hit them before they notice."
Philippi was fired up when Sanchez was hired by UNLV in December 2014.
"I knew when he came here, he'd find success and help change the program," he said. "I like him because he's the kind of guy, you get what you work for. He's all about merit. If you work hard, you're going to get rewarded.
"That's kind of the value this country was based on, and he kind of likes to instill that in his players."
After UNLV's second spring practice Wednesday morning at Rebel Park, Philippi said the vibe was better than last year.
"Last year was different because nobody knew what to expect, and now we know what to expect," he said. "We have a bunch of new guys they brought in, and everybody is energetic and flying around playing football. It's fun to practice in this atmosphere again."
Philippi has attended spring practice at Rebel Park since he was born in 1993, the first of his father's 13 years as the program's strength coach.
"I used to come up here, and after he'd work the team out, he'd always do his training. He'd have tires and stones doing the workouts and stuff," Philippi said of his father. "He actually put on a strongman show here a long time ago. I remember having strongmen in here doing all the stuff on the field."
Now, Marc Philippi is one of the toughest men on the field.
Contact reporter Todd Dewey at tdewey@reviewjournal.com or 702-383-0354. Follow him on Twitter: @tdewey33