September 7, 2010 - 11:00 pm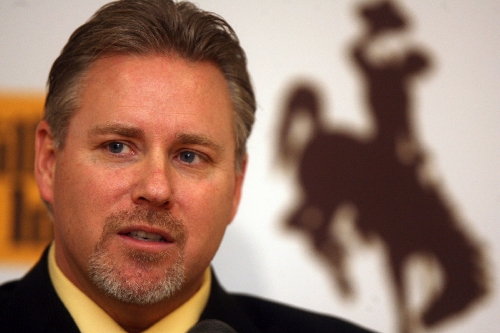 Dave Christensen is trying to make an abnormal situation as normal as possible this week, so he did what he does every Tuesday and went on the Mountain West Conference teleconference.
Christensen patiently and thoughtfully answered a slew of questions, some about on-field matters regarding the Wyoming football team he coaches.
But most questions were about the tragedy that suddenly struck his program Monday.
Ruben Narcisse, a 19-year-old freshman linebacker, was killed in a car accident on the notoriously dangerous highway between Laramie, Wyo., and Fort Collins, Colo.
Three teammates were injured, but will be physically OK.
One teammate, Trey Fox, is believed to have fallen asleep while driving.
"Everybody's thoughts and prayers are with us," Christensen said. "I know the support is there. Football is just a game. This young man (Narcisse) was a wonderful young man, a very vibrant person."
Counselors were available for the team, which met Monday, but Christensen said maintaining the usual routine would be crucial to help those grieving to find some sort of normalcy.
Players showed up for positional meetings at 7 a.m. Tuesday. They will go through the usual preparation for Saturday's game at No. 5 Texas.
The Cowboys will wear helmet decals with Narcisse's initials, and several players will wear his jersey. Christensen said the school also is considering other tributes.
"I'd be lying if I said I knew how (the players) were going to react," Christensen said. "I don't. I'm hoping that it will pull us together, make us stronger. Kids are fragile."
Christensen said he wouldn't tell players to avoid U.S. Highway 287, where so many tragic accidents have taken place.
"No matter which road you're on, when the driver falls asleep, the car will go out of control," Christensen said.
UTAH QB MIGHT SIT — Utah quarterback Jordan Wynn, whose thumb on his throwing hand is sprained, remains day to day. If he can't play in Saturday's home game against UNLV, Terrance Cain will start.
If the Rebels are in the dark about who starts for the No. 20 Utes, Utah coach Kyle Whittingham said he remains uncertain about what to expect from UNLV first-year coach Bobby Hauck and his new staff.
"Obviously, we have the opportunity to evaluate the Wisconsin game, but there's not a lot to go on besides that," Whittingham said.
The Rebels lost their season opener to the Badgers, 41-21.
HURTING REBELS — The Rebels also aren't sure two of their top players will be available.
Linebacker Starr Fuimaono (shoulder) and defensive tackle Isaako Aaitui (leg) are listed as questionable on the weekly injury report.
UNLV probably will be without cornerback Quinton Pointer (leg), who is doubtful. He didn't play against Wisconsin.
Even at full strength, the Rebels figure to have a difficult time beating Utah.
As he finished his portion of Tuesday's weekly league teleconference, a Mountain West Conference representative offered the usual "good luck" to Hauck.
"Thanks a lot, we'll need it," Hauck replied.
FALCON A LONGSHOT — Air Force is expected to be without a key player, cornerback Reggie Rembert, when the Falcons host Brigham Young on Saturday.
More tests need to be completed on Rembert, who has a neck injury.
"It's a longshot on playing this week," Air Force coach Troy Calhoun said.
Contact reporter Mark Anderson at manderson@reviewjournal.com or 702-387-2914.
MOUNTAIN WEST CONFERENCE
PLAYER OF THE WEEK
UTAH WIDE RECEIVER DEVONTE CHRISTOPHER
Christopher, who went to Canyon Springs High School, caught eight passes for 155 yards and a touchdown to lead the Utes to a 27-24 overtime victory over Pittsburgh, which was ranked No. 15.
COACH-SPEAK
"There were things that went well. But our goal is to win the Mountain West championship. And if we play like the way we did today, we'll be a 4-8 football team."
— San Diego State's Brady Hoke, after a 47-0 victory over Nicholls State
FROM THE LOCKER ROOM
"It was kind of intense. There were some things that were said. Just to light a fire under guys. In the first half, we were completely dead. We didn't play with any passion at all."
— Air Force quarterback Tim Jefferson, on the locker room tension of a three-point halftime lead over Northwestern State before the Falcons eventually won 65-21
THE WRITTEN WORD
"During the offseason, Boise State dominated talk as a potential BCS buster, with the Broncos even being considered a dark-horse contender for a shot at the national championship. TCU, which made its first BCS appearance last season, also was mentioned. Well, it may be time to put Utah in the conversation — again."
— Rivals.com's Tom Dienhart
THIS WEEK'S TOP GAME
Brigham Young at Air Force. The Falcons have been trying to break the stranglehold of the conference's Big Three, and this is their chance to make at least a dent. But BYU has dominated this series, leading 24-6 with six consecutive victories.