UCLA pulls away to beat Rebels at Rose Bowl
September 10, 2016 - 10:54 pm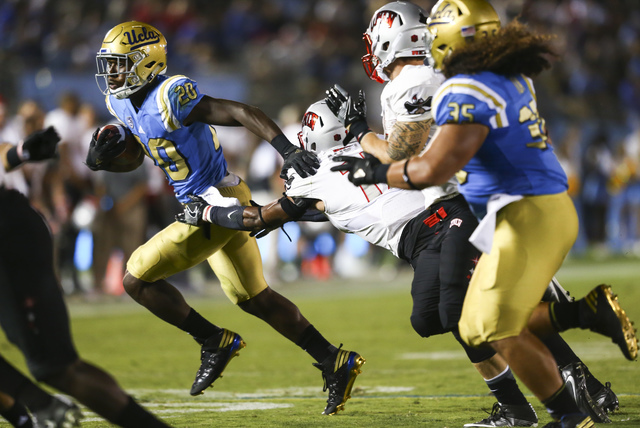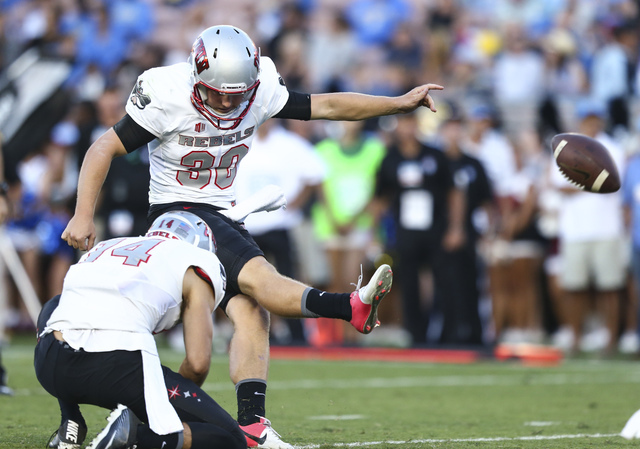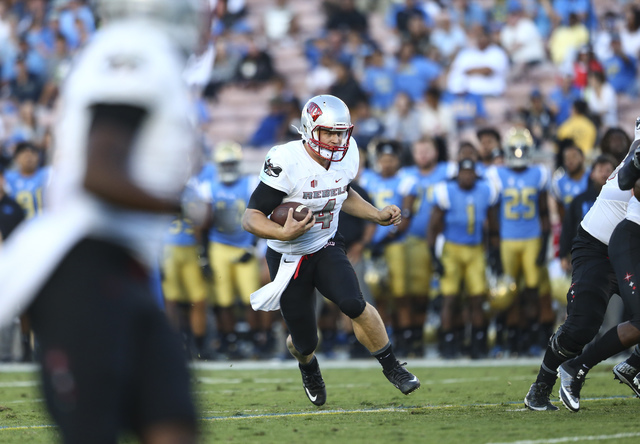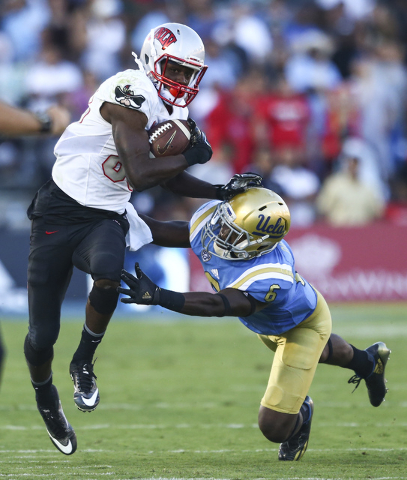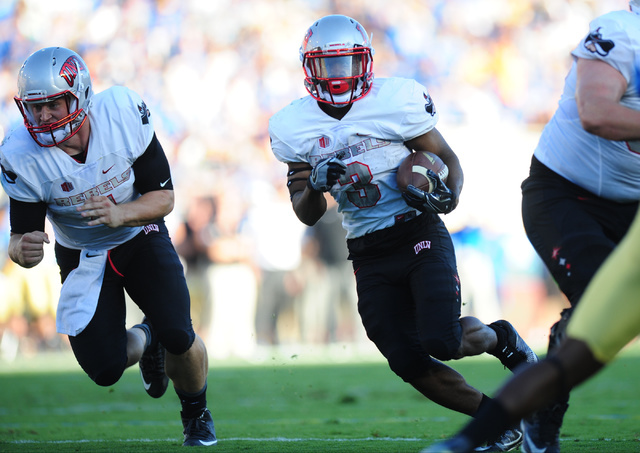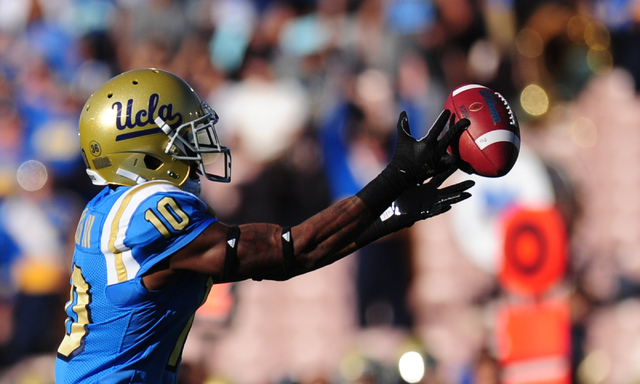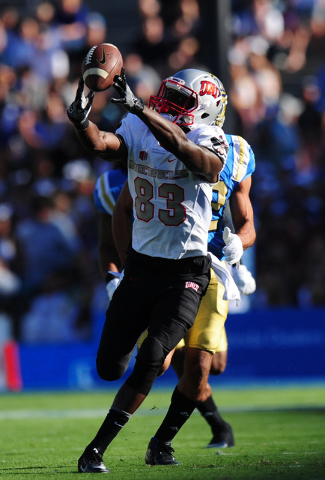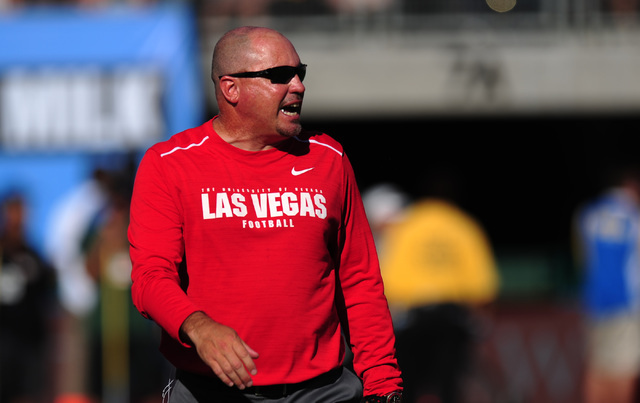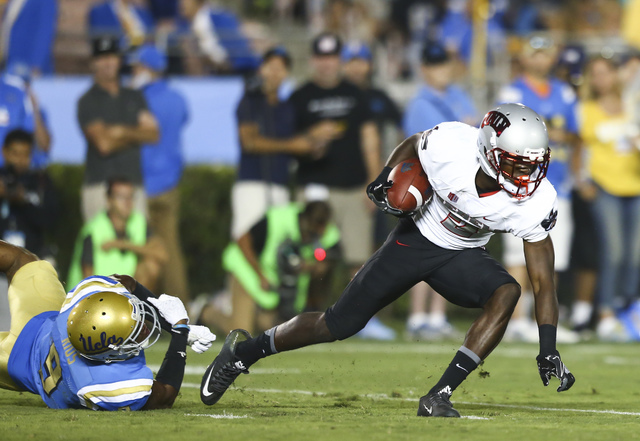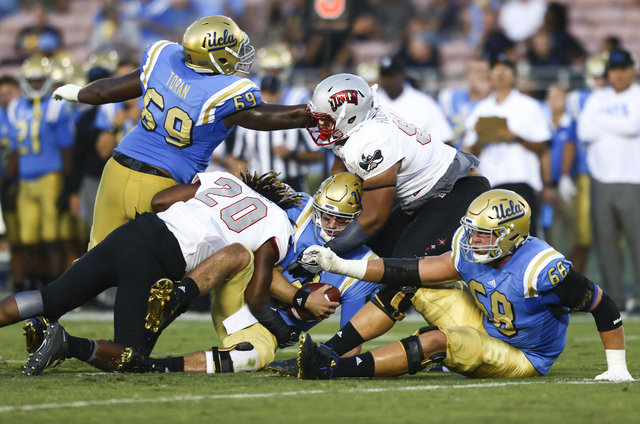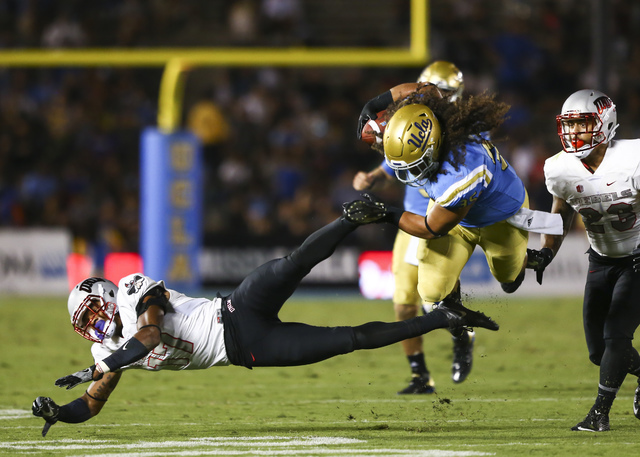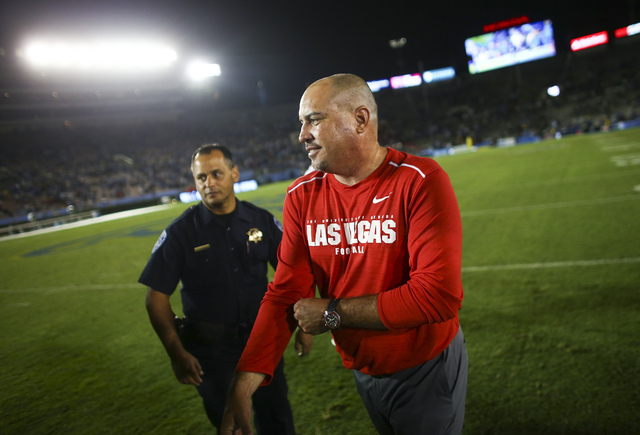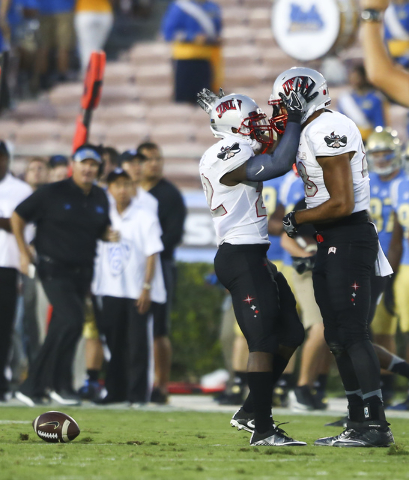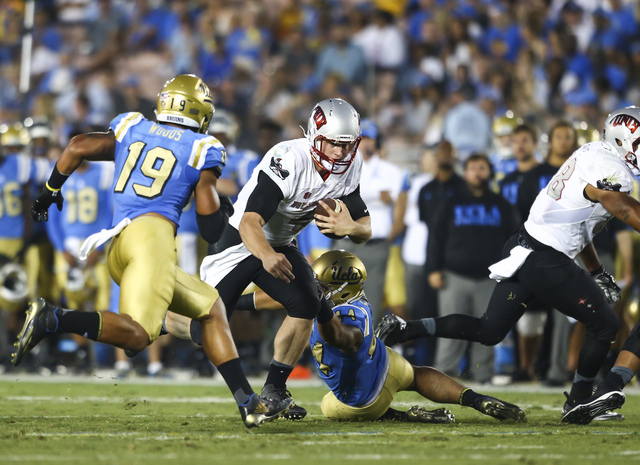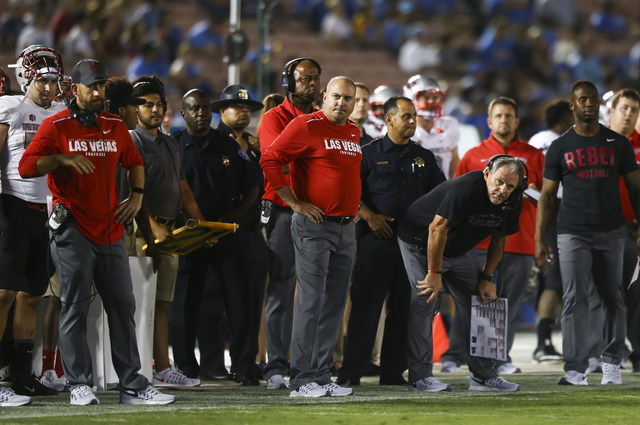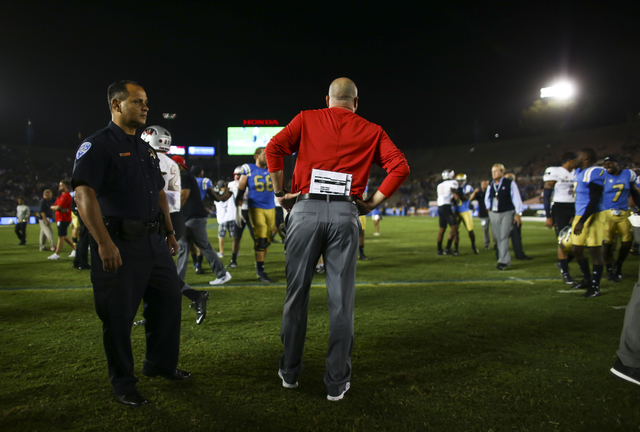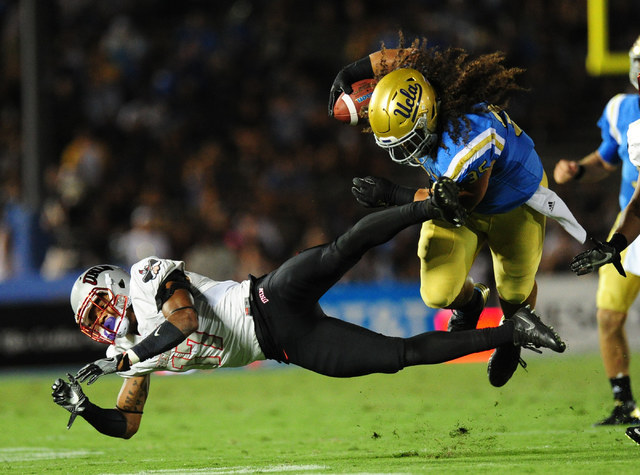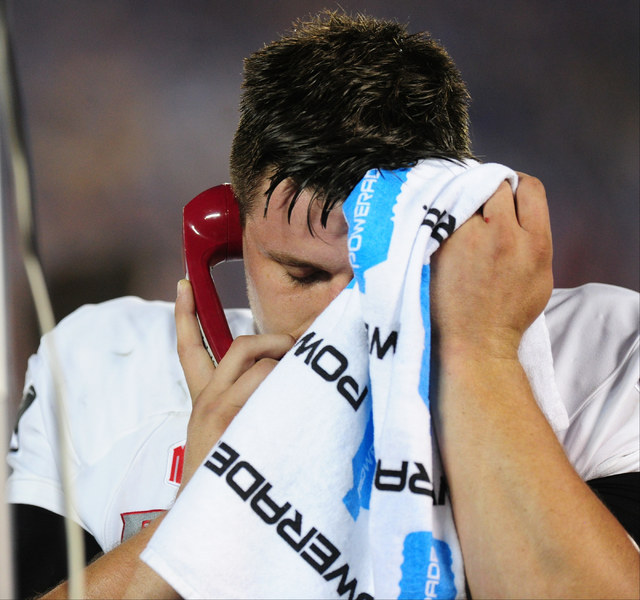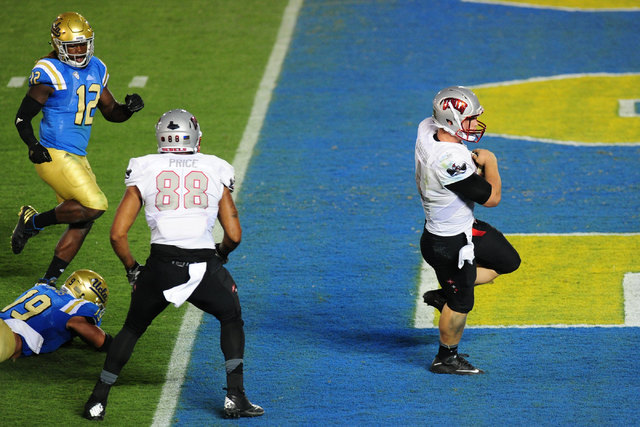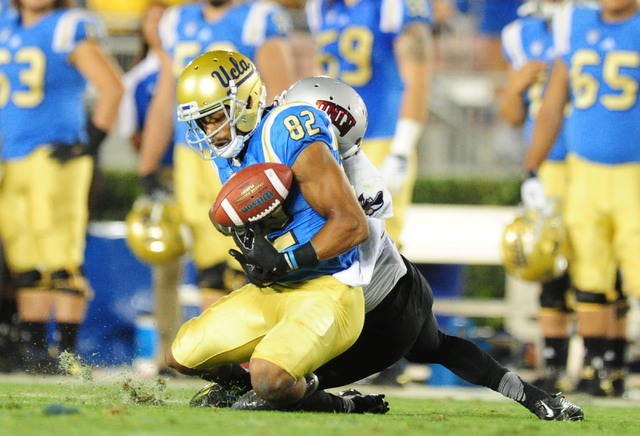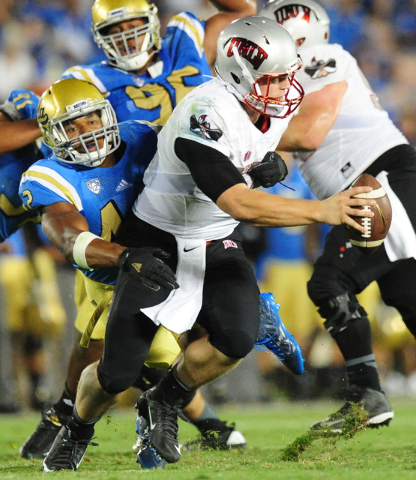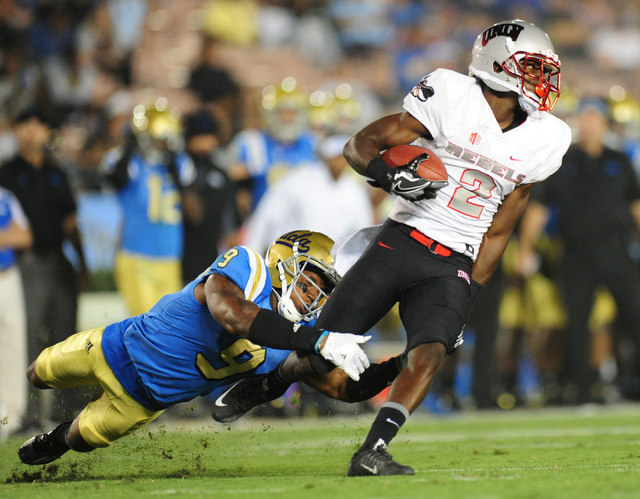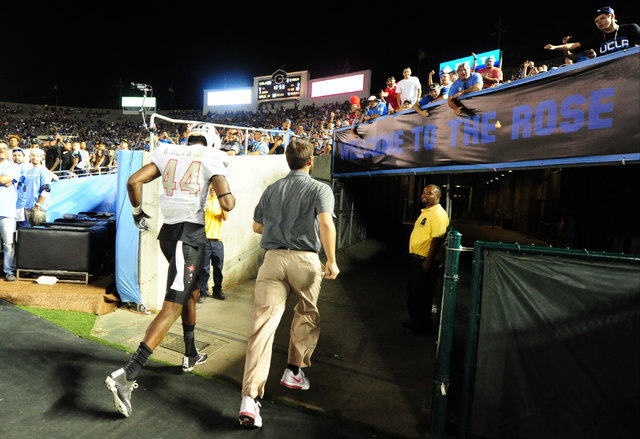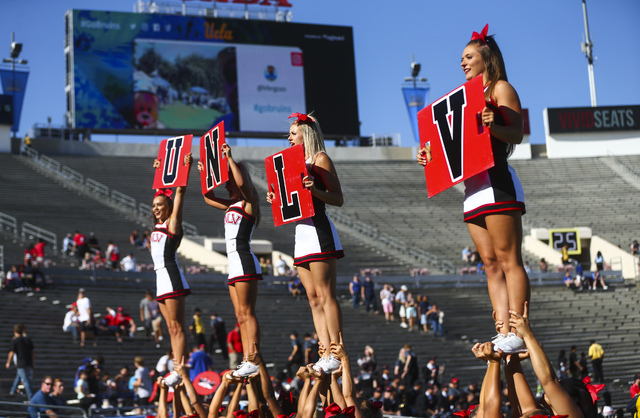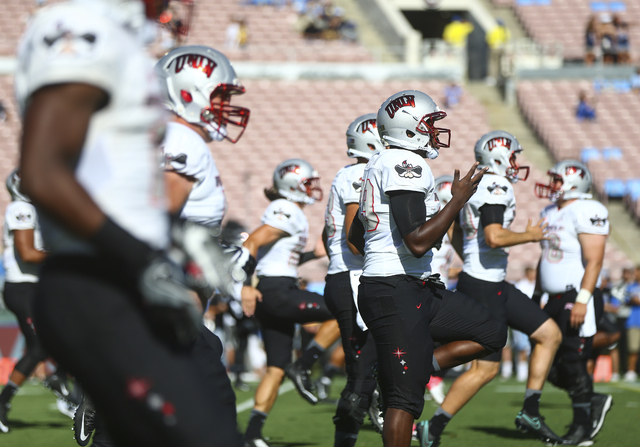 PASADENA, Calif. — A lot has changed since UNLV's 37-3 loss to UCLA last season in Las Vegas, as the Rebels were much more competitive against the Bruins on Saturday before an announced crowd of 63,712 at the Rose Bowl.
Also, nothing has changed, as UNLV missed a ton of tackles and made costly mistakes in losing 42-21 to a UCLA squad that many think isn't as good as last year's team.
Rebels coach Tony Sanchez isn't interested in moral victories in his second year at UNLV, but he gleaned some positives from the defeat — during which the Rebels trailed by a touchdown entering the fourth quarter — while bemoaning a long bus ride home.
"Last year, we physically got beat up," he said. "Here we are a year later, you go from a game that wasn't in question at any point last year to a year later, you're sitting there with a chance to win in the fourth quarter."
The turning point in the game took place on UCLA's opening drive in the fourth quarter. UNLV had cut a 28-7 first-half deficit to 28-21 and was trying to stop the Bruins on third-and-10 at midfield when Rebels safety Kenny Keys broke up Josh Rosen's pass to Eldridge Massington.
Keys was penalized for targeting on the play after his helmet caught Massington on the chin, and he was ejected from the game (and from the first half of Saturday's game at Central Michigan). The Bruins scored four plays later on Bolu Olorunfunmi's 1-yard run to go ahead 35-21, and the Rebels never recovered.
Sanchez said he'd have to watch film of the play to see if he agrees with the call.
"That was the changing point in the game," he said. "Third-and-10 and we're getting the ball back in a 7-point game in the fourth quarter. All of a sudden, you have that. They get the first down, they go down and score, and you're chasing it after that."
After a UNLV punt, UCLA (1-1) sealed the win with an 88-yard TD drive capped by Rosen's 1-yard run.
The Bruins scored touchdowns on their first four possessions of the game to take a 28-7 lead. The Rebels hurt themselves by not wrapping up runners for the second straight week.
"Tackling was really bad in the first half," Sanchez said. "I'm concerned. Two weeks in a row, we've missed some tackles. We've got to go back and work on that."
UNLV missed a chance at a quick TD strike on the first play of the game, when Johnny Stanton's deep ball to a streaking Devonte Boyd fell through the wideout's fingertips.
"He's human," Stanton said. "I know he'll be thinking about that for a long time. I'll be thinking about a lot of things, too."
Stanton will probably be thinking about the two bad interceptions he threw, both coming on first down and both picked off by Bruins senior defensive back Randall Goforth. Stanton overthrew Boyd by about five yards in the second quarter and Goforth returned it 52 yards to set up a 21-yard TD drive capped by Soso Jamabo's 7-yard run to make it 28-7.
The second pick was a killer as UNLV, trailing 28-14 in the third quarter, had just converted a third-and-10 at midfield. On the next play, Stanton threw into double coverage and Goforth intercepted it at the UCLA 15.
"I should've given myself more time to be able to make some throws. I didn't make those throws. I left it up there," said Stanton, who finished 11-for-28 for 153 yards, a TD and the two interceptions. "Coach was saying I can't put the ball up there on first down when we have the whole drive to go. Obviously I'd like to take that back."
Stanton did some good things, firing a 14-yard TD strike to Mekhi Stevenson to close the gap to 28-14 with 37 seconds left in the first half and running for an 11-yard score to make it 28-21 in the third. But the Rebels couldn't complete the comeback.
Lexington Thomas rushed for 112 yards and a TD and Boyd had five catches for 84 yards for UNLV, which converted 8 of 15 third downs and 2 of 3 fourth downs.
Rosen completed 23 of 38 passes to 14 receivers for 267 yards and a TD, and Jamabo ran for 90 yards and three TDs.
Thomas was undeterred by the loss.
"We're a way better team than last year, I can tell you that much," he said. "This was a very good game for people to realize we're not the same team from last year or from 10 years ago. We're the new era."
Contact reporter Todd Dewey at tdewey@reviewjournal or 702-383-0354. Follow @tdewey33 on Twitter.