UNLV a second home for Polynesian players
August 11, 2014 - 10:58 pm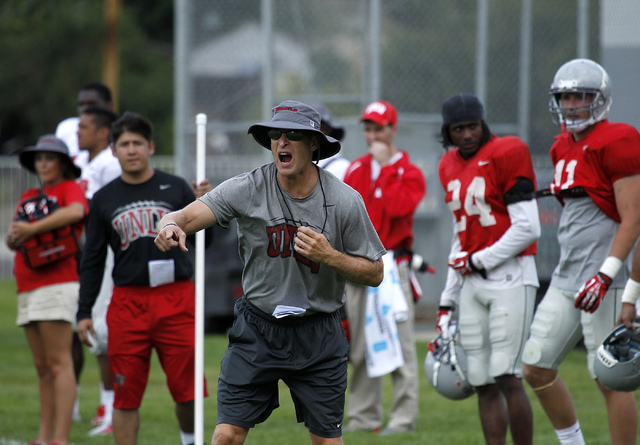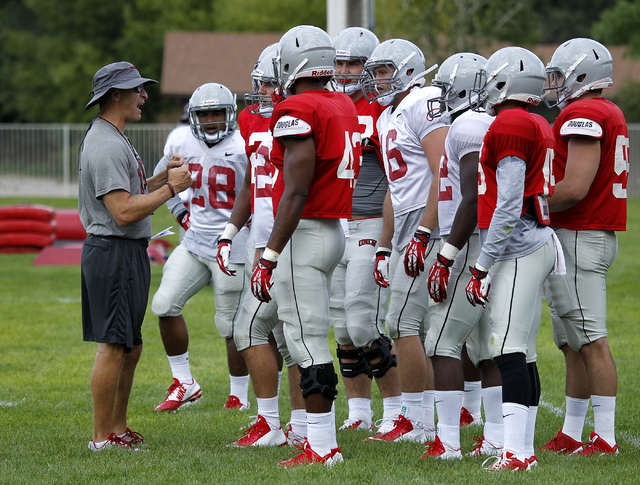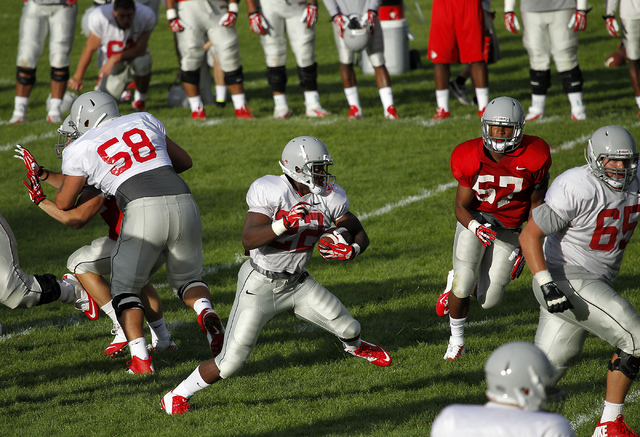 ELY — UNLV has long recruited Polynesian football players, and there are 15 Rebels with Polynesian or Hawaiian ties on the current roster.
Two of them, junior defensive lineman Sonny Sanitoa and junior safety Peni Vea, are on the watch list for the new Polynesian College Football Player of the Year Award.
"We don't get a lot of recognition back home," Sanitoa said. "Just to be nominated for that award is unbelievable."
Both players said the large number of Polynesian players at UNLV made the transition to the U.S. mainland easier.
Sanitoa is from American Samoa, and Vea grew up in Hawaii.
"When you come out here, it's kind of like a shock because you can't really find (Polynesians) here," Vea said. "But when you've got (15) of them on the team, you feel more like home."
The success of so many Polynesian players is a good recruiting tool for the Rebels. Sanitoa was swayed to sign with UNLV after his hosts on his recruiting trip, Eric Tuiloma-Va'a and Tani Maka, welcomed him.
"When I came here on my visit, my hosts really made me feel like I was home," Sanitoa said.
NOTABLE
UNLV went through its first double-practice session Monday, and the intensity was high with the offense and defense going after each other in full pads. The defense had its way during a 7-on-7 drill, with senior end Siuea Vaesau recording a solo sack and later combining with senior end Jordan Sparkman on another one. In the full-team drill, the offense finished strong. Senior wide receiver Devante Davis changed the momentum when he reached over senior cornerback Tajh Hasson to catch a touchdown pass. Davis then strutted through the defense's sideline. Junior running back Jamal Overton had a 30-yard run, and freshman quarterback Kevin Thomson rushed up the middle for a 41-yard touchdown. The offense and defense shined on one play. Junior quarterback Blake Decker scrambled to find Davis at the 1-yard line, but junior safety Kenny Keys and junior cornerback Brandon Baker kept him out of the end zone. … Newly acquired defensive end Josh Shirley, a transfer from Washington, ended the morning practice session with a sack. … Defensive back Chazz Eldridge and all-purpose player J.T. Nettleton will grayshirt. … Gerald Higgins, the athletic department's primary orthopedist for four decades, died over the weekend. Higgins, 79, was inducted into the Southern Nevada Sports Hall of Fame in 2006 and the UNLV Athletics Hall of Fame in 2002. "Dr. Higgins was a beloved member of the UNLV family and we were deeply saddened to hear the news," athletic director Tina Kunzer-Murphy said in a statement. "He was one of a kind and our thoughts are with his wife, Lucia, and the entire Higgins family." Also, former Rebels defensive back Sean Blunt died Sunday at age 48. Blunt, who according to the Los Angeles Times had cancer, played for UNLV from 1984 to 1987. He later coached at San Fernando (Calif.) High School.
POSITION SPOTLIGHT
Running back: UNLV is expected to go with a committee system to replace Tim Cornett, who became the Rebels' career leading rusher last season. Junior David Greene and sophomore Keith Whitely are the co-starters at this point, but three or four backs should be part of the rotation.
First group
David Greene, Jr., 6-0, 210
Keith Whitely, So., 5-9, 185
Second group
Shaquille Murray-Lawrence, Sr., 5-8, 190
George Naufahu, Jr., 6-0, 215
Jamal Overton, Jr., 5-9, 205
SITTING OUT
None
MARK ANDERSON/LAS VEGAS REVIEW-JOURNAL