UNLV at Boise State: position-by-position breakdown
November 17, 2016 - 11:41 pm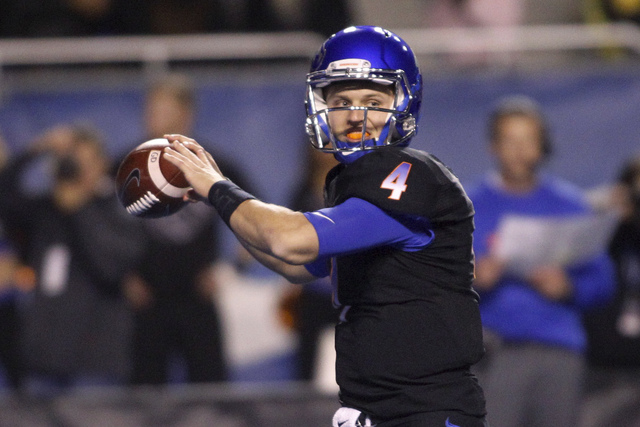 A look at who has the advantage at each position when UNLV travels to Boise State for a 6 p.m. game Friday in Boise, Idaho.
QUARTERBACKS
UNLV starter Kurt Palandech is coming off an awe-inspiring game against Wyoming, during which he accounted for more than 400 total yards and four touchdowns. It's tough to go against the consistency of Boise State's Brett Rypien, though. He is completing 65 percent of his passes with 22 touchdowns and six interceptions.
Edge: Boise State
RUNNING BACKS
Rebels runners Charles Williams and Lexington Thomas are each averaging more than 5 yards per carry and have more than 600 yards rushing. Broncos workhorse Jeremy McNichols has been tough to stop, with 1,369 yards and 18 touchdowns.
Edge: Boise State
RECEIVERS
With Devonte Boyd done for the season because of a broken arm, UNLV's leading available receiver has 166 yards. Boise State has a 1,000-yard receiver in Thomas Sperbeck and might get another one in Cedrick Wilson (827 yards) before the season is over.
Edge: Boise State
OFFENSIVE LINE
The Rebels' big guys up front continue to get it done, paving the way for the FBS' 14th-ranked rushing attack at 252.7 yards per game. The team is also still allowing less than a sack per game. The Broncos average 183 yards on the ground and have given up 14 sacks.
Edge: UNLV
DEFENSIVE LINE
The two teams have nearly identical numbers defending the run. UNLV allows 165.4 rushing yards per game and Boise State 165.5. The Broncos have brought down opposing quarterbacks 26 times, and the Rebels have 17 sacks.
Edge: Boise State
LINEBACKERS
Boise State's top three linebackers — Ben Weaver, Tanner Vallejo and Darren Lee — have combined for 14.5 tackles for loss. That's how many UNLV's Tau Lotulelei has made on his own. Lotulelei's fellow backer Ryan McAleenan has made 3.5 tackles behind the line of scrimmage.
Edge: UNLV
SECONDARY
Senior Torry McTyer became the first UNLV defensive back to win Mountain West Defensive Player of the Week since 2004 after a two-interception performance against Wyoming. The Rebels still rank 100th in the FBS in passing yards allowed per game, and Boise State is 57th.
Edge: Boise State
SPECIAL TEAMS
The return and coverage units for both teams have achieved similar results, but the two teams separate themselves on punts and field goals. The Broncos average 44.41 net yards per punt, nearly 4 more yards than the Rebels. UNLV has made 12 of 13 field goals, and Boise State has kept points off the board by missing three of eight kicks.
Edge: UNLV
INTANGIBLES
The Rebels have plenty on the line, as one more loss prevents them from being bowl eligible. But Boise State should be plenty motivated, too. The Broncos are No. 20 in the College Football Playoff rankings and are the top-ranked non-Power 5 school. Winning out could give Boise State a prime bowl game.
Edge: Boise State
HANDICAPPER'S TAKE
Bruce Marshall (goldsheet.com): Boise State 47, UNLV 23 — Boise is alive in the Mountain West Mountain Division race after Wyoming's surprise triple-overtime loss to UNLV on Saturday at Sam Boyd Stadium. The Broncos also bring their own momentum into the game after scorching Hawaii with 603 yards of offense in last week's 52-16 romp at Honolulu. But we don't need Liz Claman to remind us that Boise has been a bad investment lately (0-8) as blue carpet chalk. And UNLV displayed unexpected spark behind quarterback Kurt Palandech in last week's thriller against Wyoming. At an inflated price of minus-29, there's no reason to go overboard on the Broncos, and the Rebels are capable enough to avoid complete humiliation.
Contact Ben Gotz at bgotz@reviewjournal.com. Follow @BenSGotz on Twitter.
GAMEDAY COVERAGE FOR UNLV-BSU GAME