UNLV at San Jose State: position-by-position breakdown
October 28, 2016 - 10:45 am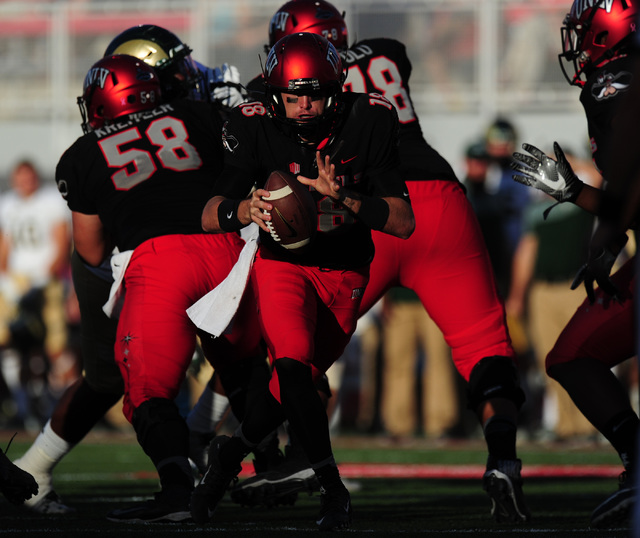 A look at who has the advantage at each position when UNLV travels to San Jose State for a 7:30 p.m. game Saturday at CEFCU Stadium.
QUARTERBACKS
UNLV starter Dalton Sneed has altered between good and terrible performances in his first four starts. In his first and third starts, he completed 63 percent of his passes with no interceptions. In his second and fourth, his completion percentage was 26 percent with two picks. San Jose State starter Kenny Potter has thrown nine touchdowns and six interceptions.
Edge: UNLV, if Sneed's pattern holds.
RUNNING BACKS
The Rebels' running back duo of Lexington Thomas and Charles Williams has 1,074 combined rushing yards on 195 carries. The Spartans' top three rushers have combined for 999 yards on 207 carries.
Edge: UNLV.
RECEIVERS
Since UNLV's opener against Jackson State, Devonte Boyd has 348 receiving yards and one receiving touchdown in seven games. Opponents have keyed on Boyd after injuries hit the position. Eight San Jose State players have a touchdown reception, and leading receiver Tre Hartley has 468 yards.
Edge: San Jose State.
OFFENSIVE LINE
The Spartans rank last in the FBS in sacks allowed with 38. The next-worst team has allowed 30. UNLV ranks second in the country in sacks allowed per game (0.5), and its rushing average of 239 yards ranks 21st.
Edge: UNLV.
DEFENSIVE LINE
San Jose State has proven slightly better at pressuring opposing passers, with 14 sacks in eight games. The Spartans have been much worse defending the run, though, allowing 60 more rushing yards per game on the ground than UNLV.
Edge: UNLV.
LINEBACKERS
Tau Lotulelei has been one of the bright spots of a suspect Rebels defense, with 11.5 tackles for loss and 1.5 sacks. Only one of San Jose State's four leading tacklers is a linebacker: sophomore Frank Ginda. The Spartans defender has 55 tackles, with 5.5 for a loss.
Edge: UNLV.
SECONDARY
San Jose State allows 8.9 yards per pass attempt, tied for the second-highest figure in the FBS. The Spartans have allowed 13 passing touchdowns but have eight interceptions. The Rebels allow 7.2 yards per pass, but the team has given up 16 touchdowns through the air with only three picks.
Edge: San Jose State.
SPECIAL TEAMS
UNLV has one punt return touchdown and one blocked kick, and San Jose State has none. The Rebels also fare better in kickoff returns and kickoff coverage, and have made one more field goal.
Edge: UNLV.
INTANGIBLES
UNLV is 1-3 on the road, and San Jose State's two wins have come at home. But after a crushing loss at home against Colorado State last week, the Rebels need to win three of their final four games to be bowl eligible. San Jose State is 3-0 against UNLV since joining the Mountain West in 2013.
Edge: San Jose State.
HANDICAPPER'S TAKE
Bruce Marshall (goldsheet.com): UNLV 29, San Jose State 24 — We're sure they're thrilled at the CBS Sports Network about the potential ratings for this battle of Mountain West stragglers. UNLV has been the only team that embattled San Jose State coach Ron Caragher has been able to master since taking the job in 2013. But the Rebels have displayed some offense since redshirt freshman Dalton Sneed took over the quarterback duties four starts ago. It's hard to trust the Spartans with quarterback Kenny Potter apparently less than 100 percent.
Contact Ben Gotz at bgotz@reviewjournal.com. Follow @BenSGotz on Twitter.
Visit our GameDay page for full coverage of the UNLV-San Jose State game.