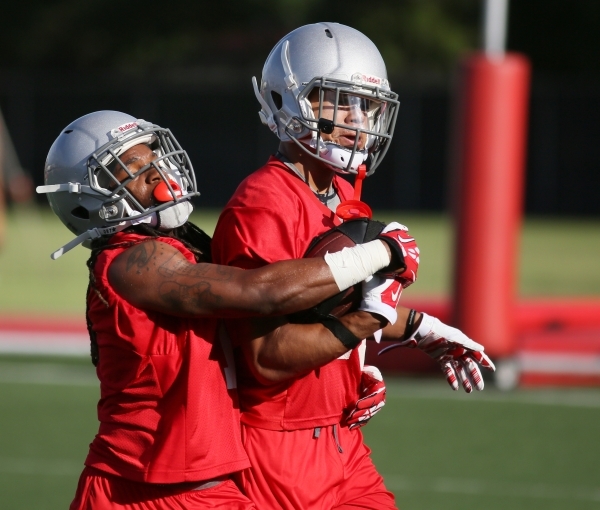 After just one season of junior college football, defensive end Mark Finau discovered during the spring how difficult it is to make the leap to major college.
He signed with UNLV in December, giving him an early start in trying to make that transition. Now the work is beginning to pay off, with Finau taking many first-team snaps in training camp.
"He looks like he'll end up starting at the other end," coach Tony Sanchez said Tuesday. "But these guys are going to rotate quite a bit."
Finau (6 feet 3 inches, 230 pounds) is competing with junior Dominic Baldwin (6-5, 265) for the spot opposite senior Sonny Sanitoa (6-3, 270).
Making the jump from Los Angeles Valley College to UNLV took some getting used to for Finau, who has three seasons of eligibility.
"It was pretty rough for me because (junior college) wasn't as physical as it is in the Division I level," Finau said. "So I had to transition and try to step it up. I still need a lot of work on it."
Sanchez said the progress is quite evident.
"He came in, and he was a little lackadaisical at times, especially in spring," Sanchez said. "He got going. He's starting to understand, starting to mature, and you're starting to see it out here every single day."
NOTABLE
Highly touted junior college transfer Jay'Onn Myles (5-8, 165) worked with the first team at cornerback Tuesday at Rebel Park. He had been the second-team nickelback and will still play that position at times. "He's doing a good job, and he's competing at a high level," Sanchez said. "He's got to continue to do it." … Sanchez said incoming freshman Dalton Sneed (6-0, 185) is pushing redshirt freshman Kevin Thomson (6-1, 185) for the third-string quarterback job. Though Sneed probably will redshirt, the fact he is in contention for the No. 3 spot could mean he would be available if needed. Sanchez didn't rule out playing Sneed. … Senior linebacker Najee Johnson (6-4, 220) is out of the walking boot and back in pads. He had been out for about week with turf toe on his right foot.
POSITION SPOTLIGHT
Defensive line
Positions along the front are far from settled, except for Sanitoa at one end spot. The three-year starter has 14½ career tackles for loss, including 9½ sacks. "He's the one guy that consistently gives us that fanatical effort," Sanchez said. The ends and tackles positions are grouped together below.
Ends
Sonny Sanitoa Sr. 6-3 270
Mark Finau So. 6-3 230
Dominic Baldwin Jr. 6-5 265
Efrem Clark Sr. 6-2 260
Tackles
Mike Hughes Jr. So. 6-2 310
Senituli Fakauho Sr. 6-1 330
Salanoa-Alo Wily Fr. 6-0 285
Jason Fao So. 6-0 300
SITTING OUT
Player Pos. Injury
Kyle Anderson TE Ankle
Marc Philippi FB Foot
Jeremiah Valoaga DE Foot
https://www.wedgies.com/js/widgets.js
How many games will UNLV win in Tony Sanchez's first season as head coach?