UNLV can't keep up with Solomon, Arizona in opener
August 29, 2014 - 11:51 pm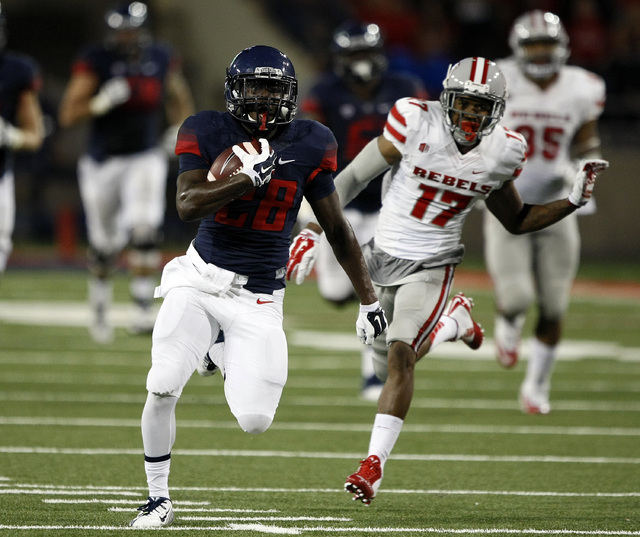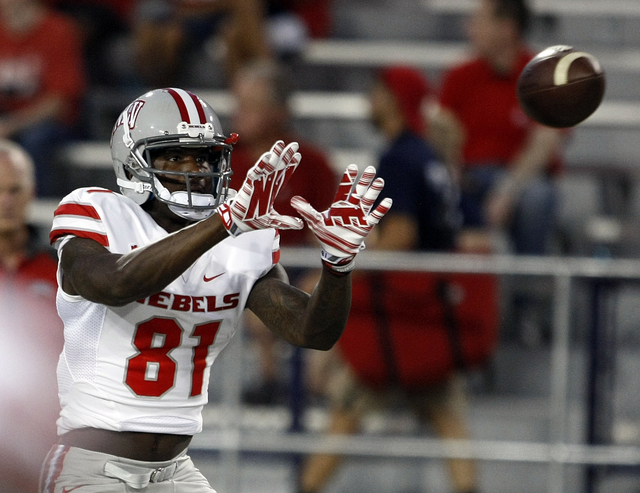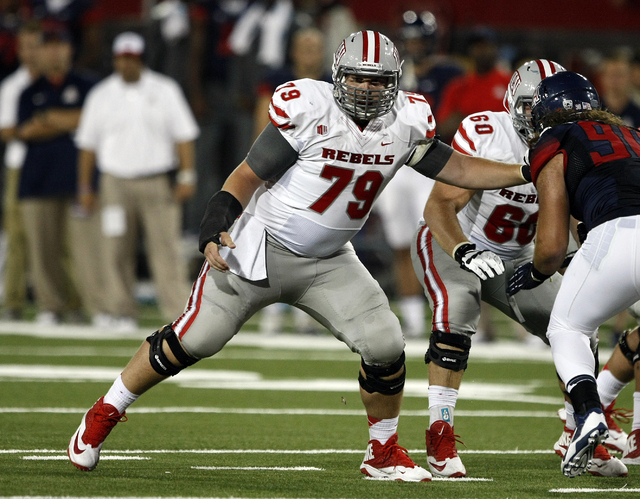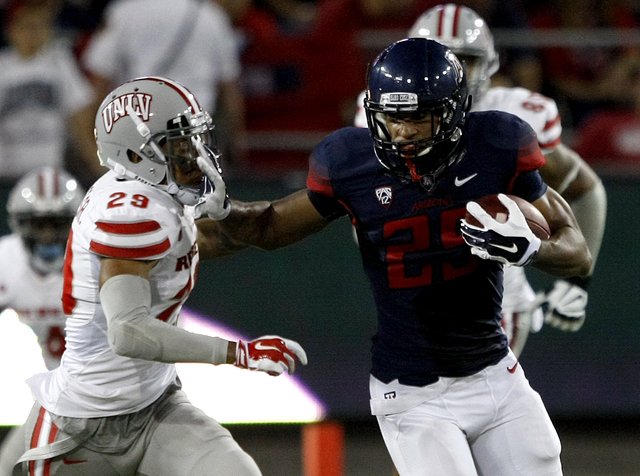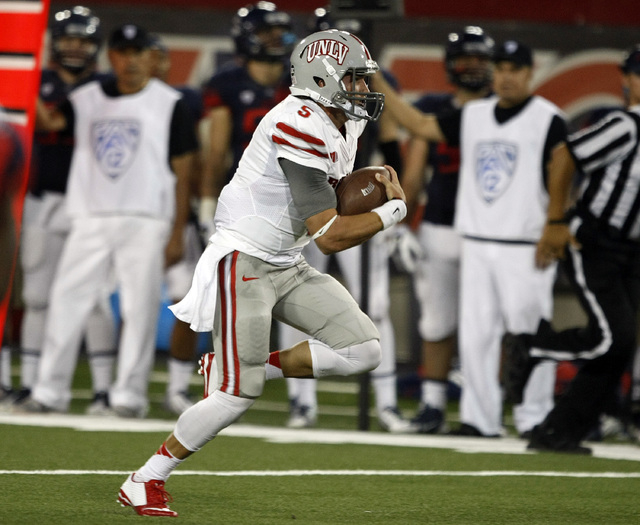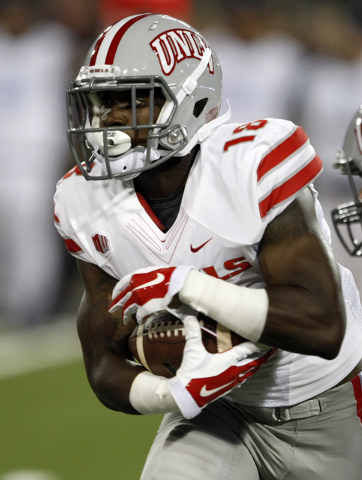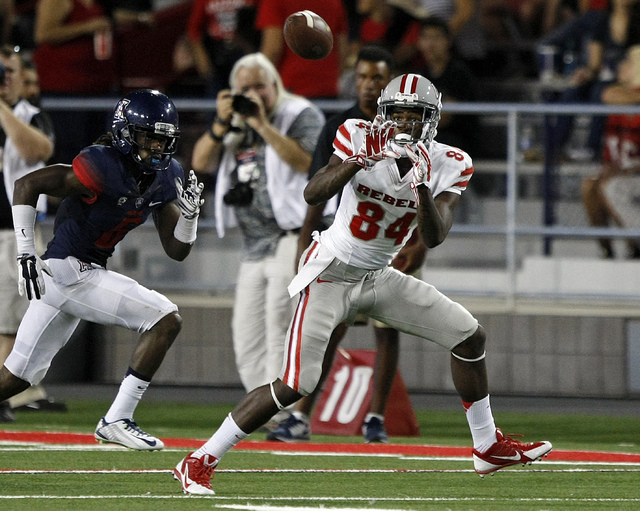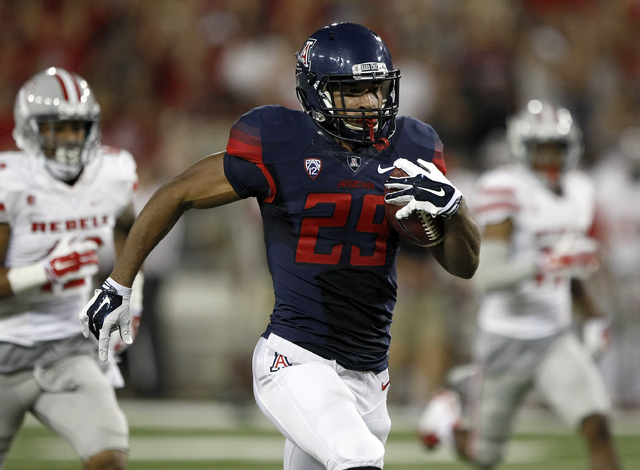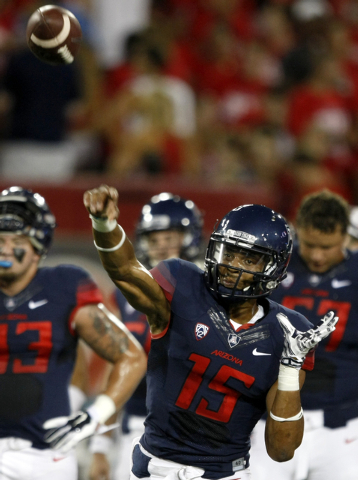 TUCSON, Ariz. — UNLV always knew Arizona was likely its toughest opponent on the schedule, and the Rebels better hope that's the case following Friday's lopsided season-opening loss.
They also better hope their defense gets much better in a hurry.
It was almost nonexistent in the 58-13 loss to the Wildcats, their athleticism making the Rebels look like they were running in mud.
Arizona rolled up 787 yards of offense, the second-highest total UNLV has ever given up. UNR gained 794 yards in the 1993 meeting.
"We have to play better," UNLV coach Bobby Hauck said. "We have to make more plays on the ball. As far as getting stuck on blocks, that's easy, we've just got to get off them."
UNLV will return home for the next two weeks, beginning with a Sept. 6 game against lower-level Northern Colorado, which carries an 11-game losing streak. The Rebels need that opponent to be the perfect tonic after a night like the one they had Friday.
Bishop Gorman High School graduate Anu Solomon, a redshirt freshman quarterback, made his first career start for Arizona and played liked a fifth-year senior. He completed 25 of 44 passes for 425 yards and four touchdowns, and ran the zone-read offense masterfully in also rushing for 50 yards.
Two Wildcats topped 100 yards rushing, with Terris Jones-Grigsby gaining 124 yards and Nick Wilson finishing with 104, with 85 of that total on a touchdown run. And two Arizona receivers also went past 100 yards — Austin Hill with 110 and Samajie Grant with 101.
"They're pretty dang good at wide receiver," Hauck said. "A lot of people think they have the best wide receiving group in the nation. We're probably not going to see any better this year than that."
Arizona's offensive outburst was far too much for UNLV to keep up with, though the Rebels showed some positives.
Junior college transfer Blake Decker received his first start, and he completed 22 of 41 passes for 252 yards and a touchdown, with an interception. Decker, who grew up in the Phoenix area and was an Arizona State fan, also rushed for 56 yards.
"To get that first playing experience at the Division I level was good," Decker said. "I think it's a good opportunity to go and look at film and figure out what we need to do collectively and individually to improve and get better because it's unacceptable how we played tonight in critical situations, and we need to be better next week, and we will be. We'll put it together and make it happen."
He found success in throwing to receivers Devante Davis and Devonte Boyd. Davis, the Mountain West's top receiver, hauled in eight catches for 100 yards, and Boyd made six receptions for 102 yards. Boyd, a freshman from Basic High, started in his debut college game.
The positives, though, were far outweighed by the negatives, especially after the Wildcats broke open the game beginning at the end of the first quarter.
Arizona put together plays of 41, 16 and 39 yards to go 96 yards in three plays and in 38 seconds to take a 7-0 lead with 1:40 left in the first. A 63-yard pass from Solomon to Grant 1:27 later made it a 14-0 game and gave the Wildcats control.
They went ahead 24-6 at halftime, then erased any remaining doubts when Solomon connected with Hill for a 92-yard touchdown 20 seconds into the second half for a 25-point advantage.
Arizona scored 24 points in the third quarter to blow open the game, and by the time the Wildcats were through for the night, they had matched the score of their victory last season in Las Vegas.
The good news for the Rebels is they responded to that defeat by winning their next four games and eventually making the Heart of Dallas Bowl.
Losing to Arizona, a 24-point favorite, was far from a shock, though the Rebels hoped they would at least be competitive.
They weren't, but the overall picture of the season didn't change, either.
"We're still in August," Hauck said. "It's one game, one game against a good team from the Pac-12 at their stadium. We need to go have a great week of preparation. We have 12 more games this year."
Contact reporter Mark Anderson at manderson@reviewjournal.com or 702-387-2914. Follow him on Twitter: @markanderson65.
Check our GameDay page for all the news from the UNLV-Arizona game.