UNLV coach Tony Sanchez elated about what new stadium could mean to his program
October 14, 2016 - 11:43 pm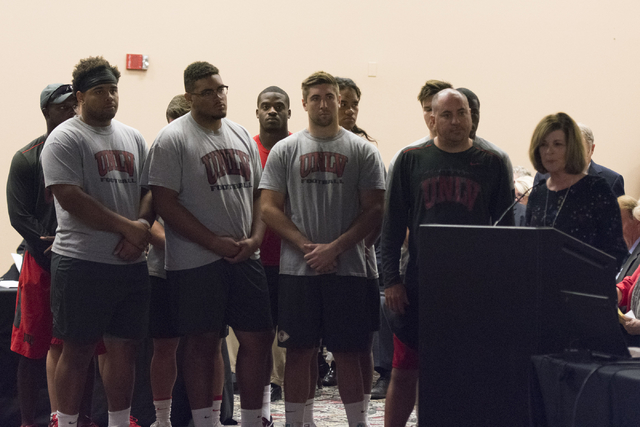 As UNLV's football team rode the buses on Friday for a walk-through at Honolulu's Aloha Stadium, coach Tony Sanchez followed social media on the developments in Carson City.
The Nevada Assembly and then Senate passed an amended bill for a $750 million tourist tax that would go to build a $1.9 billion, 65,000-seat stadium, which is expected to serve as the future home of the NFL's Oakland Raiders, with UNLV as a tenant.
"It means a tremendous amount for the future of the university and the football program and where we believe this program can go," Sanchez said. "It's a huge block in the process and with the Fertitta Football Complex and now the stadium announcement, we'll go on the road recruiting from a special place with things we've lacked for so long: a state-of-the-art football facility and pretty soon a state-of-the-art multibillion dollar stadium that will be as nice as any in the country."
The amended bill limits what UNLV would pay to rent the stadium as "actual operational or pass-through costs," and the university will receive three free dates to use, such as for graduation ceremonies.
If the Raiders don't relocate to Las Vegas, a smaller room tax would be collected to raise $300 million for construction of a smaller stadium for UNLV as long as the university raised an additional $200 million over the following two years.
"I think we're all excited about the city of Las Vegas being an NFL city," Sanchez said. "If for some crazy reason it doesn't happen, I think you'll see people in the community help the university. You can't say no to that opportunity. If that much money is going to the stadium, $200 million will be a reasonable thing to raise."
UNLV athletic director Tina Kunzer-Murphy called Friday's passage "a giant step forward for the" football program.
"The new stadium will be something we can all be proud of, and we look forward to making it the new home of the Rebels," Kunzer-Murphy said in a statement to the Review-Journal.
UNLV president Len Jessup also provided a statement touting the importance of a new stadium.
"Sam Boyd Stadium has been a wonderful home to UNLV football for more than four decades, but the landscape of college athletics has changed," Jessup said. "A new stadium will be transformational for the UNLV Football Program, and helps position the university to an eventual move to a Power 5 Conference."
Contact Mark Anderson at manderson@reviewjournal.com or 702-387-2914. Follow on Twitter: @markanderson65. Contact reporter Todd Dewey at tdewey@reviewjournal.com or 702-383-0354. Follow on Twitter: @tdewey33
RELATED
Nevada Senate passes amended Raiders stadium bill; Sandoval to sign Monday
Oakland Raiders owner Mark Davis praises 'historic day' in Nevada
Here's what people are saying about the Raiders stadium bill passing