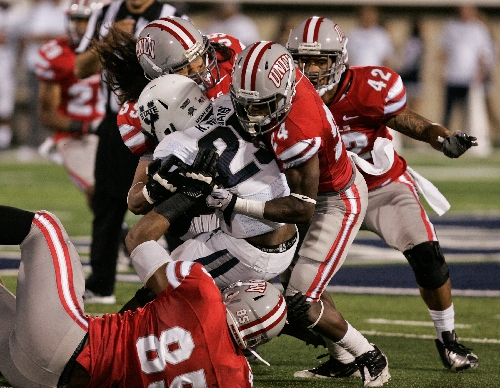 Fred Wilson was one of UNLV's top football recruits when he signed in 2011. He showed why in his first start.
Wilson, a redshirt freshman defensive back, intercepted a pass and recovered a fumble in Saturday's 42-37 home loss to UNR.
"He's very competitive," coach Bobby Hauck said. "It's important to him.
"A guy like him having a redshirt year last year to kind of grow into it and mature into it is beneficial. I think in time Fred's got a chance to be a really good player."
Wilson showed promise in training camp last year, but Hauck prefers to redshirt as many incoming freshmen as possible.
"I came in expecting to work hard so I could get the starting job," Wilson said. "Last week, I earned it, and when I went on the field, I did what I had to do. So I felt great."
He is part of a young secondary that starts another redshirt freshman, Peni Vea, at free safety. The other starting defensive backs are junior Sidney Hodge at cornerback and senior Kenny Brown at strong safety.
Though the secondary has struggled, perhaps the experience will benefit the returning defensive backs in future seasons. Wilson's first start could be an indication of better days.
"It put a lot of confidence in me," he said. "Even though I hate Reno, which we all do, it helped me completely. It should get me ready for next year."
■ MOVING ON UP – Quarterback Nick Sherry not only is having one of the top freshman seasons in UNLV history, but he's also on pace to have the best ever in the Mountain West Conference.
Sherry is eighth in the conference's 14-year history with 1,771 yards passing, and barring injury, he should blow past the record of 2,662 set by Colorado State's Pete Thomas two seasons ago. Sherry is in position to move into sixth place after Saturday's 12:30 p.m. PDT game at No. 24 Boise State.
Nationally, he is third among freshmen with 253 yards per game. Texas A&M's Johnny Manziel (280.0) and UCLA's Brett Hundley (273.7) are the only quarterbacks ahead of Sherry.
Sherry needs 103 yards to move past Travis Dixon and into second on UNLV's freshman chart. Jon Denton, who threw for 3,591 yards in 1996, is first.
■ MOVING FORWARD – Junior Tim Cornett has rushed for at least 100 yards in seven of his past 10 games, the first time a Rebel has pulled off that feat since Ickey Woods in 1987. Woods, who led the nation with 1,658 yards that season, broke 100 yards in nine of 10 games during one stretch.
Cornett's streak dates to last season. He has five 100-yard games this season, the first time for a UNLV running back since Dominique Dorsey hit that mark six times in 2004. Dorsey also was UNLV's last 1,000-yard back, and Cornett, who has rushed for 747 yards, is on pace to reach that number easily.
■ FRONT RUNNERS – Boise State hasn't been as dominant as in the past, but the Broncos still know how to assert themselves.
They have not trailed for the past 271 minutes, 43 seconds. Miami (Ohio) on Sept. 15 was the last opponent to take a lead on the Broncos.
Boise State has trailed only in that game and a season-opening 17-13 loss at Michigan State for a total of 25 minutes, 2 seconds.
Contact reporter Mark Anderson at manderson@reviewjournal.com or 702-387-2914. Follow him on Twitter: @markanderson65.