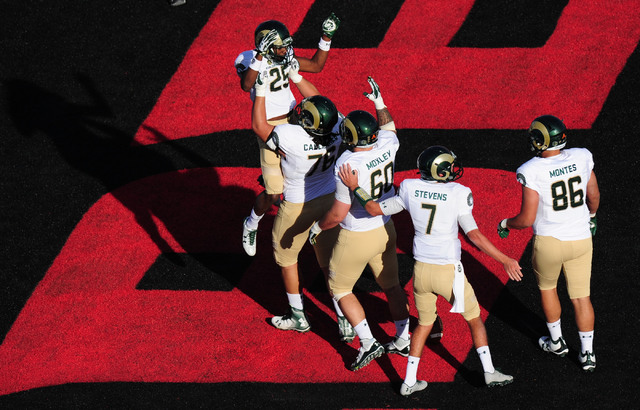 UNLV could have used Randall Cunningham on Saturday, when the former Rebels quarterback and punter was honored on the field at Sam Boyd Stadium.
But unless Cunningham could play defense, even he wouldn't have been able to rescue the Rebels in a 42-23 loss to Colorado State before an announced crowd of 18,362.
The game wasn't as close as the score suggests. UNLV, a 2½-point favorite, trailed 35-0 at halftime, as any momentum built in its comeback win last weekend at Hawaii quickly vanished.
"Really, as flat as I've ever been around a group of guys in the first half," Rebels coach Tony Sanchez said. "We did a bad job of getting those guys ready to come out and play hard. That first half was pretty embarrassing, really.
"We got our butt kicked for two quarters. We played better in the second half, but that's not good enough."
Nick Stevens completed 21 of 28 passes for 237 yards and two touchdowns, and Marvin Kinsey and Izzy Matthews each had two rushing touchdowns for the Rams (4-4, 2-2 Mountain West), who scored touchdowns on five of their six first-half possessions in rolling up 298 yards of offense.
"It was extremely frustrating. They came out and just drove the ball on us. It was completely inexcusable on defense," UNLV senior safety Troy Hawthorne said. "I can't speak for the offense, but the defense, we just came out flat. We didn't come out fired up, and they completely took advantage of us. I don't know how to explain it."
Colorado State entered 108th of 128 NCAA Football Bowl Subdivision teams in third-down conversion percentage (34.0) but excelled against UNLV (3-5, 2-2). The Rams converted their first five third downs — two for touchdowns — and finished 8 of 10 in the first half and 10 of 18 overall.
When the Rebels stopped Colorado State on third-and-1, the Rams promptly converted a fourth down and made the score 21-0 three plays later. They finished 3-for-4 on fourth-down conversions.
"We didn't get them off the field, and a lot of that has to do with the offense," Sanchez said. "When you look at games where we've had success, we're able to move the chains consistently and give the defense time off the field. It wasn't all the defense."
Rebels redshirt freshman quarterback Dalton Sneed was 1-for-8 for 14 yards and threw an interception on a ball that floated in the first half. He also lost a fumble with 1:57 left in the second quarter when he threw a backward pass that was dropped by Lexington Thomas, who looked on as Rams defensive back Justin Sweet — a Bishop Gorman High School product — dived on the ball at the UNLV 11. Kinsey scored three plays later for a 35-0 lead.
"We just shot ourselves in the foot a few times," Sneed said. "It was just bad reads by me and bad ball placement by me."
Sneed, who threw two touchdown passes in the second half, finished 7-for-23 for 185 yards and led the team in rushing with 96 yards. He completed a 35-yard pass to Devonte Boyd to set up a 2-yard touchdown run by David Greene that made the score 35-17 with 12:09 left, but Stevens fired a 36-yard TD pass to Michael Gallup on Colorado State's next play from scrimmage to extinguish any comeback hopes.
With the Rebels halfway toward the six wins required for bowl eligibility and back home off a dramatic victory, Sanchez was at a loss to explain the lack of energy.
"There's only so much yelling, screaming and motivation you can do. At some point, you have to own it," he said. "You have to mentally be ready to go because it's a physical and violent game.
"But it's not any bigger than one game. We've got to get back to the drawing board, get focused, fight against San Jose and get that fourth win."
The Rebels return to action at 7:30 p.m. Saturday at San Jose State (2-6, 1-3). Barring an upset win at No. 14 Boise State, UNLV will need to win its remaining games against the Spartans, Wyoming and UNR to qualify for a bowl.
"We don't believe we're out of it. We still have a chance to go to a bowl game," Hawthorne said. "We're not giving up. We're going to keep fighting."
Contact reporter Todd Dewey at tdewey@reviewjournal.com or 702-383-0354. Follow @tdewey33 on Twitter.