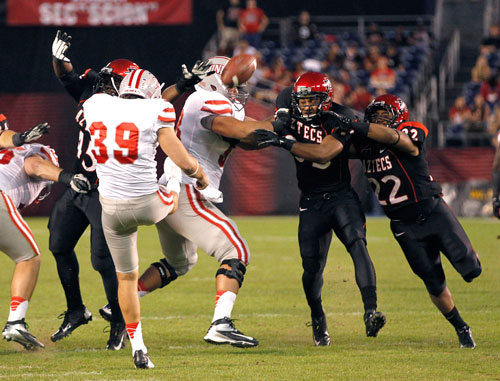 SAN DIEGO – The pass interference penalty was huge, and it helped determine the difference in the game, but that call was only part of the story.
UNLV couldn't get San Diego State off the field at the end, couldn't stop the Aztecs' running attack all Saturday night and couldn't get its once-clicking offense out of its ongoing funk.
It's a story that sounds all too familiar for those who follow Rebels football – if it's not one thing, it's another. And in a game like this one, a 24-13 loss at Qualcomm Stadium, it seemed to be everything.
So if good teams tend to make their own breaks, a team like UNLV that is 1-8 (1-3 in the Mountain West Conference) and has lost 20 road games in a row, any positive seems to be enveloped by so much negative.
Maybe that will change beginning Saturday when the Rebels play New Mexico at Sam Boyd Stadium.
That game begins a four-week ending stretch against much softer competition.
The Rebels hope for – and need – a strong finish.
"I'm not frustrated right now," UNLV safety Kenny Brown insisted. "Of course, we wanted the 'W.' I know my people in that locker room fought their butts off.
"There's so much talent. We're going to be looking good in the future. I'm a senior, and I'm sad I'm not going to be a part of it, but these last four games, we're going to put something together and springboard us into next season."
UNLV had its chances against San Diego State (6-3, 4-1) and could have put pressure on the Aztecs late in the game.
The Rebels drove to San Diego State's 30-yard line midway through the fourth quarter and appeared to convert a fourth-and-9 with an 11-yard pass from Nick Sherry to Anthony Williams. Down 11 points, either a field goal or a touchdown would've brought UNLV within a possession, and the Rebels were in excellent shape for both.
Except for that yellow flag on the field. Wide receiver Devante Davis was called for pass interference, all but killing any scoring chance. Any remaining hope was wiped out the following play when Sherry was sacked.
"It was a questionable call," Sherry said, "but the refs made it, and that's football. You've got to deal with it."
The penalty was reminiscent of the defensive pass interference on UNLV that played a crucial role in its 42-37 loss to UNR two weeks ago.
San Diego State took advantage of the break when it got the ball at its 9 with 6:55 left, and with a two-score advantage, the Aztecs didn't need to throw.
The Rebels knew what was coming and still couldn't stop them, allowing the Aztecs to drain the clock with 14 running plays.
"We threw everything but the kitchen sink at them," Rebels coach Bobby Hauck said. "We had full line movements. We had blitz. They've got a veteran offensive line. They handled the movement things pretty well like you would expect with a group like that."
UNLV's defense had positive moments, forcing three takeaways and holding the Aztecs 14 points below their average.
But the Rebels also gave up 506 yards, including 275 rushing. Adam Muema (143) and Walter Kazee (105) each broke 100 yards. Quarterback Adam Dingwell passed for 231 yards and two touchdowns.
For UNLV, Tim Cornett rushed for 127 yards, including a 64-yard touchdown, his sixth 100-yard game this season.
Sherry overcame a slow start to complete 17 of 29 passes for 159 yards and a touchdown. He was 9 of 11 for 99 yards in the second half and admitted to being jittery early after taking a shot last week at Boise State. Sherry left that game grabbing his back.
"I was a little scared," Sherry said. "After taking the big hit, I didn't want to get hit like that again, so I was kind of falling off my back foot. Then once I settled down a little bit and just trusted our line, I was able to see the coverage and see the receivers, and we were able to connect."
The offense, though, is having a hard time reaching the end zone. UNLV has scored three offensive touchdowns in the past 10 quarters.
Sherry blamed the dry spell on poor execution, but Hauck said the numerous injuries to the line have been the most damaging. Left tackle Brett Boyko (leg) didn't play for the second game in a row, and guard Doug Zismann left late in the third quarter against the Aztecs with an undetermined injury.
"It's hard to have consistency when you have different lineups, not only on Saturdays but all week long in practice," Hauck said. "We're not very deep there. When we get out of our top five, we get to a true freshman and to a walk-on player, and it's a difficult situation for those guys."
Contact reporter Mark Anderson at manderson@reviewjournal.com or 702-387-2914. Follow him on Twitter: @markanderson65.
San Diego State – 24
UNLV – 13
KEY: Adam Muema ran for 143 yards and Walter Kazee for 105 for the Aztecs
NEXT: New Mexico at UNLV, 1 p.m., Saturday, TV TBA, KWWN (1100 AM, 98.9 FM)