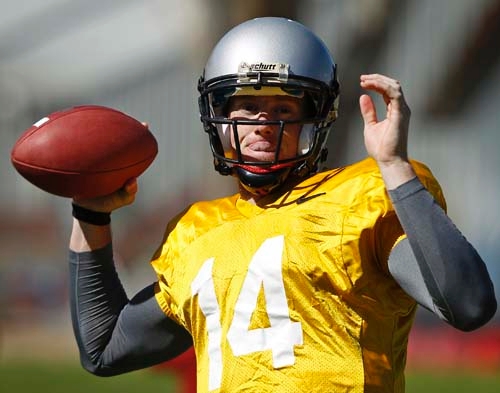 UNLV coach Bobby Hauck didn't change quarterbacks Saturday when Caleb Herring struggled badly for the second game in a row.
Hauck, though, isn't waiting any longer to make a switch.
Junior college transfer Sean Reilly will be the starter when the Rebels (1-4) play at Wyoming (3-2) at 11 a.m. PDT Saturday in the Mountain West Conference opener for both teams.
"Caleb's trying as hard as he can," Hauck said. "Right now, it's just not going well enough. Sean's also been working hard, and now he gets a chance."
Reilly isn't being made available to the media this week, but a statement released by UNLV quoted him saying: "I am excited about starting this week at Wyoming, but I want to focus on getting ready for the game and talk about it after we play Saturday."
Reilly, a 6-foot-4-inch, 210-pound junior who transferred from Saddleback College in Mission Viejo, Calif., competed against Herring during spring practices and preseason training camp.
Herring won the job in August and started the first five games.
After showing promise, Herring faltered in blowout losses to Southern Utah and UNR. He threw three interceptions that were returned for touchdowns in a 41-16 loss to Southern Utah, and he completed 1 of 14 passes for 8 yards in a 37-0 defeat at UNR on Saturday.
Hauck said the coaches considered a move to Reilly against the Wolf Pack, but Herring finished the game.
"It wasn't just the quarterback," Hauck said. "We weren't doing a lot of things well. Part of that is attributed to Reno playing very well on defense."
Hauck said he wasn't concerned about hurting Herring's confidence by making the switch.
"I don't think that we have a bunch of guys in our locker room, our quarterbacks included, who are mentally soft and can't handle a little adversity," Hauck said. "Part of football, you handle adversity or you don't, and he will."
Reilly led Saddleback to an 8-3 record last year, passing for 2,425 yards and 26 touchdowns, with six interceptions.
He has appeared in two games this season for UNLV, completing 6 of 7 passes for 49 yards, with no touchdowns or interceptions.
"Sean doesn't have a start under his belt, and at quarterback it's different in games," Hauck said. "He's practiced well, he's worked hard, he knows the offense. Hopefully, he'll respond well on Saturday."
■ NOTE – Running back Tim Cornett (hip) is listed as a starter, and Hauck said he expects him to play at Wyoming, but more definitive word will come today, when UNLV releases its weekly injury report. Cornett hurt his hip in the first quarter against UNR and didn't return.
Contact reporter Mark Anderson at manderson@reviewjournal.com or 702-387-2914. Follow him on Twitter: @markanderson65.