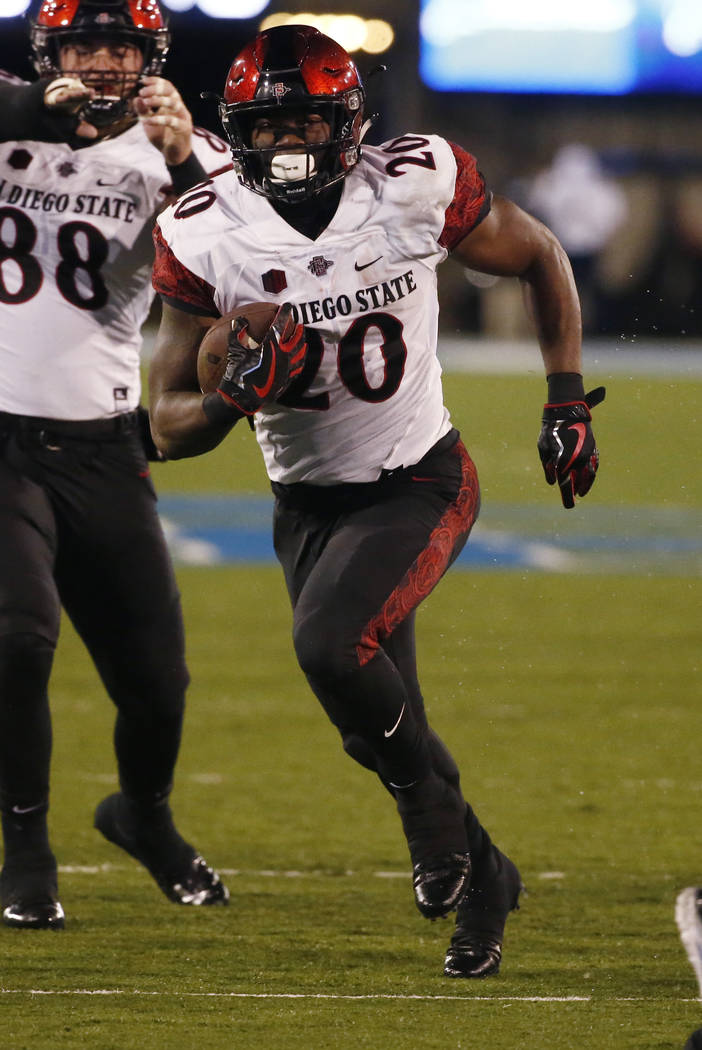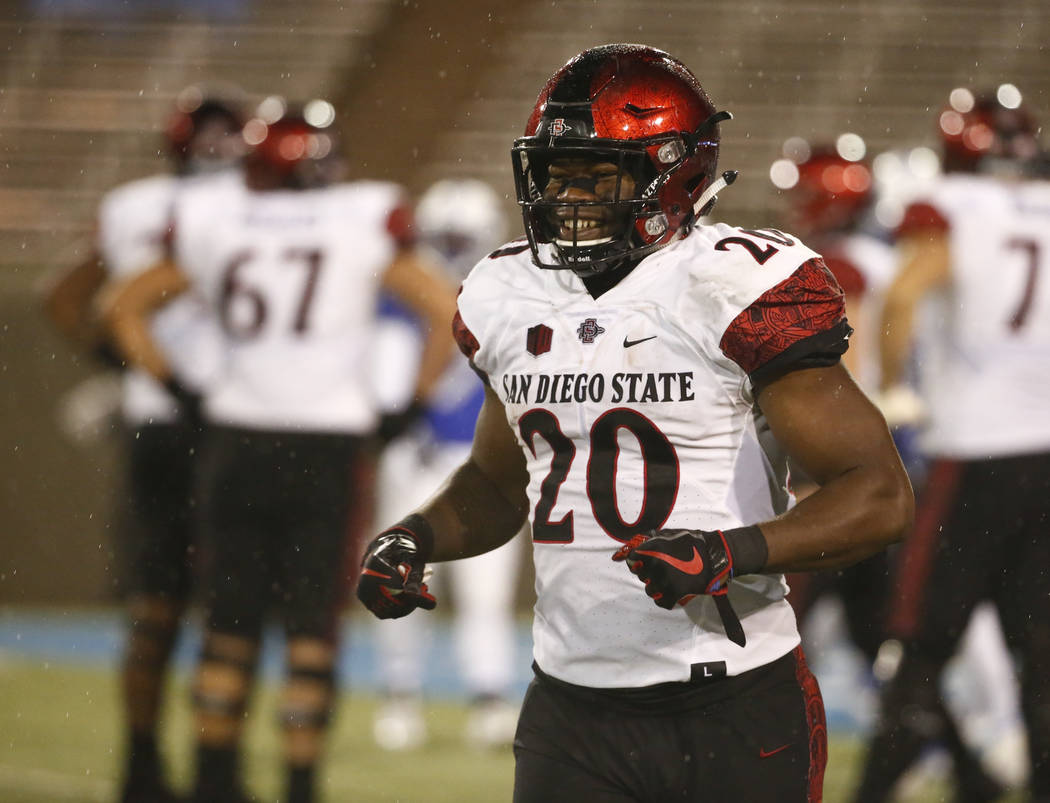 Even with the shocking season-opening 43-40 loss to Howard, UNLV enters Mountain West play with its goals still intact.
"Our goal is to continue to move up in the Mountain West and be a competitive team and fight for that Western Division championship," Rebels coach Tony Sanchez said. "You've got to really understand the focus and the resiliency that a lot of people are going to show early in conference play.
"There's the old saying the road to success is always under construction. We're on the way to success, but we're under construction right now. We've got to continue to build and get better."
The Rebels play San Jose State at 7:30 p.m. Saturday at Sam Boyd Stadium, and this is the conference landscape they encounter.
Teams are listed according to the league media's preseason prediction:
West Division
1 San Diego State (4-0, 1-0 MW). The No. 19 Aztecs are chasing their third successive Mountain West title and have defeated Pac-12 opponents Arizona State (30-20) and Stanford (20-17). Running back Rashaad Penny is receiving legitimate attention for the Heisman Trophy.
2 Hawaii (2-2, 0-1). This is an aggressive team that leads the conference in sacks (15) and offensively tops the Mountain West with 480.3 yards per game. The Warriors also get San Diego State and Colorado State at home.
3 UNLV (1-2, 0-0). The Rebels will put themselves in position to chase a bowl berth if they beat San Jose State. A loss all but dooms their chances. This is a talented offense, especially on the ground, where UNLV leads the Mountain West with 292.3 yards per game.
4 UNR (0-4, 0-0). The Wolf Pack had their own Howard defeat with a stunning 30-28 loss to Idaho State, and there isn't much of a honeymoon period for first-year coach Jay Norvell.
5 San Jose State (1-4, 0-1). The Spartans can't stop anyone, allowing 45.2 points per game. Over the past three games, they gave up 56 points to Texas, 54 to Utah and 61 to Utah State. The last one is the eye-opener.
6 Fresno State (1-2, 0-0). Coach Jeff Tedford returned to his alma mater hoping to use the blueprint he had at California to turn around the program. It will take time, but the Bulldogs can move the ball, averaging 30.7 points. They also give up an average of 29.7.
Mountain Division
1 Boise State (2-2, 1-0). The Broncos have been the most disappointing team, blowing a 21-point fourth-quarter lead at Washington State and getting blasted at home 42-23 by rebuilding Virginia. Boise State can still win the division because there isn't a clear standout team.
2 Colorado State (2-2, 0-0). This is the most likely team to win the division if Boise State doesn't. The Rams have shown promise, with a 58-27 victory over Oregon State and a credible effort in a 41-23 loss at Alabama. The 17-3 loss to Colorado, though, was cause for concern.
3 Wyoming (2-2, 1-0). Quarterback Josh Allen is expected to be a high first-round NFL draft pick, but he has little around him. Allen has to carry this team, and that will be difficult even in a down Mountain West.
4 Air Force (1-2, 0-1). Don't count out the Falcons, who are coming off losses of 29-13 at Michigan and 28-24 to San Diego State in games that were close mostly throughout. But Air Force faces Colorado State and Boise State on the road.
5 New Mexico (2-2, 0-1). Coach Bob Davie has done a remarkable job, and his triple-option offense is tough to defend. But the Lobos have not been impressive this season and need to seriously elevate their play.
6 Utah State (2-2, 1-0). This is a make or break season for coach Matt Wells, and the results have been mixed. None of the games has been close, with routs of Idaho State and San Jose State and big losses at Wisconsin and Wake Forest.
Contact Mark Anderson at manderson@reviewjournal.com. Follow @markanderson65 on Twitter.
UNLV's schedule
Sept. 2 — Howard, lost 43-40
Sept. 9 — at Idaho, won 44-16
Sept. 23 — at Ohio State, lost 54-21
Sept. 30 — San Jose State, 7:30 p.m.
Oct. 7 — San Diego State, 7:45 p.m.
Oct. 14 — at Air Force, 11 a.m.
Oct. 21 — Utah State, 3 p.m.
Oct. 28 — at Fresno State, 7 p.m.
Nov. 4 — Hawaii, 3 p.m.
Nov. 10 — Brigham Young, 7:30 p.m.
Nov. 17 — at New Mexico, 6:30 p.m.
Nov. 25 — at UNR, noon