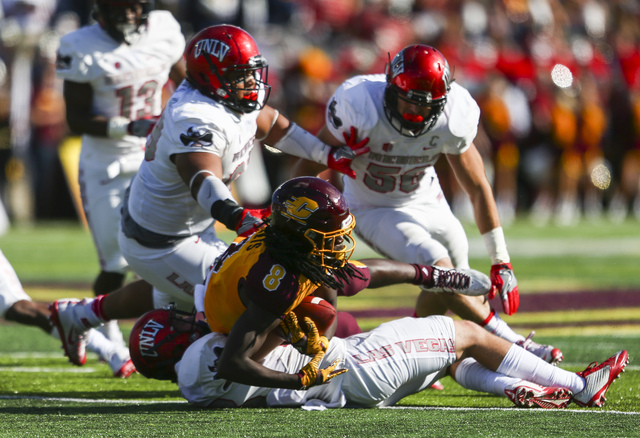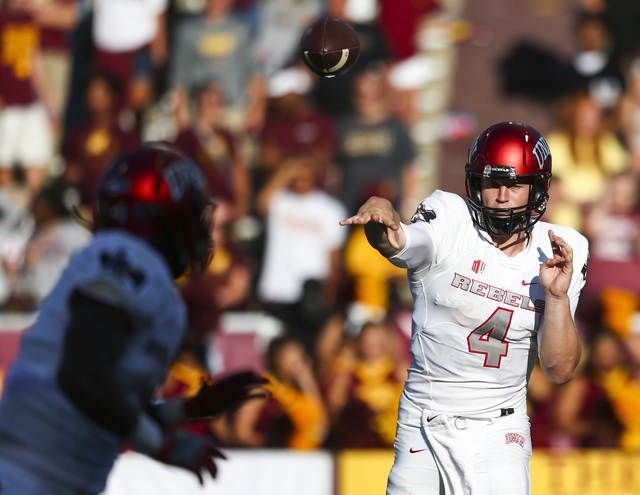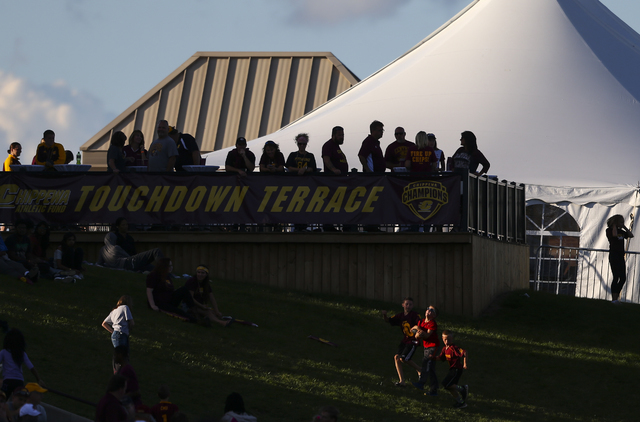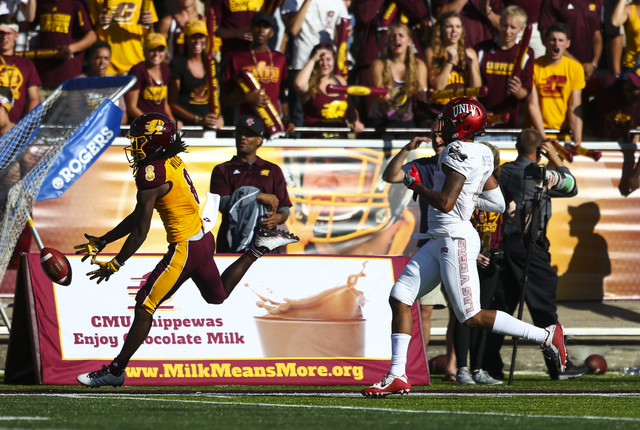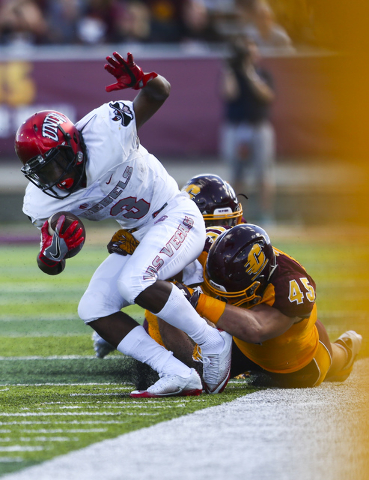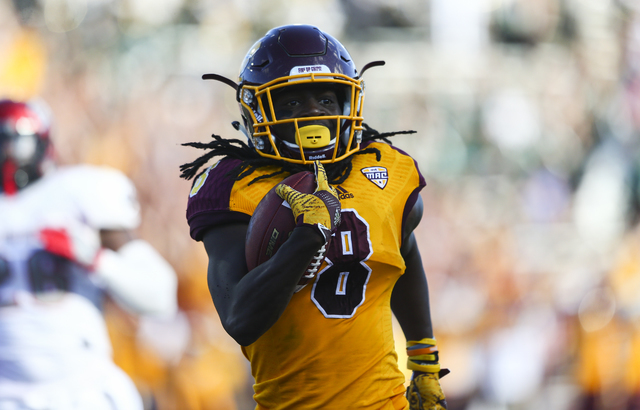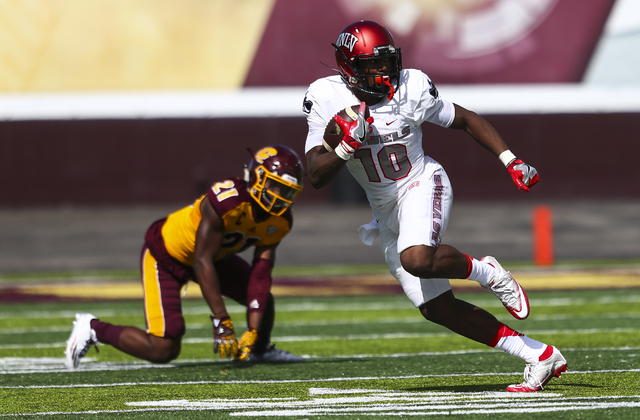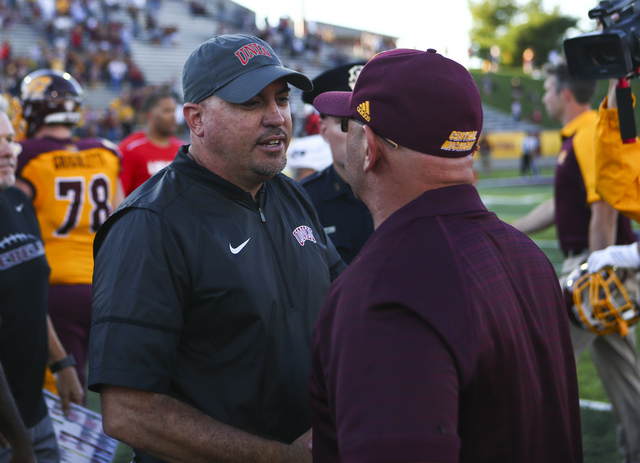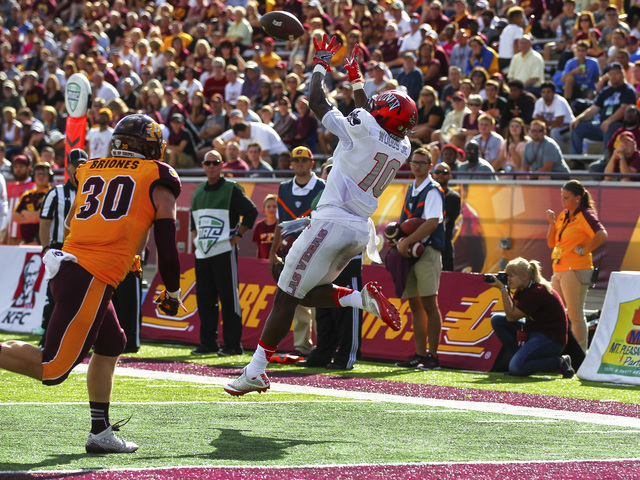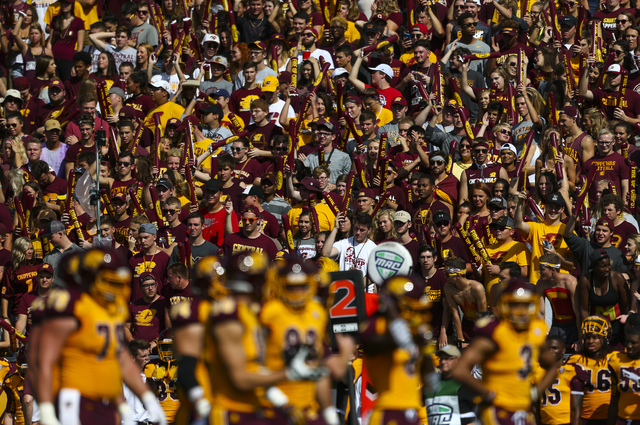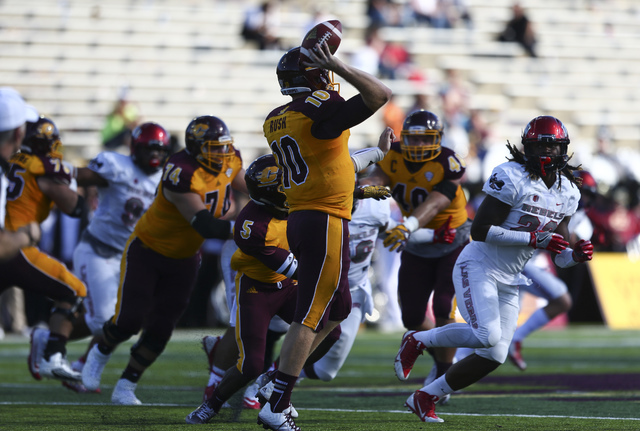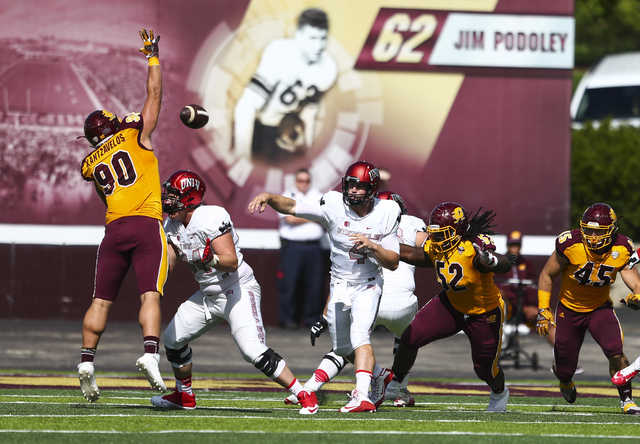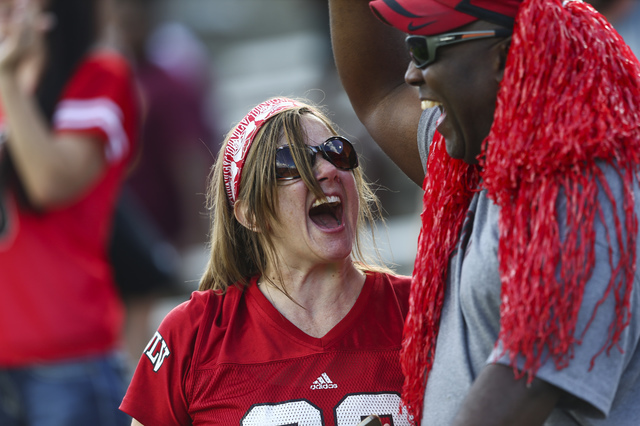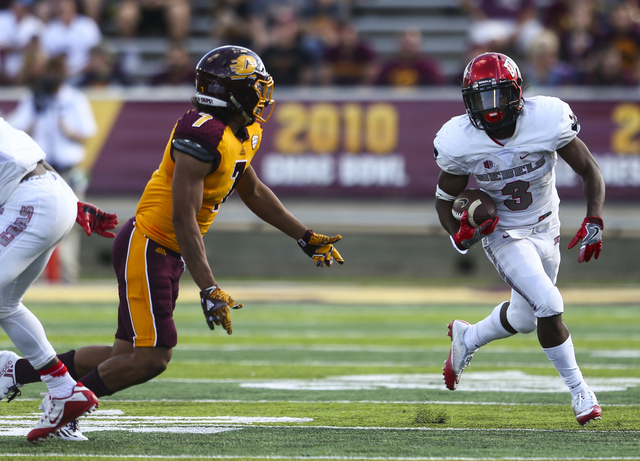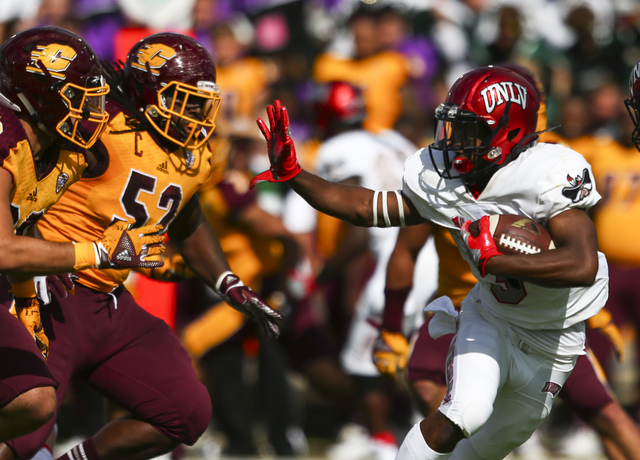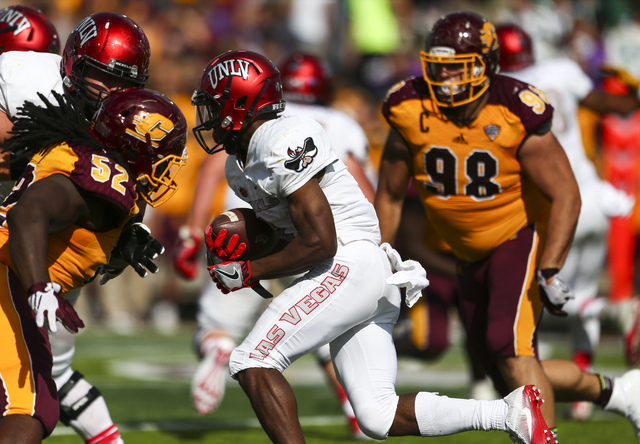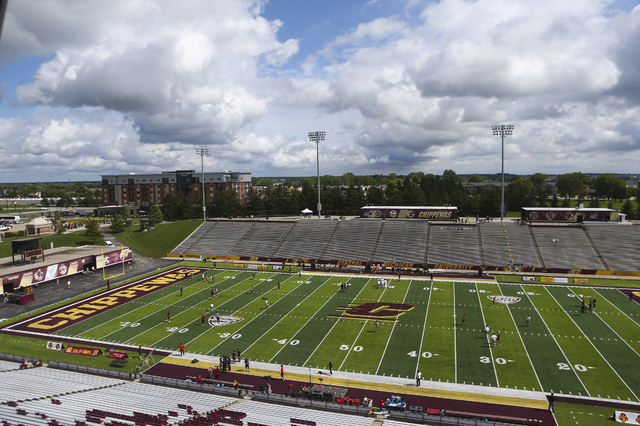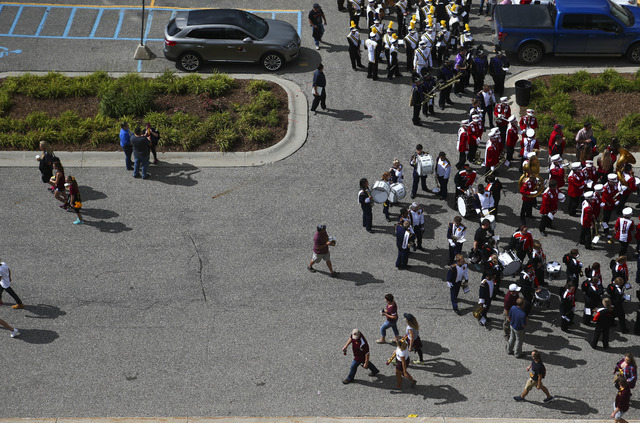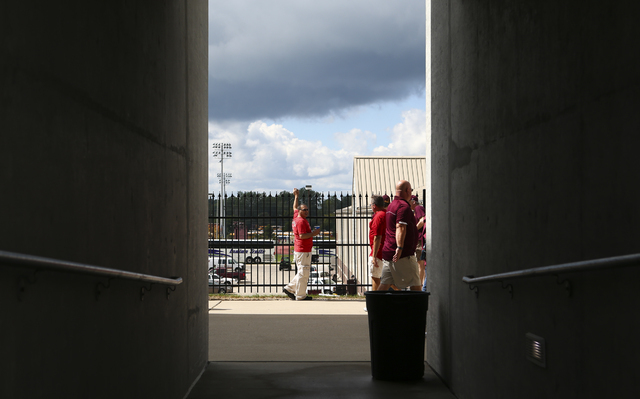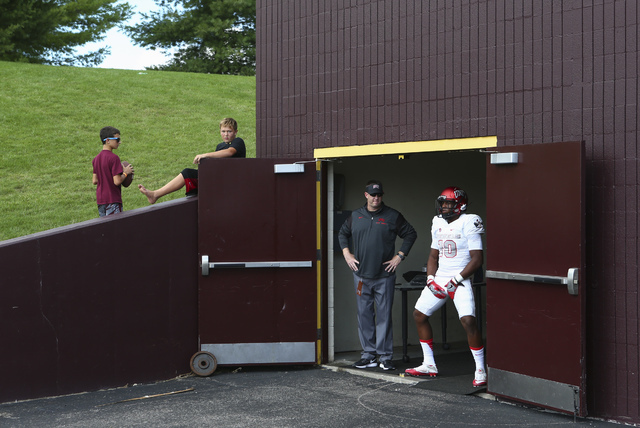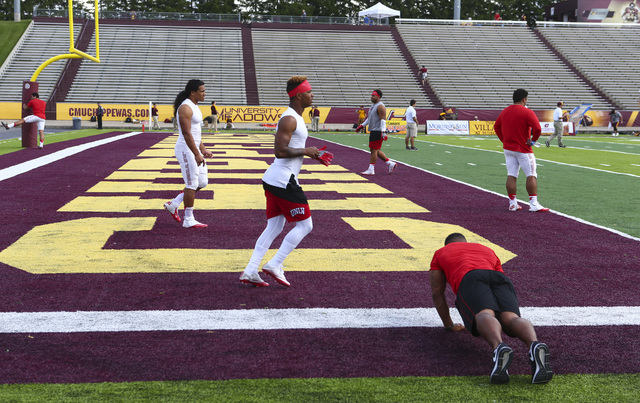 MOUNT PLEASANT, Mich. — If this was a litmus test, UNLV's football team failed. Miserably.
After the Rebels rolled past Jackson State in their season opener and lost at UCLA, Saturday's game at Central Michigan shaped up as their most balanced matchup so far, one that would reveal whether things would be different this year for long-suffering UNLV.
What it revealed is the Rebels still have some big strides to make after they surrendered 30 unanswered points in a demoralizing 44-21 loss to the Chippewas before an announced crowd of 19,922 at Kelly/Shorts Stadium.
Central Michigan quarterback Cooper Rush completed 20 of 33 passes for 352 yards and a Kelly/Shorts Stadium-record six touchdowns as the Chippewas (3-0) followed up their miraculous upset win over Oklahoma State with a convincing victory.
"We all know we're literally trying to change a 30-year culture of not playing competitive football and that's the biggest thing," UNLV coach Tony Sanchez said. "On days like this, you can't regress. You can't fall back into it."
Rush, who wasn't sacked, had receivers wide open all day, namely Corey Willis and Mark Chapman as the duo combined for 11 catches for 188 yards and four scores.
The Rebels (1-2) went ahead 7-0 on a blocked punt return for a touchdown and led 21-14 midway through the second quarter but didn't score again. Rush threw a pair of touchdown passes to close out the first half and the Chippewas outscored UNLV 16-0 in the second half.
Senior safety Kenny Keys was suspended for the first half because of the targeting penalty he incurred against UCLA, but that doesn't excuse the two blown coverages by UNLV caused by a lack of communication that led to wide-open touchdowns.
"That might have had a little to do with it, but it's no excuse. We work on this stuff all the time," Sanchez said. "In the second half, the defense gave us opportunities but the offense just did nothing to help our chances to win and that's on me, 100 percent. I'll take the full blame for all this preparedness."
UNLV quarterback Johnny Stanton had a miserable day, completing only 15 of 41 passes for 131 yards, a touchdown and two interceptions. His poor performance was a combination of bad throws and dropped passes.
"I thought it was about equal on that," Sanchez said. "We never had a flow offensively. The second half was really, really anemic.
"We didn't get much in the passing game at all, we had a ton of dropped balls, we made a lot of poor decisions and we were inaccurate."
Lexington Thomas had an 85-yard touchdown run in the first half, but take that out of the equation and the Rebels rushed for 97 yards on 37 carries for a 2.6-yard average.
For the second straight game, UNLV allowed 499 yards of total offense and more than 40 points.
"We just need to get a better pass rush up front and from the linebackers," Rebels middle linebacker Ryan McAleenan said. "We've got to communicate more with each other and get everyone on the same page. A lot of times we weren't on the same page and it really screwed us up in the secondary."
UNLV will be favored in its next two games, both at home, against Idaho and Fresno State, and still has a decent shot at winning six games in a down year in the Mountain West. But Sanchez said he told his players and coaching staff to chew on Saturday's loss for 24 hours and to own it.
"I told them to man up," he said. "Don't be a coward. Show up tomorrow and lift the damn weights, eat the food we feed you, get in the film room and look at things critically at yourself and get better and go win the next one.
"If you want to walk around and feel sorry for yourself, you're going to end up regressing into the old mud hole we've been in forever."
Contact reporter Todd Dewey at tdewey@reviewjournal.com or 702-383-0354. Follow @tdewey33 on Twitter.