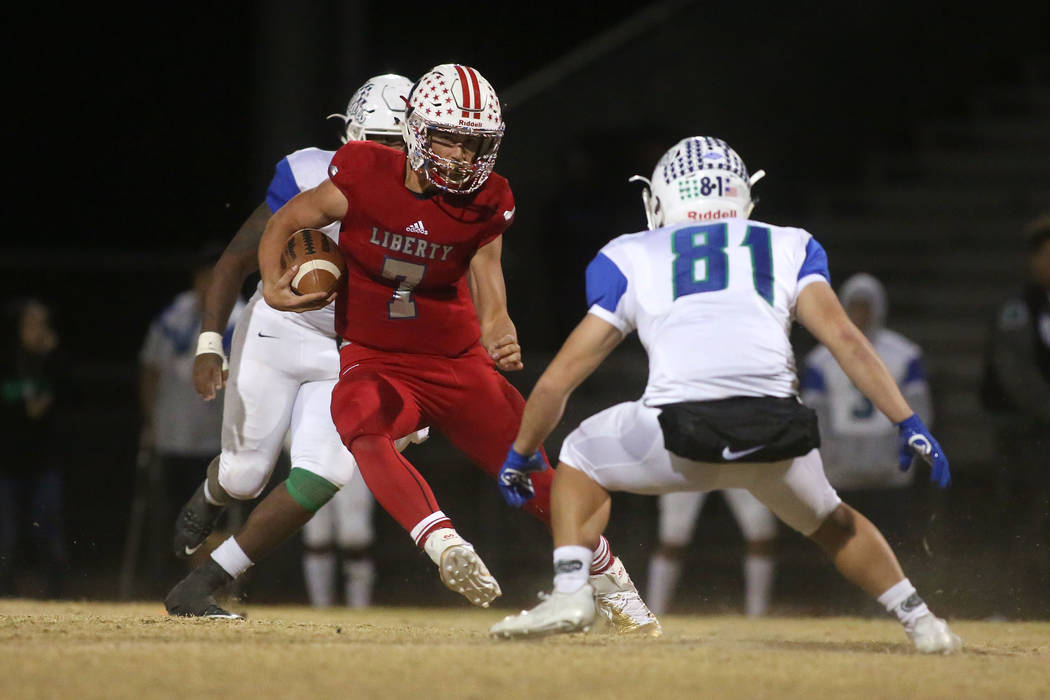 For the first time, football coaches stood behind podiums around the country in December to announce their partial recruiting classes, and UNLV's Tony Sanchez took the microphone Wednesday to give the background on the 13 newest Rebels.
College football added an early signing period for all players — junior college players previously were allowed to fill out papers in December — and so the rush was on to make official commitments from players who otherwise might have been poached in late January or early February by Power Five teams.
"Being able to lock down some of these guys that we've had great relationships with for a long time, and some of them a little more recently, is a real positive thing for us in the program," Sanchez said. "I think a lot of non-Power Fives are looking at that."
Sanchez has about half his class, one that targets areas throughout the team with nine high school players, three from junior colleges and Washington State transfer offensive lineman Keenen King (6 feet 4 inches, 325 pounds). King attended Arbor View.
Of the three junior college signees, two were at safety and will be available for spring practices. Myles Plummer (6-1, 170) is a transfer from Coffeyville (Kansas) Community College, and Luca Vartic (6-1, 200) went to Arizona Western College in Yuma.
"We felt like we needed to add a little more competition in that area," Sanchez said. "We want to see our guys do a better job of being physical, tackling in space and doing some better things there. You've got guys like (Demitrious) Gibbs and (Greg) Francis we think the world of. They're going to be great football players, and we want to see them physically do it this spring. We don't want one or two guys that are going to play and help us win games. We want five, six, seven guys at every single spot."
The other junior college signee was quarterback Max Gilliam (6-3, 200), who began his college career at California. He completed 101 of 148 passes for 1,185 yards and 10 touchdowns with seven interceptions at Saddleback College in Mission Viejo, California.
He will compete for playing time in the spring, though reigning Mountain West Freshman of the Year Armani Rogers is the heavy favorite to keep the job.
"Armani's one of our best recruiters," Sanchez said. "When guys come on trips, he's always talking to them about why they should come here and be part of our program."
Liberty quarterback Kenyon Oblad (6-3, 185) also signed and is the only high school player who will enroll early, so he also could push for time.
Plenty of work remains for Sanchez and his coaching staff before the Feb. 7 signing period, so the 247Sports composite recruiting rankings that predicted the Rebels seventh in the Mountain West could change.
And, eventually, so could the early signing period, which hasn't received rave reviews from coaches nationally.
"I'm not sure it's the perfect time of year," Sanchez said. "I think it was well intended, but like a lot of things that we've done the last bunch of years in college football, there have been some unintended consequences.
"I think two signing periods are here to stay. Whether it will stay in December, I do not know."
UNLV football early signees
— Austin Ajiake (6-2, 210), athlete, Bellarmine Prep (San Jose, Calif.)
— Patrick Ballard II (6-3, 195), wide receiver, Elkins High School (Missouri City, Texas)
— Bryan Catchings (6-2, 275), offensive lineman, Oak Ridge High School (El Dorado Hills, Calif.)
— Max Gilliam (6-3, 200), quarterback, Saddleback College (Mission Viejo, Calif.)
— Phillip Hill (5-11, 185), safety, Klein Collins High (Spring, Texas)
— Bryce Jackson (5-9, 200), cornerback, Chandler (Ariz.) High School
— Keenen King (6-4, 325), offensive lineman, Arbor View High School/Washington State
— Chad Magyar (6-2, 205), running back, Santa Margarita College (Rancho Santa Magarita, Calif.)
— Chris Manoa (6-0, 325), defensive lineman, Chander (Ariz.) High School
— Timothy Mosley (6-3, 220), defensive lineman, Dorsey High School (Los Angeles)
— Kenyon Oblad (6-3, 185), quarterback, Liberty High School
— Myles Plummer (6-1, 170), safety, Coffeyville (Kan.) Community College
— Luca Vartic (6-1, 200), safety, Arizona Western College (Yuma)
More Rebels: Follow all of our UNLV coverage online at reviewjournal.com/Rebels and @RJRebels on Twitter.
Contact Mark Anderson at manderson@reviewjournal.com. Follow @markanderson65 on Twitter.