UNLV football receives anonymous $2M donation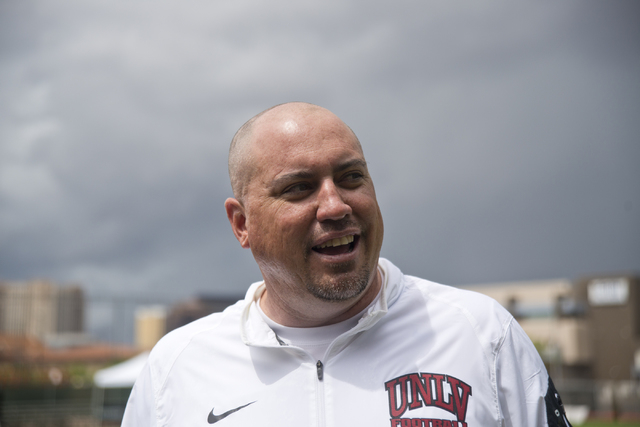 Lost in the buzz over the proposed $1.4 billion, 65,000-seat domed stadium in Las Vegas that would serve as home to the NFL's Oakland Raiders and UNLV football team is the fact that the Rebels still need to build an on-campus football facility to help attract top recruits to the school.
UNLV took a big step forward in its football fundraising efforts Friday, when it received a $2 million gift, the largest in program history, from a donor who wishes to remain anonymous.
The donor is a longtime supporter of the school and its athletics department.
"He's a big football guy and has been a big supporter of UNLV athletics over the years," Rebels coach Tony Sanchez said. "We had conversations during the year about things we need to do to get the football program rolling. It's an exciting gift to receive. It shows the direction we're going and we know there's going to be more behind it."
The second-year coach declined to comment if the donation would help get a football building built at the school but said it can be a "game changer" for the program.
"It's a big gift and a big deal. It's a gift to help move the football program forward," he said. "We'll make sure it's used to make a major difference."
The gift is the third specifically earmarked for UNLV football that exceeded $1 million, joining past donations from the Becker Family and Boyd Family.
"A tremendous gift such as this is further evidence that the UNLV football program is on the rise," UNLV athletics director Tina Kunzer-Murphy said. "The donor sat down with coach Sanchez and me during the season and we heard about his love for this university, its athletic teams and specifically how optimistic he feels about what is going on with the football program.
"He and his family have given so much to this university over the years and made a real difference in people's lives. This gift will continue that legacy."
The school held a private ceremony on campus this week to thank the donor.
"Private support is critical to the long-term success of the university's athletics and academic programs, and we're appreciative of the donor's commitment to UNLV and to Rebel football," UNLV president Len Jessup said. "This gift is yet another example of the program's continued positive momentum under coach Sanchez's leadership."
UNLV athletics posted the news on its Twitter account with a photo of Sanchez, Jessup, Kunzer-Murphy and an unidentified man who is not the donor. It's former Rebels kicker Tim O'Reilly, president of the UNLV Football Foundation.
UNLV athletics, which operates on a $33 million annual budget, has stepped up its fundraising efforts under Sanchez, who was hired in December 2014 after guiding Bishop Gorman High School to six consecutive state titles.
"We're out there aggressively fundraising," Sanchez said. "Since we've gotten here, a good handful of people have already made a difference in the program. It's an extremely exciting time to be a Rebel."
The Rebels continue to build momentum under Sanchez, who guided the team to a 3-9 record last season — after UNLV finished with two wins in eight of the previous 11 years — and followed that up in February by compiling arguably the best recruiting class in school history. Then, during spring practice, the news broke that the Rebels might end up sharing a new state-of-the-art stadium with the Oakland Raiders.
"The stadium talk is exciting. I really believe that thing can get done and we're so fired up about the possiblity," Sanchez said. "You look at the recruiting class coming in, the excitement of the season approaching and generous donors making the largest gift in program history, those things have a ripple effect and hopefully cause a chain reaction in our community and program they can be extremely proud of in the years to come."
While Sanchez declined to discuss any details of plans for an on-campus football facility, Boise State built a $22 million, 70,000-square foot complex in 2013, Kansas State unveiled a $65 million, 132,000-square foot facility last year and Oregon opened a $68 million, 145,000-square foot complex in 2013.
Contact reporter Todd Dewey at tdewey@reviewjournal.com or 702-383-0354. Follow him on Twitter: @tdewey33