UNLV football staff complete; coordinators ready to get to work
Updated January 12, 2023 - 6:58 pm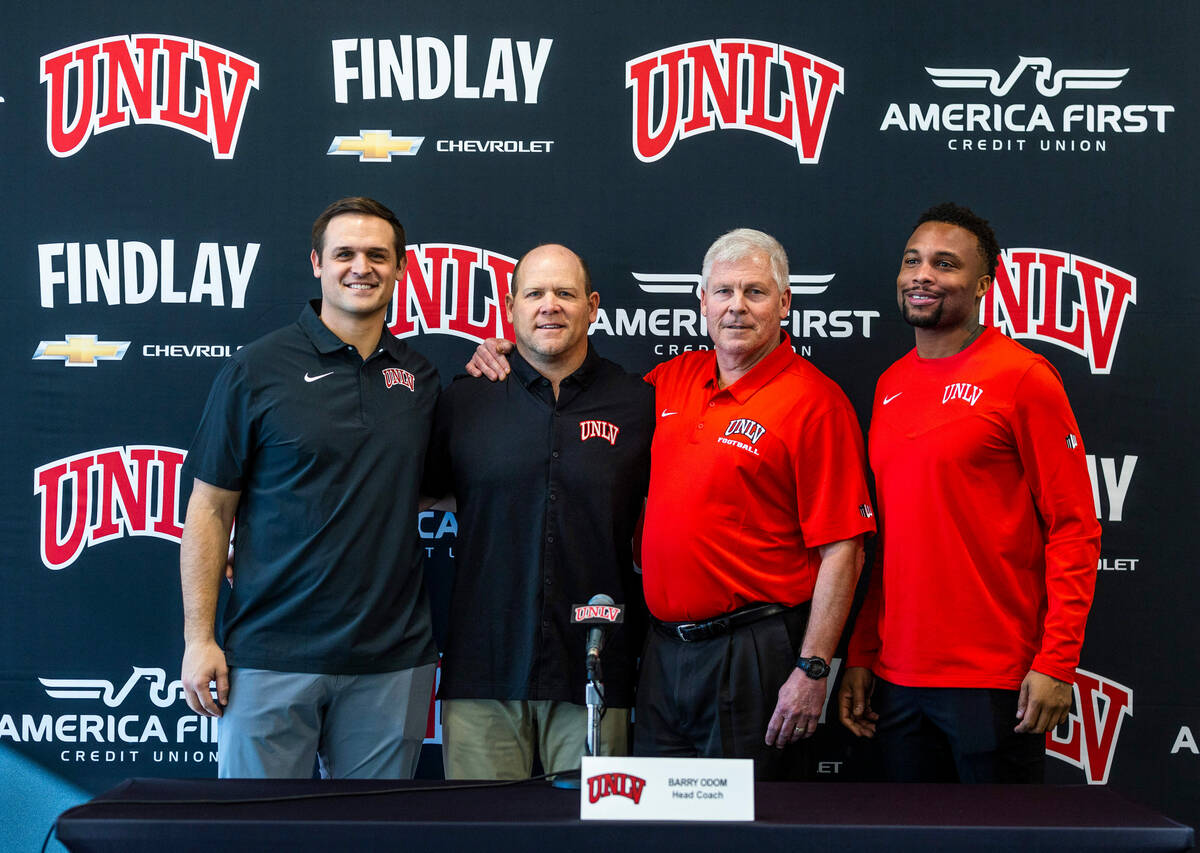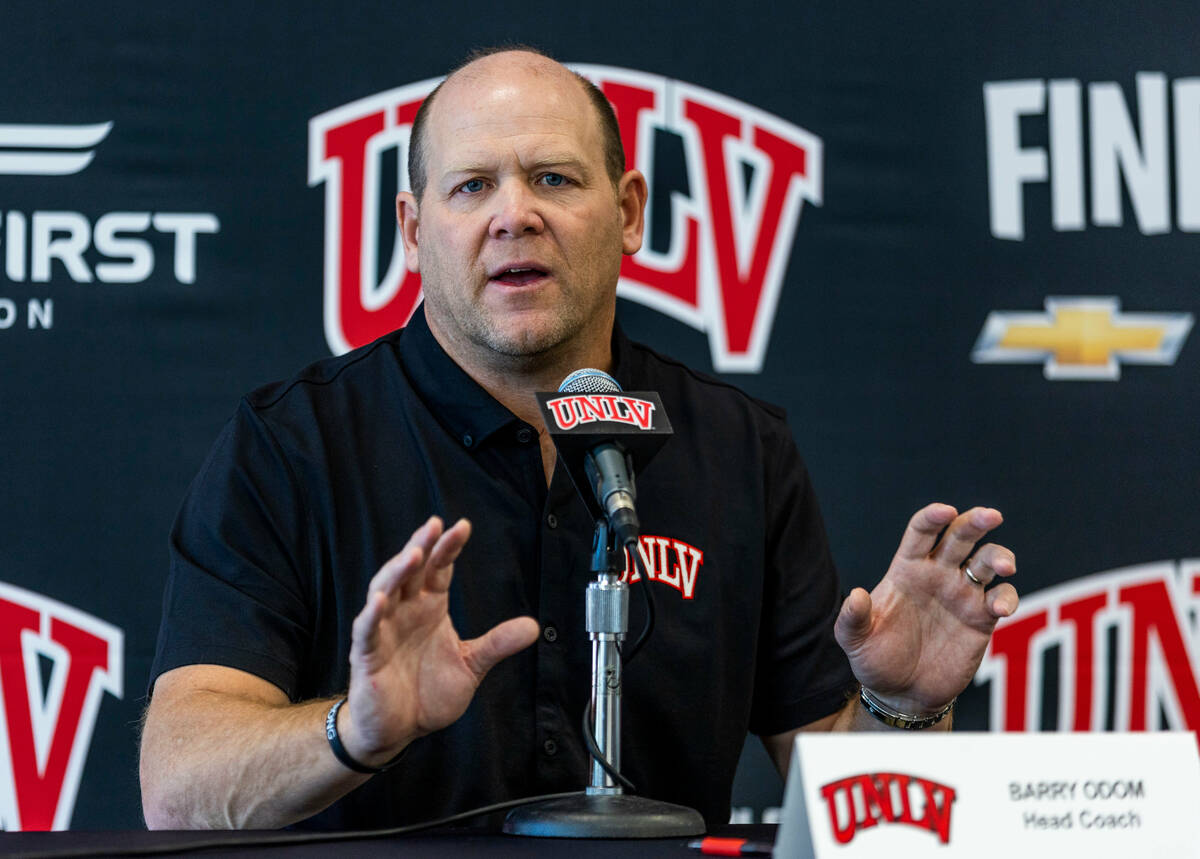 It took a bit longer than expected and included more twists than new UNLV football coach Barry Odom wanted, but the Rebels' on-field coaching staff is finally complete.
Odom introduced his coordinators Thursday at the Fertitta Football Complex. Offensive coordinator Brennan Marion, defensive coordinator Mike Scherer and special teams coordinator James Shibest will be charged with shaping Odom's vision of a competitive, championship-caliber UNLV team.
"I wanted great men of value and character in putting this staff together," Odom said.
The coaching staff will be fully entrenched in the offseason soon. The Rebels return Monday for their first official meetings, and their winter strength and conditioning program begins Tuesday. In the meantime, Odom and the rest of UNLV's coaches are hitting the recruiting trail, starting with high schools in the Las Vegas Valley.
"I've got trust in our staff, and if not, they wouldn't be here," Odom said. "I feel really strongly about the guys we have in coordinator and leadership roles. They're going to do a great job leading our football team."
The Petrino aftermath
If the news conference had been held earlier this month, it would have looked very different. Odom's first hire was offensive coordinator Bobby Petrino, but less than a month after accepting the job, the former Louisville coach bolted for the same position at Texas A&M.
Odom said he believed Petrino was only going to be around for a year because he expected them to be successful at UNLV together, providing the coach with other opportunities. Instead, Odom found out Petrino was resigning at 5 a.m. Jan 4.
"It happens," Odom said. "I don't like it, but that's the hand that I was dealt."
Odom immediately reached out to Marion, the wide receivers coach at Texas. The pair met when Odom was the defensive coordinator at Arkansas, and he promised Marion a job the next time Odom had a chance to lead a program.
"It's amazing when you meet somebody, they tell you something and they keep their word," Marion said. "In the game of football, not a lot of people keep their word."
The former Howard offensive coordinator, who helped mastermind the Bison's 43-40 upset of the Rebels in 2017, is excited to bring his scheme to UNLV. Marion says this is the most talented roster he's inherited as an offensive coordinator.
"The cupboard is definitely not bare," he said. "We'll have a great chance to build on that and create some momentum."
Scherer at the helm
UNLV's new defensive coordinator doesn't have the longest résumé. Scherer has only been a full-time position coach for two full seasons, but he has an intimate, in-depth knowledge of Odom's approach after playing for him at Missouri and coaching under him at Missouri and Arkansas.
"I always joke that I know how to coach these kids because of the amount of things I screwed up when I played," Scherer said. "I had to be coached at it, too, and I screwed up so much I heard it all the time."
Odom disagrees. If it weren't for injuries, he said, Scherer, a former linebacker, might still be playing professionally. Now the 29-year-old will call plays and create the defensive game plan for the Rebels.
Scherer said he doesn't have a clear idea what his scheme will look like yet. He wants to get to know his personnel better before making tactical decisions like whether they'll play three defensive lineman or four.
"It doesn't matter what I know," he said. "It matters what they can do."
Contact reporter Andy Yamashita at ayamashita@reviewjournal.com. Follow @ANYamashita on Twitter.
UNLV football coaching staff
Barry Odom, coach
Brennan Marion, offensive coordinator, quarterbacks
Mike Scherer, defensive coordinator, linebackers
James Shibest, special teams coordinator
Vance Vice, offensive line
Cornell Ford, running backs
Del Alexander, wide receivers
Nate Longshore, tight ends
Ricky Logo, defensive line
Akeem Davis, cornerbacks
Damon Magazu, safeties
Jeff Fish, strength and conditioning