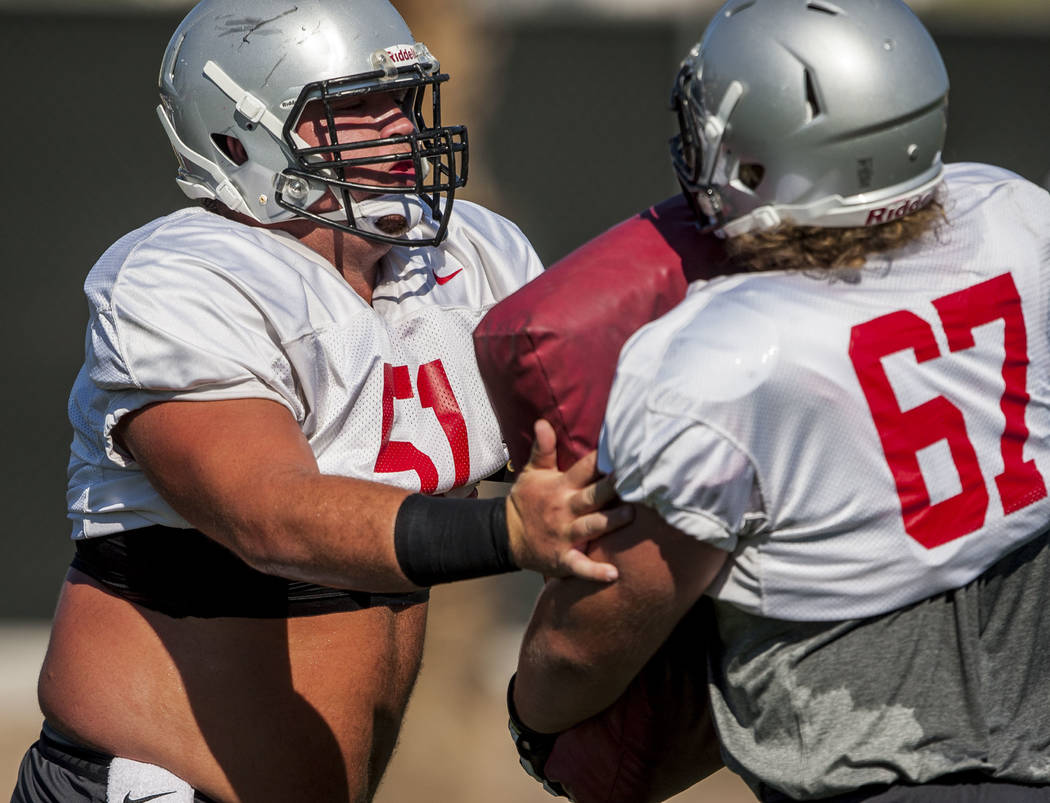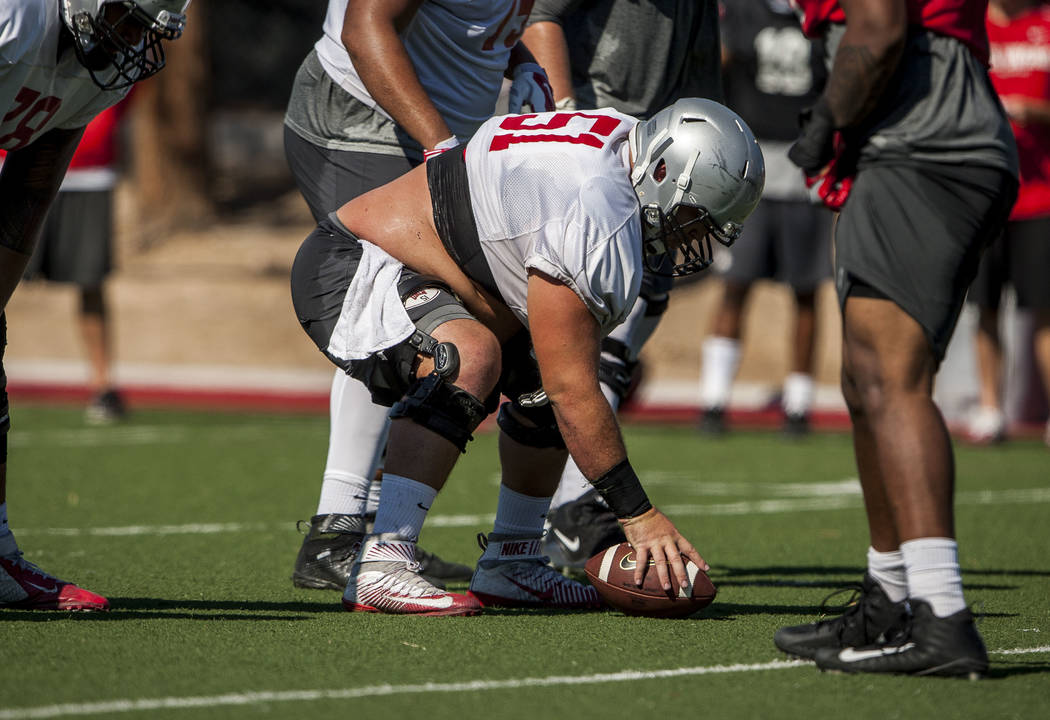 Will Kreitler has been working with the centers vying to take his old job, and Sid Acosta has walked around Rebel Park as a daily reminder of what could be.
Kreitler was UNLV's outstanding center the past two football seasons, but his eligibility is up. Acosta is still recovering from a torn ACL, so rather than getting ready to step in for Kreitler, he can do little more than watch.
And it's been something to watch.
The centers have struggled with the snap exchange, and no one has claimed the position outright. Coaches even have tried an incoming freshman and now have added a starting tackle to the mix of what has grown to four contenders, though finding one player isn't the lone goal.
"We need to create depth," coach Tony Sanchez said. "We've got to figure out who's our three-deep there. If one guy goes down, you can't have nobody behind him."
Junior Zack Singer (6 feet 2 inches, 320 pounds) is the leading candidate to start when the Rebels open their season Sept. 2 against Howard at Sam Boyd Stadium.
Singer, a Kent State transfer who also played for Sanchez at Bishop Gorman High School, has made quite a journey to get to this point, overcoming a leg injury in the 2015 training camp.
"He's a very intelligent guy," offensive line coach John Garrison said. "He's a guy that I can trust. He's a coach out on the field, so he does a great job with protection calls."
Singer also has worked to improve his snaps to quarterback Armani Rogers.
"In the first week in camp, I've had to make a couple of tweaks here and there just to get comfortable," Singer said. "I feel like I've finally found my technique that I want to use, and as long as I stay consistent and focus on (it), the snaps have been great. It was a great day (Thursday) for me."
Three other players also are getting a look at the position.
Senior J'Ondray Sanders (6-5, 290), who went to Basic, has received first-team repetitions. Freshman Justice Oluwaseun (6-2, 325) has been given extended looks as well and figures to contribute right away at center or right guard. And now junior Nathan Jacobson (6-5, 280) will get time there in addition to right tackle, where he is likely to start.
Garrison said that while he prefers to rotate players throughout the rest of the offensive line, his hope at center is to pick a starter and stay with him.
"I don't like mixing up the exchange issues that you might have there," Garrison said. "It's the one position that if I could have a play-the-whole-game guy, that's what I want to do there."
Then there is the decision regarding Acosta. He is expected to return after the first month of the season, but has a redshirt year available.
"You never know with an ACL," Garrison said. "Some guys can come back and be right on it in 5½, six months, and even sooner than that. And some guys, it takes awhile. You get him back Game 5, Game 6, what do you do?
"It'll come down to a big decision for us and for him, too, to see where he's at physically if he can do it, if that knee's ready to go and where we're at in the season and how these other guys have progressed."
Singer hopes he's the player making such a decision more difficult for the coaches.
"Man, it would mean a lot," Singer said. "Being from Las Vegas, I have a lot of people coming to the games. Representing this university and being a part of such a special O-line and a special offense and playing for Coach Sanchez again is a real honor for me. That's why I came back to UNLV. It would be very humbling."
More Rebels: Follow all of our UNLV coverage online at reviewjournal.com/Rebels and @RJRebels on Twitter.
Contact Mark Anderson at manderson@reviewjournal.com. Follow @markanderson65 on Twitter.
Contending to start
These are the candidates at center:
— Zack Singer, Jr., 6-2, 320 — The Bishop Gorman High School graduate is the leading candidate to win the job.
— J'Ondray Sanders, Sr., 6-5, 290 — Has received some snaps with the first-team offense.
— Justice Oluwaseun, Fr., 6-2, 325 — Figures to play this season, either at center or guard.
— Nathan Jacobson, Jr., 6-5. 280 — Is the probable starting right tackle but will get a look here, too.