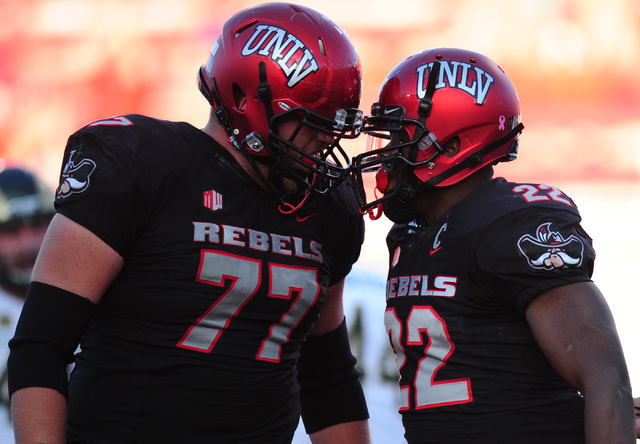 UNLV got back one player and lost another Tuesday.
Backup senior offensive left tackle Michael Chevalier returned to practice after being sidelined with a sprained left ankle.
But a sprained right ankle suffered in Sunday's scrimmage at Rebel Park forced senior H-back Tim Holt into a walking boot.
Coach Tony Sanchez said Holt is expected to be out seven to 10 days, putting his status for the Sept. 2 season opener in jeopardy. The Rebels play Howard that night at Sam Boyd Stadium.
"There's nothing fractured," Sanchez said. "It's a low one. It's better than a high ankle sprain, but it's day to day."
Two starters remain out — junior wide receiver Kendal Keys with a sprained right knee and senior defensive tackle Mike Hughes Jr., who went to Palo Verde High School, with a tight left hamstring.
Position spotlight: Special teams
Placekicker
1. Evan Pantels, Jr., 5-10, 190
2. Riley Erickson, Fr., 6-0, 190
Punter
1. Evan Pantels, Jr., 5-10, 190
2. Riley Erickson, Fr., 6-0, 190
Kick returner
1. (tie) Tim Hough, Jr., 5-11, 185; Darren Woods Jr., So., 6-0, 220
Punt returner
1. (tie) Jericho Flowers, So., 5-10, 175; Brandon Presley, So., 6-0 180
3. Lexington Thomas, Jr., 5-9, 170
Notes
— UNLV will wear throwback helmets from quarterback Randall Cunningham's days in the 1980s for the opener against Howard. It's a silver helmet with a red "REBELS" script.
Throughout the season, the team will wear a commemorative sticker on the back of the helmets that pay tribute to this being the 50th season of UNLV football.
Also, college coaches throughout the country will wear American Football Coaches Association patches in games from Aug. 31 to Sept. 3 as a way to bring attention to the organization.
— Quarterback Stacy Conner, a Rebels commit from Wylie (Texas) High, was named to the Blue-Grey All-American Bowl watch list.
— The UNLV Football Foundation will hold its season kickoff party at 6 p.m. Wednesday at Twin Peaks at 9510 S. Eastern Ave. It is free and open to the public. The foundation also is conducting a membership drive.
More Rebels: Follow all of our UNLV coverage online at reviewjournal.com/Rebels and @RJRebels on Twitter.
Contact Mark Anderson at manderson@reviewjournal.com. Follow @markanderson65 on Twitter.