UNLV gets Keys but loses Williams as Rebels try to regroup
September 5, 2017 - 4:54 pm
Updated September 5, 2017 - 10:28 pm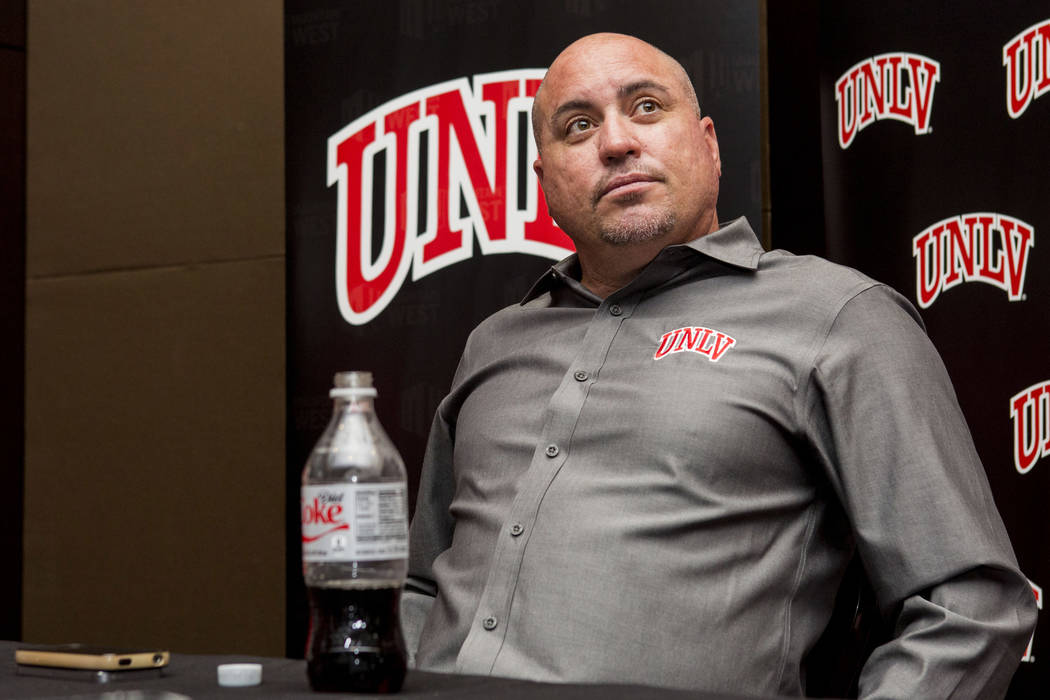 UNLV coach Tony Sanchez said Tuesday the football team can't pay attention to the blowback over its season-opening upset loss to Howard and must focus on the task at hand.
That would be going to Idaho and winning.
In that effort, the Rebels get junior wide receiver Kendal Keys back at full speed and in the starting lineup, but most likely will be without sophomore running back Charles Williams.
Williams injured an ankle in the 43-40 loss to Howard, and he is doubtful for the 4 p.m. Saturday game against the Vandals (1-0). That means junior Lexington Thomas, who started nine games last season, will get the call.
The probable loss of Williams, who took over as the starter toward the end of last season and led the Rebels with 763 yards, also means more of a role for junior Xzaviar Campbell, who has rushed for 702 yards over his first two seasons.
Thomas showed against Howard he could handle the load, rushing for 151 yards and two touchdowns on 21 carries.
Junior Evans Owens, a junior college transfer, is listed third on the depth chart. The Rebels also have freshman Tariq Hollandsworth, who coaches decided not to redshirt this season and played him against the Bison.
"We're not hurting there at all by any means," Sanchez said. "We've just got to clean some things up, so if we do so, we feel like we've got a great opportunity to go out there and go get a 'W.'"
Keys, who sprained his right knee in training camp, received limited time against Howard. Now he is full go.
This will be his first start since 2015 season when Keys started every game and caught 43 passes for 515 yards and six touchdowns. He missed all of last season with a knee injury.
"That will be big," Sanchez said of Keys' return. "You saw him get in the game a little bit this last week. Having Kendal back at full strength, he's got a full week of practice now, a full week of preparation. The biggest thing with that is being out the weeks that he was getting his wind back. He got tired real fast in the limited time he saw.
"As we give (redshirt freshman quarterback) Armani (Rogers) more and we take more chances and we put the ball downfield more, he needs to be a big, productive part."
More than physically, the Rebels need to mentally come back from the Howard loss. It was a potentially devastating defeat — UNLV was a 45-point favorite — and Sanchez said new athletic director Desiree Reed-Francois was encouraging in their two talks since that game.
"The great thing about football is whenever anybody else is kind of going nuts and pulling their hair out and they don't know what to do, hey, it's Game 1 of a 12-game season," Sanchez said. "A lot of football to go. In this rebuild process, we're fine.
"When I look at our guys, the thing about it that's a little different than in the past is we have no reason to panic. We have a talented group of kids."
Contact Mark Anderson at manderson@reviewjournal.com. Follow @markanderson65 on Twitter.