UNLV has a rising star as its new offensive coordinator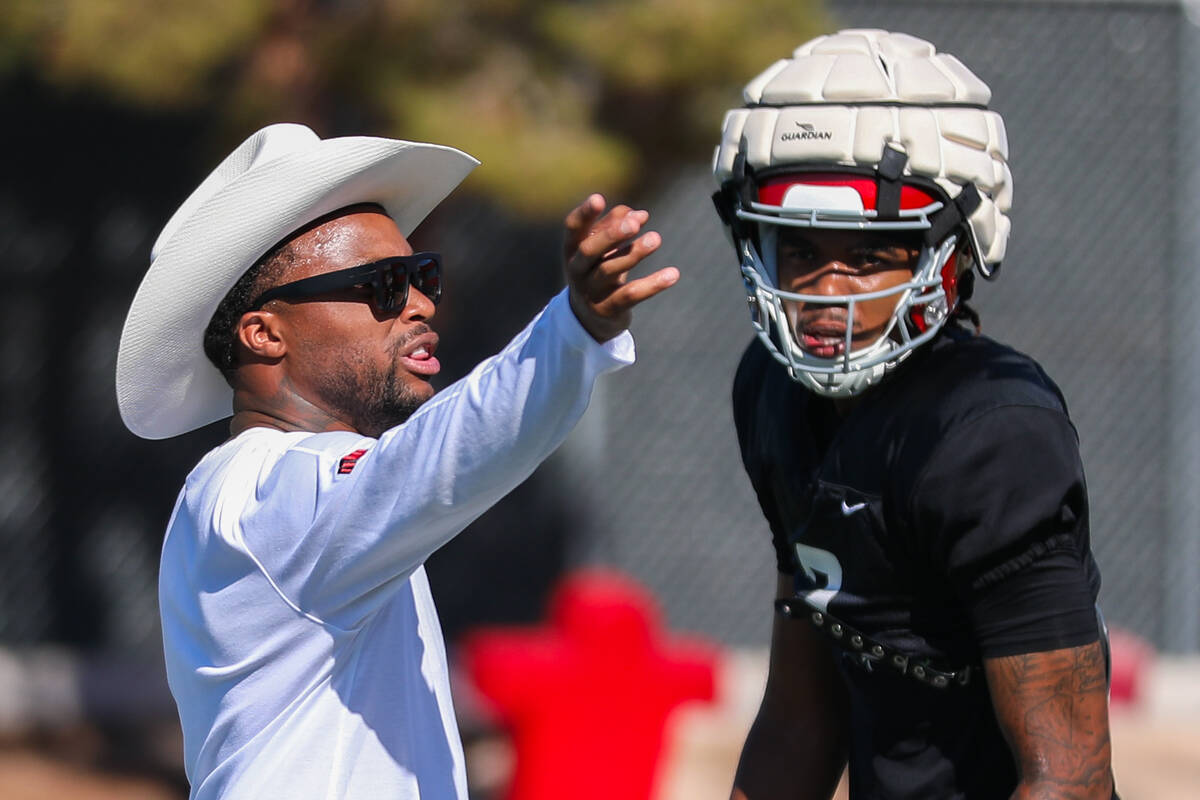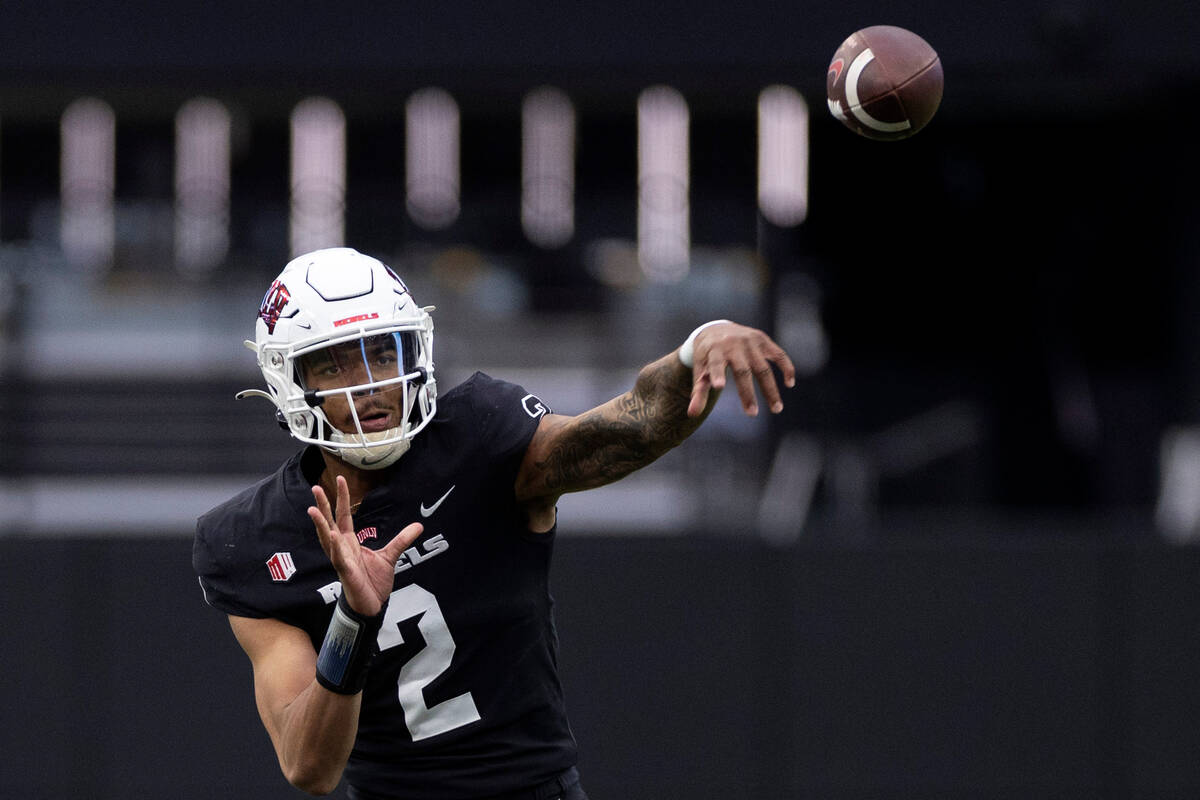 Brennan Marion knew nothing about go-go music and its funky, bouncing, syncopated rhythms. Not before moving in 2017 to Washington D.C. But a job as Howard's offensive coordinator would come with an immersion in the city and the music it inspires.
Needing a name for the elaborate offense he had designed, the then 30-year-old wunderind would draw on the genre, allowing offensive lineman and captain Gerald Wright to christen the scheme as such in an ensuing interview with a local reporter.
Said Wright: "We run the Go-Go offense."
So does UNLV.
The Rebels this season employ the offense and its orator, an unbridled, ebullient 36-year-old from Pittsburgh with a smile fastened to his face, a cowboy hat atop his head and an endless flow of ideas stowed inside of it.
The Go-Go scheme, a modern homage to the triple-option offense forged by Marion through hundreds of hours of historical film review, is responsible for records at the schools in which it was installed and the rapid rise of its curator through coaching.
Once a speedy wide receiver at Tulsa, Marion still maintains NCAA career (28.7) and single-season records in yards per reception (31.9). Knee injuries ended his NFL career before it started, but he's found his calling in coaching, creating closure to a professional playing career filled with unfulfilled potential.
"He's going to coach you hard, and he's going to give you a lot of confidence," said Minnesota Vikings rookie wide receiver Jordan Addison, one of Marion's pupils at Pittsburgh, where he coached wide receivers in 2021.
"He always comes in with a lot of juice, a lot of energy, a lot of swag. As a young guy, we can relate to that and that just turns us up even more."
The football player
The confidence and swagger are longstanding, but the cowboy hat is a relatively new touch, inspired last year by a meeting between Marion and famed Texas Longhorns fan Matthew McConaughey. Marion coordinated the passing offense and coached wide receivers last year at Texas.
But the chance to call plays at UNLV overpowered for Marion the prestige the position with the Longhorns provided.
"Until you're actually doing it, it's never the right, perfect opportunity," said Marion, listed by Tulsa at 6-foot-1, 185 pounds and 15 years later still looking the part.
"When (UNLV coach Barry Odom) called me, I was like 'Coach, if you want me to be here, I'm there. I'll be there tomorrow.'"
To bolster his prowess as a football player, Marion has long obsessed over the sport's tactics, pouring over playbooks and diagramming his own plays, often in lieu of focus in school. The perils of poverty forced Marion and his family — mother Richelle and older brother Brandon — to bounce from housing unit to housing unit and school to school.
Football helped him Marion find connection in every neighborhood, unwittingly preparing him for the transient lifestyle he now lives.
Growing up, Marion would engineer pickup games and assign his friends to different positions, using his advancing acumen to design plays and advancing athletic prowess to dominate his opposition. He'd also excel in organized settings, but his personal cycle of change would tarnish his transcripts and subsequently slow his recruitment— filling his senior year with night class, summer class and the optimism he'll never abandon.
His only season on film begat interest from Division I programs and acceptance by Foothill College, a junior college in far away Los Altos Hills, California. Said Marion: "I really just made a decision like 'Alright, I'm going to see it through regardless of what it looks like."
He played one year at Foothill and another at De Anza College in nearby Cupertino, where housing he was promised never materialized — leaving him to live in the locker room for his first couple months on campus. He feasted on water and ate when he could, photocopying textbooks so he could study for his classes and qualify for the Dean's list.
On the football field, he remained dominant, earning All-American honors and a scholarship to Tulsa for his junior season of 2007.
He'd meet with seemingly every major agency as a projected first- or second-round NFL draft pick after a junior season in which he had 39 receptions for 1,244 yards and 11 touchdowns..
And yet he "just couldn't leave."
Marion desired his degree but even more desired the family atmosphere that Tulsa ultimately provided. Golden Hurricanes coaches bonded with Marion in the film room and away from the football field, bringing him to church and their homes for meals.
"It was the first place where I lived where I could just relax and be here," he said. "That was the thing that was different there that tugged my heart to stay."
The football coach
Marion teaches his players now the lessons he learned the hard way: That they can forego their eligibility and still return to school or purchase policies that insure their bodies. That, he did not know when he returned for his senior campaign of 2008, tearing his right ACL late in the fourth quarter of the conference championship game.
The injury cost Marion millons.
He rebounded as an undrafted free agent to sign with the Miami Dolphins. But he tore the same ACL toward the end of training camp, triggering an unrelenting feeling of failure that coincided with the birth of his daughter, Mariah, now 14 and an older sister to 8-year-old Brennan.
"There was a year where I just drank (alcohol) and beat myself up when I got hurt in the NFL," said Marion, who was summoned from his depression in 2010 by a friend connected to Union City, California's James Logan High School.
Needing an offensive coordinator, one of Marion's former junior college teammates recommended him to the head coach at James Logan, a fellow Pennsylvania who welcomed Marion to his staff. He rehabilitated his knee for one more go-around in the CFL and called plays for the first time, connecting with the players through shared interests and experiences and opening his home when they needed a place to stay.
Thought Marion throughout the course of the season: "This is what I should be doing right here."
One final ACL injury — in 2011 with the Montreal Alouettes — finalized his decision and he relocated again to the Bay Area, where he worked in the admission's department at University of Silicon Valley, then known colloquially as Cogswell College. He trained players at a nearby community college and coached receivers at Harker School, a prestigious private academy.
All the while, he applied around the country to head coaching vacancies, seeking the next step in his coaching career.
Of the 300 he applied for, six would call to inquire about his services. Five declined to hire him and the sixth — St. Patrick-St. Vincent High School — was embroiled in a hazing scandal.
"His enthusiasm, his positivity, that was just really evident in meeting (Marion)," said Tamra Smith, the first athletic director to hire Marion to a full-time coaching role. "He really had a vision. Not just X's and O's, how he was going to run his program, but really more 'This is what I can see. This is what I can bring. This is want I want to build.'"
Utilizing the principles of the Go-Go — "misdirection, unbalanced formations, and vertical shots" — St. Patrick-St. Vincent High School won four more games under Marion in 2013 than in 2012, aggregating more points than their 11 opponents throughout the course of the campaign. He returned to Pennsylvania the following season to coach Waynesboro Area High School, leading a winless program the previous season to a conference championship in his first season.
He wouldn't coach in high school again, utilizing his web of contacts to get collegiate jobs at Arizona State, Oklahoma Baptist, Howard, William & Mary, Hawaii, Pittsburgh and Texas before moving to Las Vegas to work at UNLV.
Odom was a silent spectator to Marion years ago at one of the American Football Coaches Association's annual coaching conventions, watching his future offensive coordinator detail the intricacies of coaching the quarterback within the Go-Go. Impressed by "his organization, his passion for the game and his ability to lead," he added Marion to his ever evolving list of prospective assistant coaches, since deferring to his offensive expertise.
The role, the city, the college, the conference seem to change every season for Marion, who relishes the relationships with his players more than the result on the scoreboard.
He enthusiasm hasn't and probably won't.
"Ultimately, you can't be a coach without the players. So I've always just focused on that. And that has taken me to places that I really never thought that I would go or dream of," Marion said. "When I really got all in on coaching, it's been joy every day. It hasn't been work. Being a player, it was so much pressure, stress to perform at a high level to make sure I could take care of everybody all the time.
"I'm able to take care of everybody and have joy. And be relaxed."
Contact Sam Gordon at sgordon@reviewjournal.com. Follow @BySamGordon on X.
Up next
Who: UNLV vs. No. 2 Michigan
When: 12:30 p.m. Saturday
Where: Michigan Stadium, Ann Arbor, Michigan
TV: KLAS-8 (CBS)
Radio: KWWN (1100 AM, 100.9 FM)
Line: Michigan – 36½, total 51