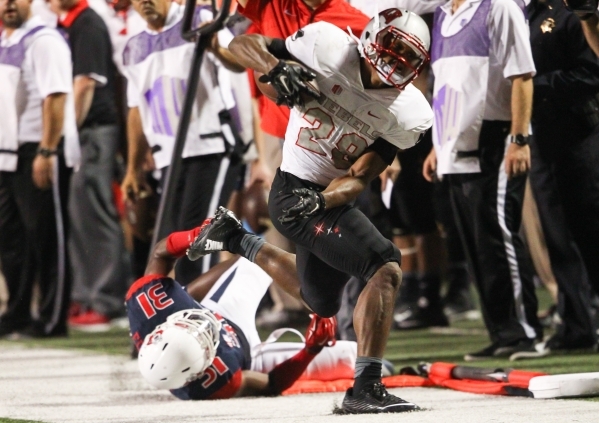 FORT COLLINS, Colo. — UNLV came here in 2002 with a backup quarterback to play a season finale as a 17-point underdog.
The outcome in Colorado State's favor seemed so certain that a postgame ceremony was planned for the Mountain West to award the conference championship trophy that the Rams already had secured.
That ceremony took place, but under a considerably more somber tone after the Rebels defeated the 16th-ranked Rams 36-33.
Colorado State has since exacted revenge every time the Rebels have returned to Hughes Stadium, not only winning the next five meetings there but convincingly in four of them. That included a 33-11 rout in UNLV's most recent trip in 2012 that took place in snow and biting cold, the game as miserable as the conditions.
Now the Rebels are back to try to reverse recent history, but as 7½-point underdogs in the 4 p.m. PST game today, the odds are literally against them. The game will be televised on Root Sports and streamed at unlvrebels.com.
But that doesn't mean UNLV (3-6, 2-3 MW) doesn't have a chance against Colorado State (4-5, 2-3). The Rebels have been competitive against opponents enjoying a better season than Colorado State, and the Rams aren't close to the team that went 10-3 last year and played in the Las Vegas Bowl.
"I think it's pretty evenly matched," Rebels coach Tony Sanchez said. "There are some things I think we have advantages on, and I think there are some things they have advantages on.
"This is a very winnable game."
This is what the Rebels need to do to win:
— Establish a strong running game. The Rebels average 209.3 yards per game on the ground, and Colorado State gives up 204.6. UNLV had two running backs gain more than 100 yards in last Saturday's 41-21 victory over Hawaii, and that kind of production would make the Rebels difficult to beat in this game.
"I think once we get a foundation of running the ball, it makes it easier for our receivers and quarterback to make plays," said Keith Whitely, who leads UNLV with 624 yards rushing.
— Stop the run. The Rams are becoming more conservative, befitting first-year coach Mike Bobo's philosophy. They rushed for a season-high 228 yards in last weekend's 26-7 victory at Wyoming, and expect that trend to continue, especially against a UNLV defense that allows 5.3 yards per rush.
"I want to be balanced, but I want to let the teams we play know that this team's going to line up and you're going to have to stop the run," Bobo said.
— Win the turnover battle. UNLV has the edge with a plus-6 margin, and Colorado State's is minus-11. One key turnover could create game-changing momentum.
As recent history has shown, winning in Fort Collins isn't easy for the Rebels.
But they go into the game confident in their abilities. Now it's matter of getting it done in this late-season game.
"It's a good opportunity for us to get a big road win," UNLV linebacker Ryan McAleenan said, "and get us some more momentum going into the end of the season."
— Contact Mark Anderson at manderson@reviewjournal.com or 702-387-2914. Follow him: @markanderson65
Check our GameDay page for full coverage of the UNLV-Colorado State game.