UNLV hopes to repeat history against Fresno State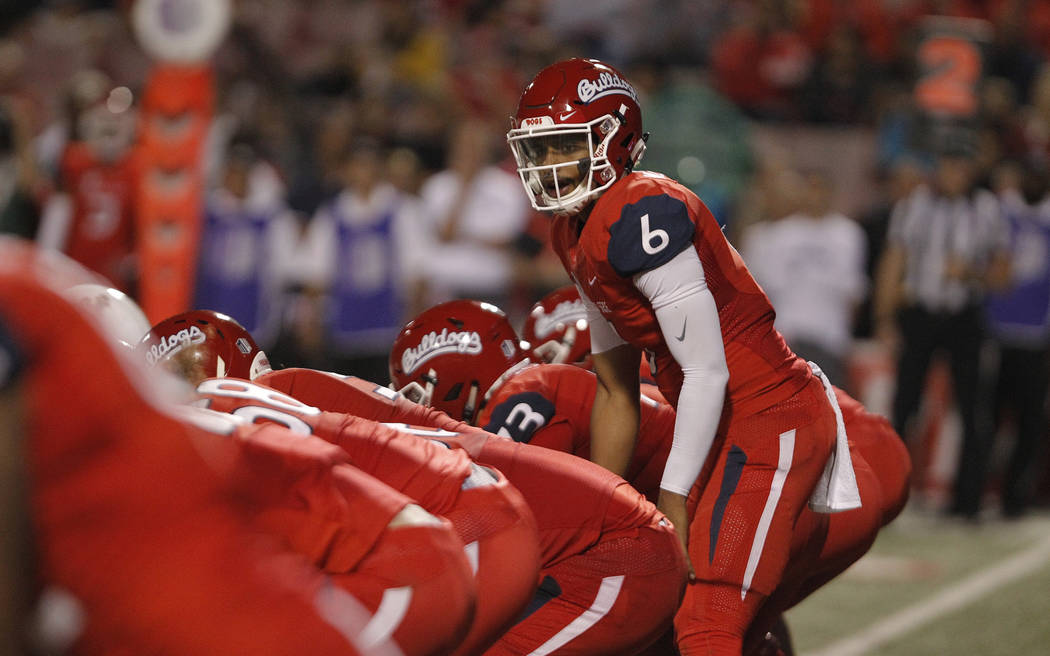 UNLV went to Fresno State last season with a backup quarterback and as a 21-point underdog.
And the Rebels, behind Johnny Stanton, won 26-16.
They face a similar challenge Saturday, with backup Max Gilliam making his fifth start in a row and the Rebels 26-point underdogs to No. 20 Fresno State at 7:30 p.m. at Sam Boyd Stadium.
Few outside the Rebels' locker room believe they have much chance in the game, which will be televised by CBS Sports Network. Few believed it last season, either.
One downside to UNLV's upset victory a year ago is the Rebels now have Fresno State's attention. The Bulldogs (7-1, 4-0 Mountain West) play Boise State and San Diego State the next two weeks, so what otherwise could be a trap game for them likely will be one in which Fresno State comes out motivated.
"Yeah, I think our guys will remember that," Fresno State coach Jeff Tedford said. "It's not something we're going to harp on over and over again. We snapped the ball over the punter's head, we dropped a punt, we gave up field position, they held the ball on us, we didn't make enough plays to win. In college football, in any single week, you have to bring your 'A' game or you're not going to be successful. So it's really about that."
UNLV (2-6, 0-4) is heading the opposite direction, having lost five games in a row. The Rebels have surrendered at least 50 points in three of their past four games, and they now face a Fresno State offense led by quarterback Marcus McMaryion and wide receiver KeeSean Johnson that averages 39.5 points.
As tough as it is to stop Fresno State's offense, it's even more difficult to score on the Bulldogs. They allow 13.5 points per game, tied with Mississippi State for fourth-best nationally.
It's quite a challenge for Gilliam, who comes in having thrown 12 touchdown passes over four starts, joining Jon Denton in 1996 as the only UNLV quarterbacks to accomplish that. Gilliam has developed a special connection with Tyleek Collins, who in last Saturday's 50-37 loss at San Jose State caught nine passes for 170 yards and four touchdowns.
"We've just got to get him the ball," Gilliam said. "It's definitely a confidence booster knowing we have guys we can drop it down to and they can make something happen."
Gilliam's hold on the starting job could soon end. Armani Rogers (toe) was cleared this week and resumed practices, but isn't expected to play against the Bulldogs because he needs to work himself into game shape.
Gilliam is the better passer, but he doesn't possess Rogers' running ability. Rogers, who averages 122 yards rushing, made the Rebels one of the nation's most effective running teams, gaining more than 300 yards in each of his four starts.
Coaches could play both quarterbacks, and the trick is figuring out how to do that effectively.
"They're both good football players, they both can do multiple things, but they both have their specific things that they're really gifted in," UNLV coach Tony Sanchez said. "We would definitely use both abilities (in future games), but I'm confident in Max to continue to carry the load."
Contact Mark Anderson at manderson@reviewjournal.com. Follow @markanderson65 on Twitter.
Game day
• Who: No. 20 Fresno State at UNLV
• When: 7:30 p.m. Saturday
• Where: Sam Boyd Stadium
• TV/Radio: CBS Sports Network; KWWN (1100 AM, 100.9 FM)
• Line: Fresno State -26; total 60½