UNLV in search of offense, identity as Vandy awaits
Updated September 11, 2023 - 7:34 pm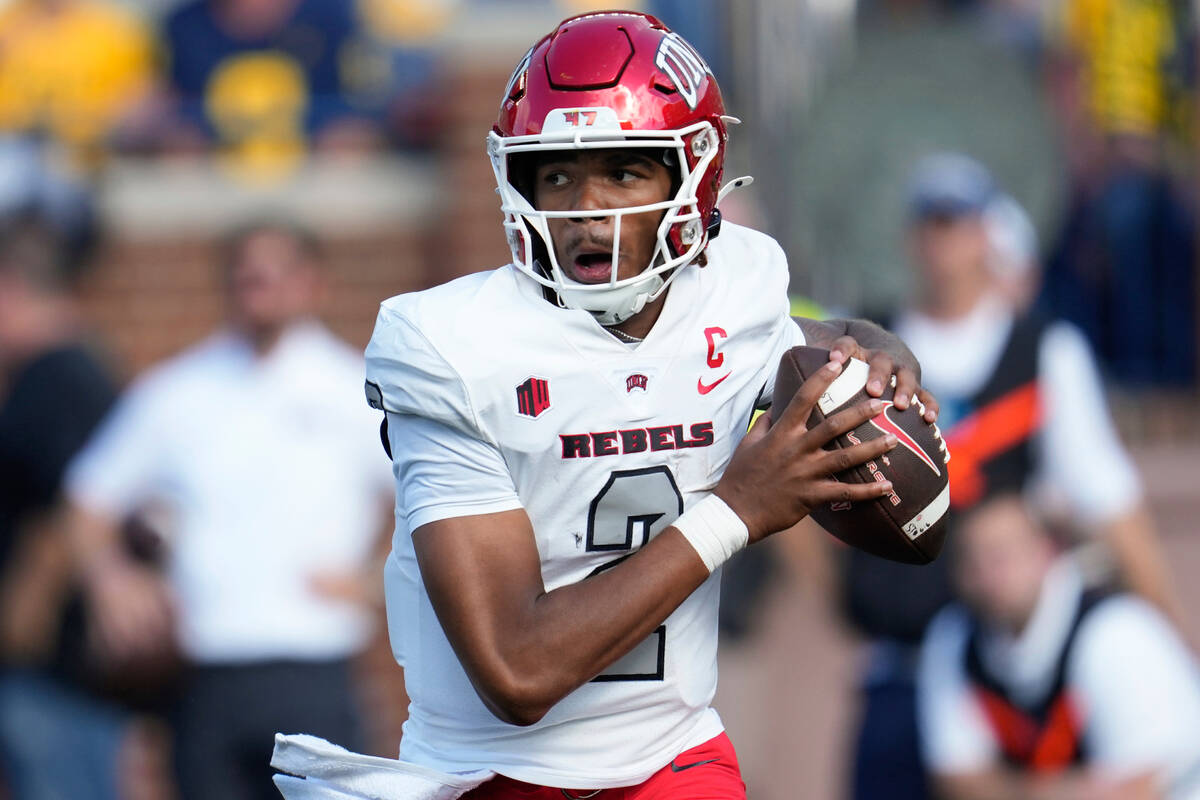 Two games into the 2023 season, it's difficult to discern the identity of this UNLV football team in its first campaign under coach Barry Odom.
The Rebels took care of business against Bryant, an FCS school, winning in a 44-14 romp in Week 1 at Allegiant Stadium. Then, UNLV was soundly beaten by No. 2 Michigan 35-7 on the road Saturday.
Yet Odom saw progress between Weeks 1 and 2. He said there are areas for improvement and his team is still learning to play with one another, but added that he's seen commitment and eagerness from the Rebels despite the loss.
"They're hungry," he said. "They want to be coached. They want discipline. They want structure. They're liking the game, not just the three and a half hours on Saturday. They're embracing playing together."
UNLV returns to Allegiant Stadium to face Vanderbilt of the SEC at 4 p.m. Saturday. The Commodores represent the first real test for the Rebels this season. It's an opportunity to quickly jump back into the win column.
"I don't like losing. Our team doesn't like losing," Odom said. "We're not going to get accustomed to losing. We're not judged on effort alone. We're judged on results."
If Odom and the Rebels (1-1) want a chance against the Commodores (2-1), they'll have to address their offense. Junior quarterback Doug Brumfield completed 10 of his 19 pass attempts against Michigan for 100 yards, a slight improvement on his Week 1 outing when he threw for just 86 yards. He's yet to throw a touchdown this season, though he rushed for one against Bryant.
Odom said offensive production isn't solely Brumfield's responsibility. The UNLV quarterback was sacked five times by Michigan, with four coming in the second quarter. Additionally, the Rebels' run game, which gashed Bryant for 268 yards, only managed 61 yards against the Wolverines' stout defense.
Part of the Rebels' issues stemmed from their injured offensive line. Starting left guard Alani Makihele didn't play against Michigan because of an injury. Similarly, junior left tackle and former Arkansas transfer Jalen St. John, a preseason starter, didn't play against Bryant and was limited to just a few series against Michigan. Odom said both players returned to practice Monday.
Without Makihele and St. John, UNLV was forced to rotate in more players. Sixth-year right guard Amani Trigg-Wright called the offensive line's performance "unacceptable." He said the group is challenging itself to be more consistent ahead of the Vanderbilt matchup.
"We didn't play the way we wanted to," Trigg-Wright said. "It forced (Brumfield) to try to be a hero and put on a cape when he shouldn't have to."
Trigg-Wright said the Rebels are a special team when Brumfield is protected long enough to get the ball to UNLV's playmakers, and Odom was adamant the offense will improve with more time.
Odom also said there's plenty of season remaining for the Rebels to learn their lessons and develop an identity.
"It's early, early, early," he said. "A lot's going to happen between now and the end of November."
Contact reporter Andy Yamashita at ayamashita@reviewjournal.com. Follow @ANYamashita on X.