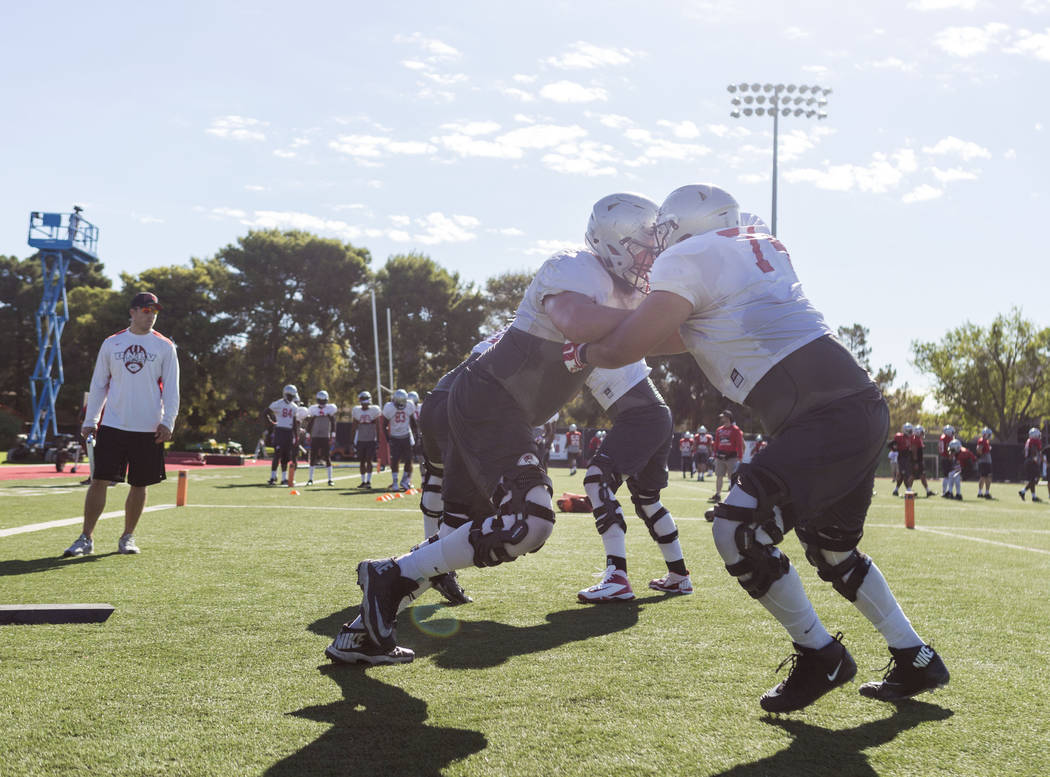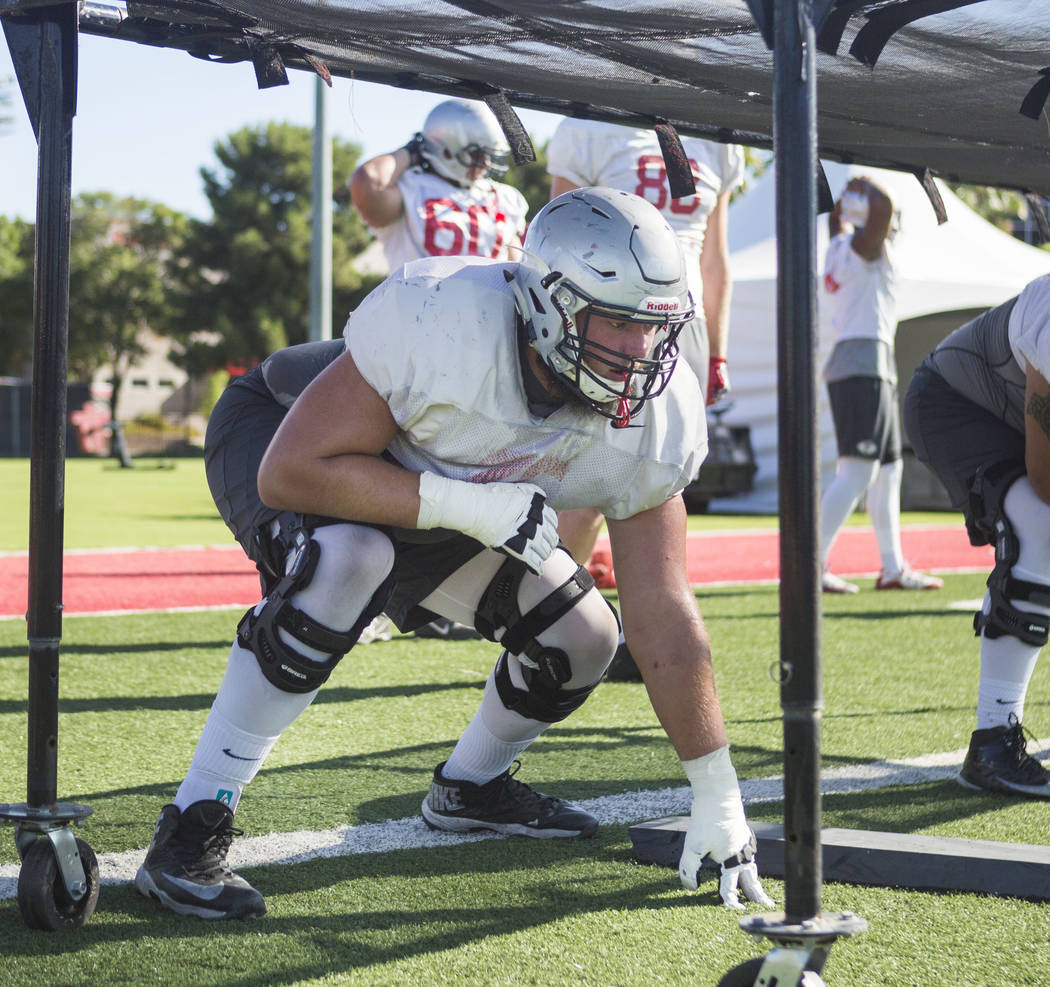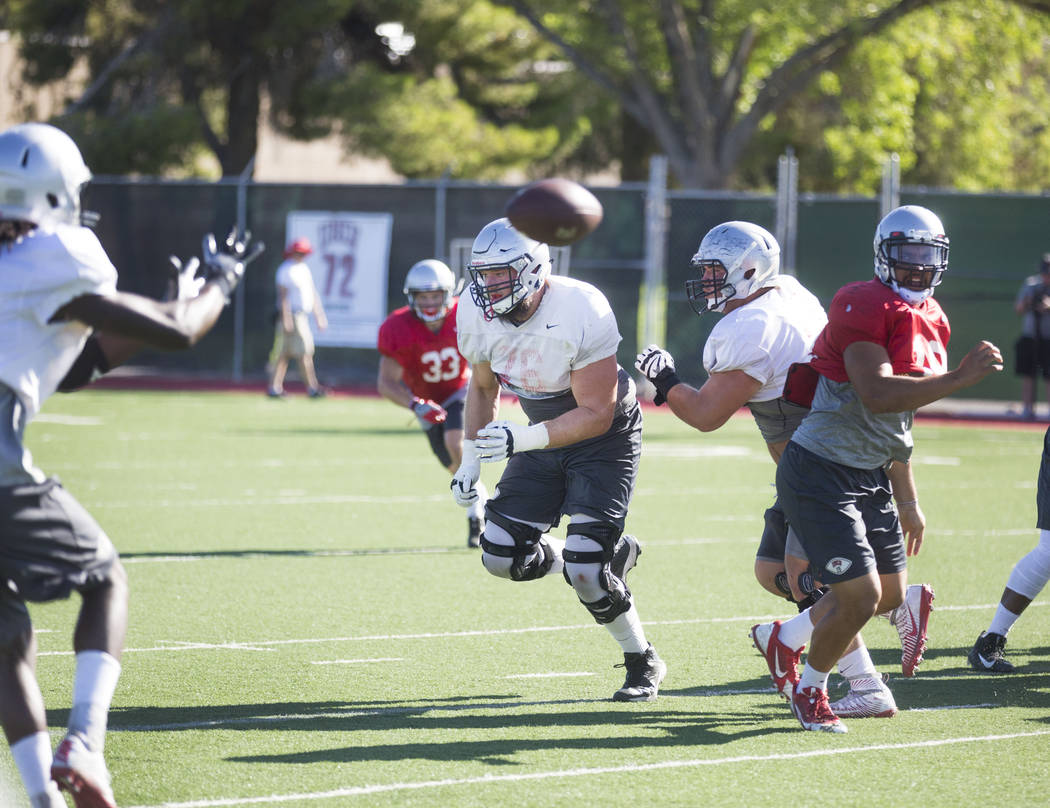 Kyle Saxelid was told to do something that would get most dietitians fired.
The UNLV offensive lineman needed to gain weight, which meant one dinner wasn't enough. He needed a second one around 9 p.m., a plate full of rice and steak or whatever was on the menu.
"It was pretty tough to start," Saxelid said. "The way my body worked, it just wasn't letting me at first, but my body finally started being a little nicer to me.
"As much as I love food, it gets to the point where you're kind of like, 'I've got to eat that still?' It can ruin some things for you. I don't like some food as much as I used to because I had to stuff it down, but in the end, it's not as hard as some practices we do."
Saxelid, at 6 feet 7 inches tall and 290 pounds, now looks like a prototypical offensive lineman, and he's an important one. The senior mans UNLV's left tackle position and is assigned to protect starting quarterback Armani Rogers' back side this season, which begins Sept. 2 against Howard at Sam Boyd Stadium.
Saxelid has been the starter since taking over as a redshirt freshman Nov. 1, 2014, against New Mexico. That he has not ceded the position speaks highly of his ability and resilience in overcoming the 30 pounds or so he initially gave up to defenders.
"He's a guy who probably got pushed in before he was ready," Rebels coach Tony Sanchez said. "Last year, you saw what type of player he could be, and now you've got all those guys coming around. Every one of these NFL scouts, he's one of the ones they ask about. It's a tribute to the work he's put in."
Becoming a Rebel
Previous coach Bobby Hauck signed Saxelid, taking a chance on an undersized linemen with a frame that could fill out.
"They originally brought me in as possibly a project kid," Saxelid said. "I wasn't expecting much, 240 pounds, but as I saw the way things were going and with the effort I was putting in, I saw they wanted me to be the next guy once (Brett) Boyko was gone. It happened a little earlier that everyone thought."
Hauck saw something else in Saxelid after he arrived, appointing him as the team's representative to the Student-Athlete Advisory Committee, a position he still maintains. As a member of the committee, Saxelid is the team liaison to the NCAA. Along with bringing player complaints to coaches, part of his job is to chart each week to make sure UNLV stays within the 20-hour limit.
"Sometimes players complain we're going over hours, and I'm like, 'No, we're really not,'" Saxelid said. "No coach likes to hear we're going over hours, but I have to do what I have to do."
He also made the American Football Coaches Association Good Works Team last season for his involvement in the community that included visiting homeless shelters and children in hospitals as well as volunteering for school programs. Saxelid, influenced by his family's philanthropic work, hopes to eventually run his own charity.
And he has made the All-Mountain West academic team three times. That intellect helped Saxelid to learn and adapt when he was outmanned because of his size.
"It teaches you, you better win with technique and you better win with effort," offensive line coach John Garrison said. "And that's what he did. That's what he's done for the last two years. He understands play concepts, not just, 'OK, I'm taking a step this direction and blocking this guy.' He understands what we're trying to achieve offensively and plays within that."
Saxelid was willing to do anything to get on the field and succeed, even if that meant eating to the point where he no longer enjoys some sweets the way he once did.
"He's not one of those guys that naturally gains weight," Garrison said. "He was a 230-pound guy out of high school. His eating habits had to be part of his training, not because he was hungry. He had to eat when he wasn't hungry."
Saxelid is no longer the skinny lineman who looked as if he belonged at a different position. He's where he should be playing, his confidence level having risen with his weight gain.
"I know what I'm doing, and I know what I can do," Saxelid said. "I know what needs to be done. I just feel like I'm prepared to play."
Contact Mark Anderson at manderson@reviewjournal.com. Follow @markanderson65 on Twitter.
Kyle Saxelid file
Position: Offensive left tackle
Year: Senior
Noteworthy: He has started the past 29 games.
Honors: Member of the 2016 American Football Coaches Association Good Works Team; football team's representative for the UNLV Student-Advisory Committee; three-time selection to the Academic All-Mountain West Team.