UNLV looks to put spark back into season at San Jose State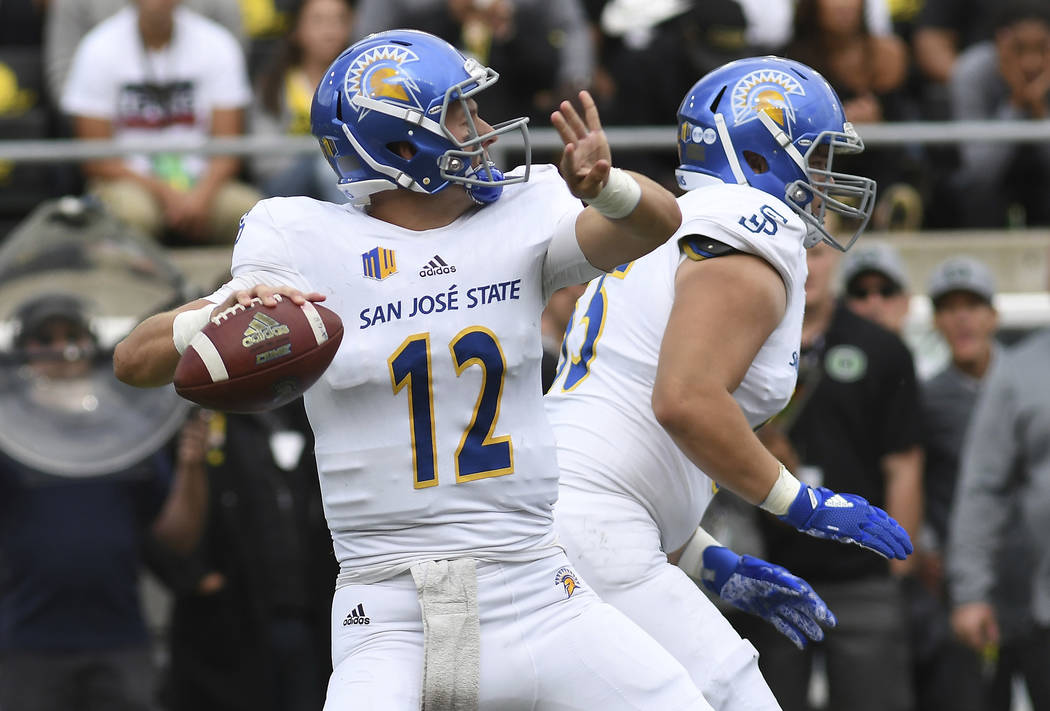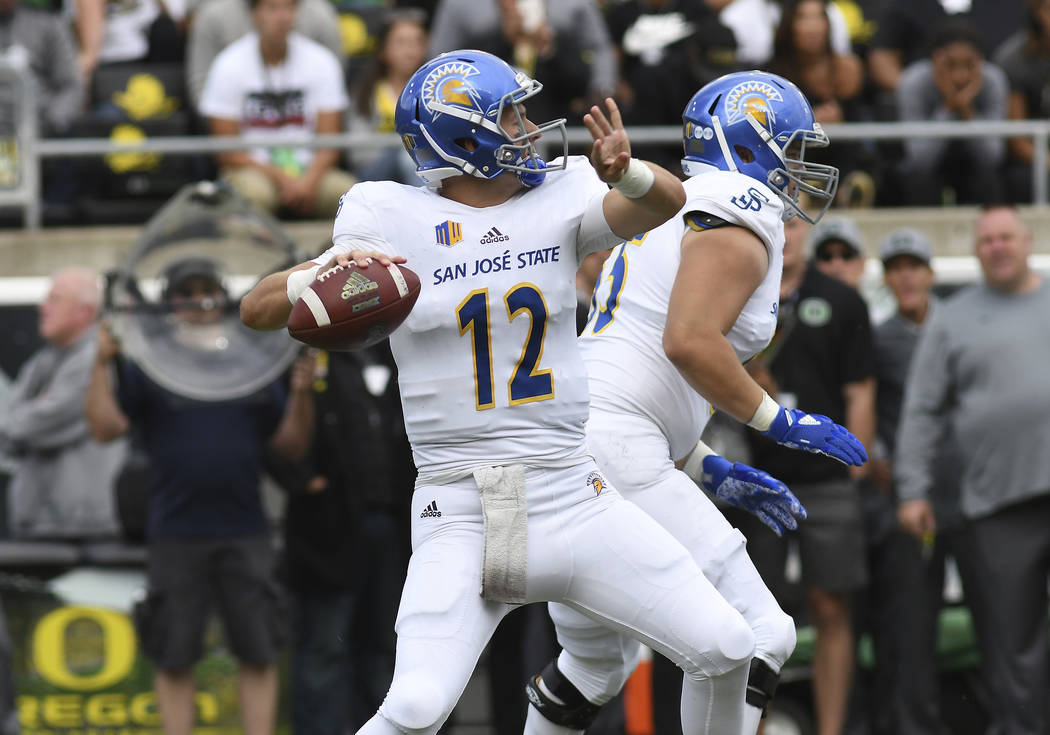 San Jose State was supposed to be one of UNLV's assumed victories, a mere speed bump on the way to what the Rebels hoped would be a bowl appearance.
Now the Spartans, yes the winless Spartans, instead represent just how disappointing and frustrating UNLV's season has become.
UNLV opened the week as a 1½-point favorite, but the line moved 4½ points in San Jose State's favor. Just the fact the betting line is anywhere close to a pick is alarming for UNLV (2-5, 0-3 Mountain West) as it tries to end its four-game losing streak.
The teams meet at 3:30 p.m. Saturday in San Jose, California, with AT&T SportsNet televising.
"We're searching right now," UNLV coach Tony Sanchez said. "Obviously, it's been a tough bunch of weeks in a row, and we've got to find ourselves."
UNLV has good reason to be concerned about the Spartans (0-7, 0-3), who have come close to breaking through in losses of 44-41 in five overtimes to Hawaii, 42-30 to Colorado State and 16-13 to San Diego State.
Spartans quarterback Josh Love, who averages 249 yards passing, could give an injured UNLV secondary problems. Strong safety Evan Austrie (knee) is out, and cornerback Jericho Flowers (hamstring) is questionable, meaning the Rebels could go with two first-time starting defensive backs. It's far from ideal for a UNLV defense that allows 240.9 yards passing.
The Spartans, though, average only 52 yards rushing, 1.6 per carry.
"If you're playing a team that's struggling to run the ball, you want to make sure they're continuing to struggle to run the ball," Sanchez said. "So that's going to be the challenge for us. Can we make them one-dimensional and throw the ball? I think for them going into the game, like any game, you want to establish the run and throw the ball from there."
UNLV will try to take advantage of San Jose State's own pass defense troubles. The Spartans allow a 261.1-yard average, and Rebels quarterback Max Gilliam is settling into the position after replacing Armani Rogers (toe) a month ago. Gilliam has thrown six touchdown passes over the past six quarters.
More than that, Gilliam is getting the ball out quicker; he was sacked twice a week ago by Air Force, showing more of a comfort in the offense.
"I've been comfortable the whole time, but definitely some experience helps knowing the decisions that didn't work and learning from it," Gilliam said.
It's an offense that has changed dramatically from a run-first attack under Rogers to one that emphasizes the pass. The Rebels haven't abandoned the run, rushing for a combined 293 yards the past two weeks, but it's not the high production from early in the season
If Gilliam continues to improve, however, that should create more opportunities for Lexington Thomas and the other backs.
"If he keeps throwing the ball like that, (defenses are) never going to load the box and makes it easy for us to run the ball," Thomas said. "If Max keeps doing that, the running backs will be happy."
Two teams desperate for a victory meet Saturday in San Jose.
It's not the situation UNLV envisioned before the season, but this is the Rebels' reality.
More Rebels: Follow online at reviewjournal.com/Rebels and @RJ_Sports on Twitter.
Contact Mark Anderson at manderson@reviewjournal.com. Follow @markanderson65 on Twitter.