UNLV loses 4th straight game, falls to Hawaii, 21-7
Updated November 16, 2019 - 6:34 pm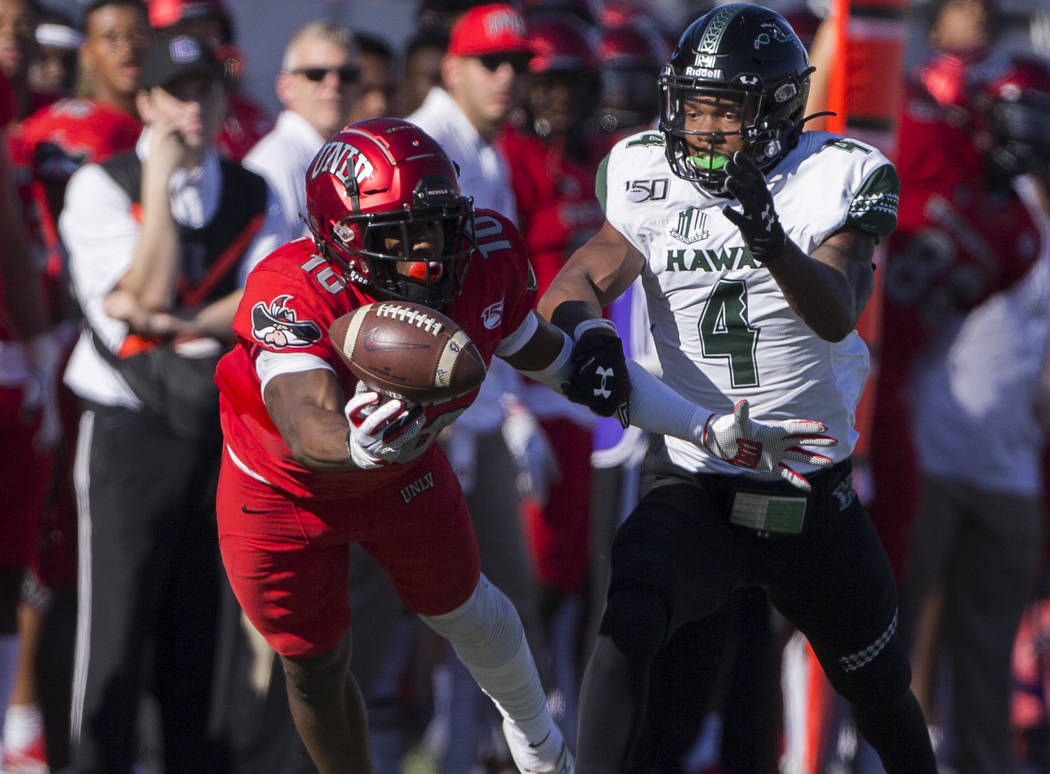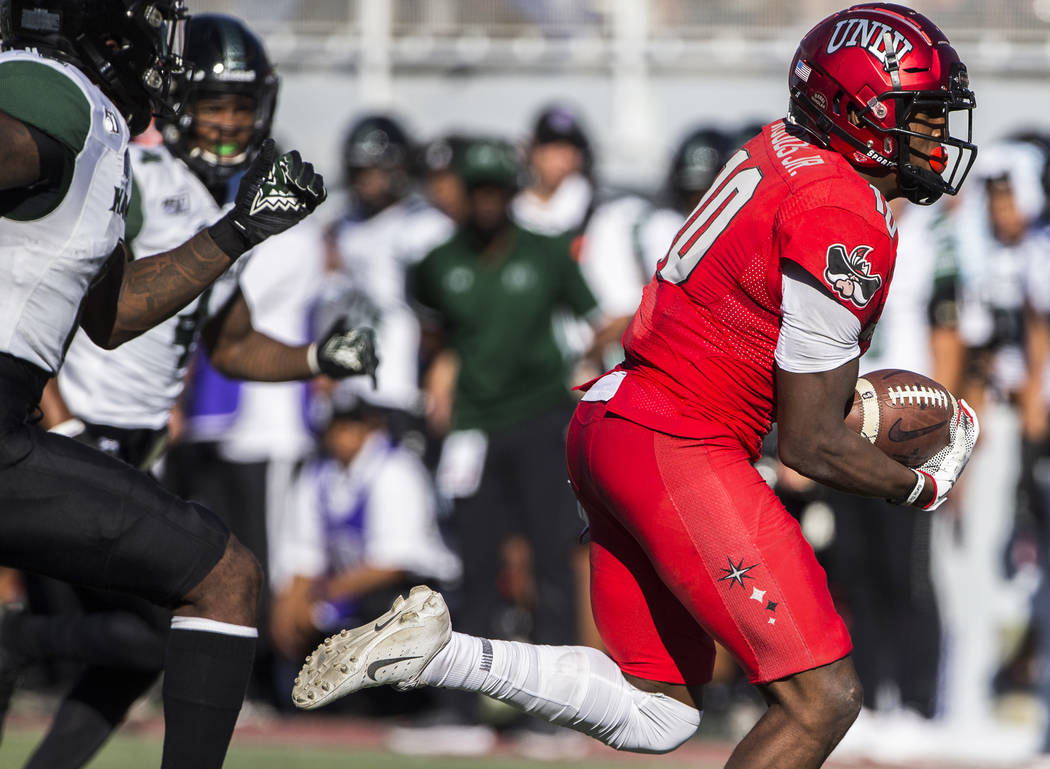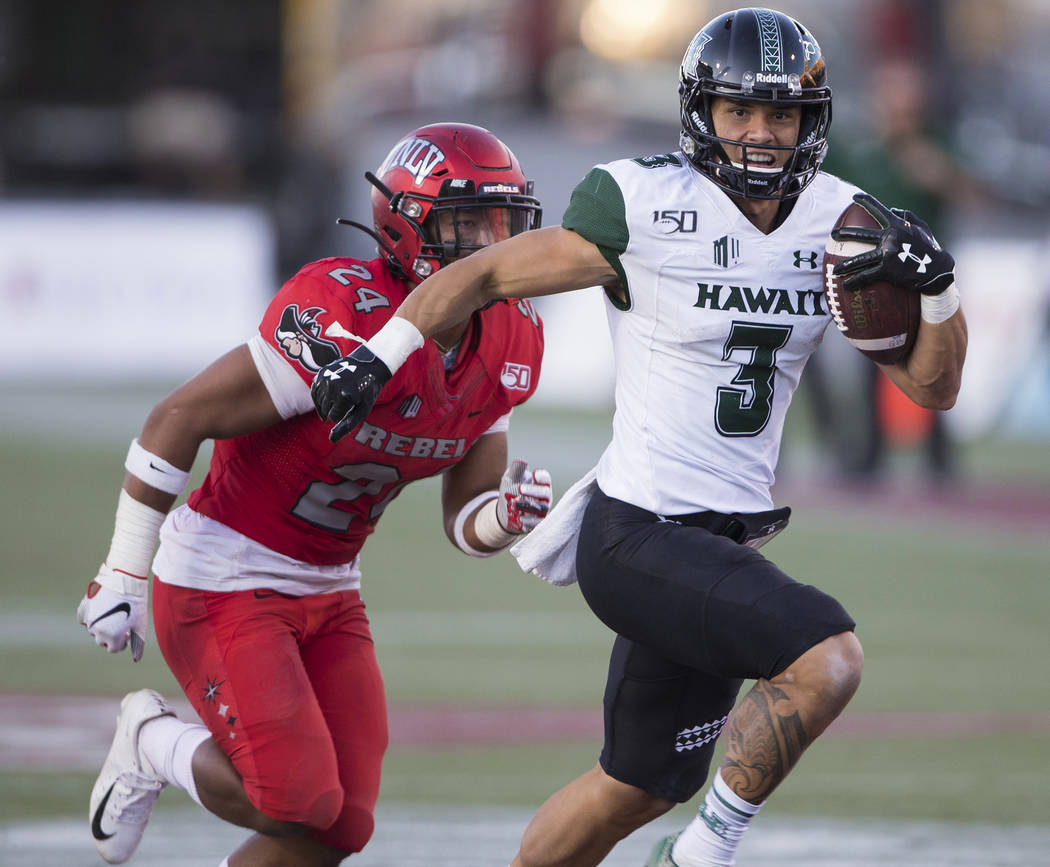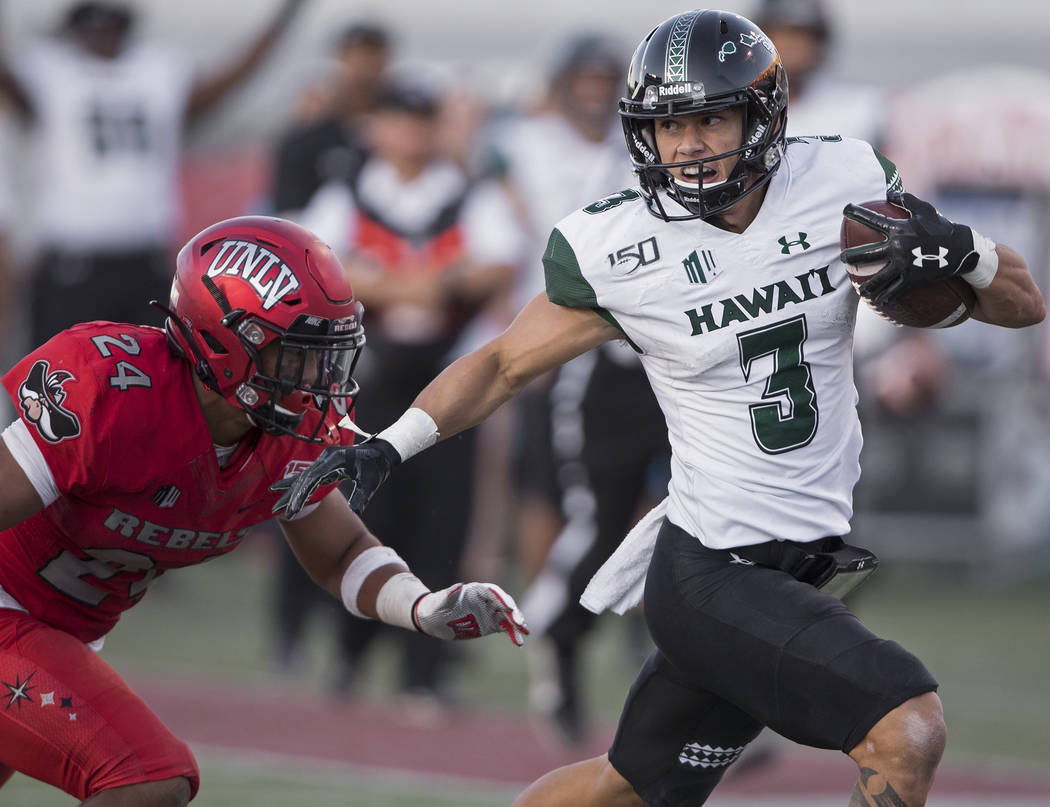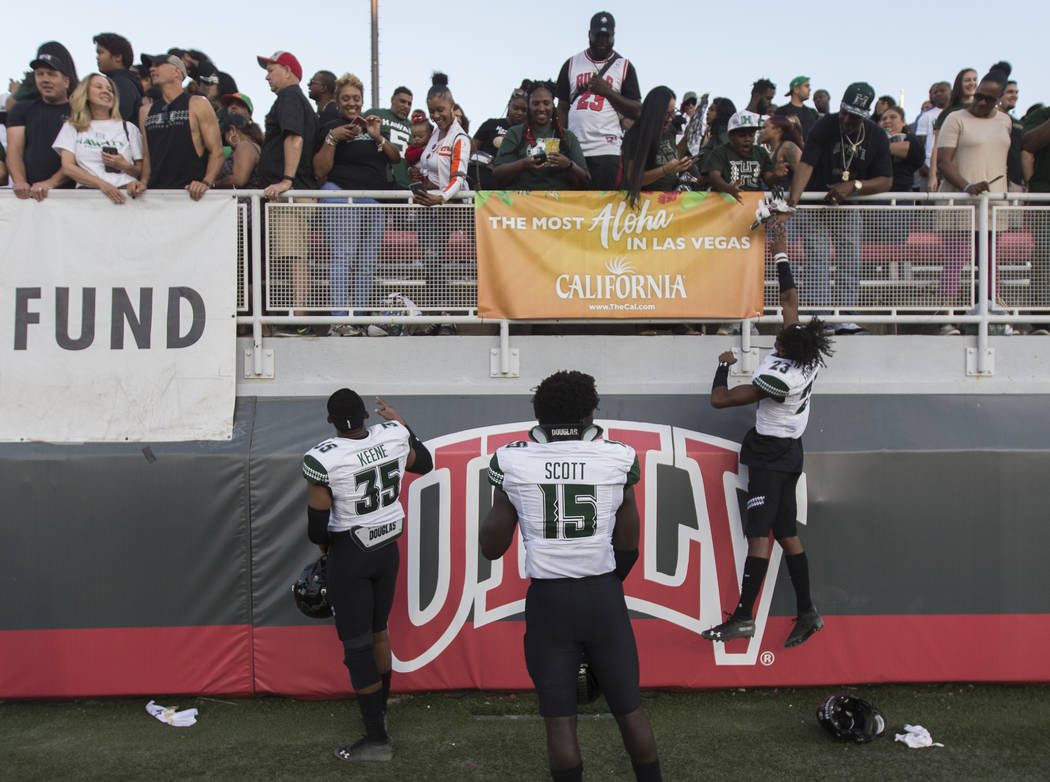 It was a role reversal for Hawaii's quarterbacks, but for UNLV, it was the same result.
A year ago, Chevan Cordeiro relieved a struggling Cole McDonald and threw three touchdown passes in the final 12 minutes to rally the host Rainbow Warriors to victory.
On Saturday at Sam Boyd Stadium, McDonald entered early in the second quarter for a mistake-prone Cordeiro and used his arm (211 yards passing) and feet (two short touchdown runs) to lift Hawaii to a 21-7 victory and retain the Island Showdown Trophy.
"When they made the change at quarterback, it wasn't really their passing game that changed a whole lot," UNLV coach Tony Sanchez said. "What changed was (the) quarterback run game. McDonald came in and did a really good job keeping the ball."
UNLV (2-8, 0-6 Mountain West) lost its fourth straight.
Quarterback Kenyon Oblad completed 10 of 22 passes for 118 yards with a touchdown. He also had an interception returned for a touchdown and forced another pass into tight coverage that was picked off in the end zone.
"Our passing game never really connected," Oblad said.
1. Can't ask for more from UNLV's defense.
Hawaii was averaging 37.3 points, topping 30 points eight times, but UNLV's defense forced three takeaways and allowed two offensive touchdowns.
"I thought the defensive effort was absolutely outstanding," Sanchez said. "That's some of the best defensive football we've seen against a really explosive Hawaii team."
UNLV played nickel defense throughout the game, shifting Javin White from linebacker to defensive back, and didn't give much thought to pressuring the quarterback. The Rebels, instead, flooded the passing lanes.
But UNLV's defense couldn't overcome its own offensive woes.
"I felt like (Hawaii) stayed composed," said Rebels cornerback Jericho Flowers, who intercepted two passes. "If something bad on offense happened, we let it get to us and the team as a whole."
2. End is in sight.
UNLV has two games remaining — next Saturday against San Jose State and Nov. 30 at UNR. A team six games under .500 usually wouldn't have much incentive, but the Rebels have plenty of reasons to be motivated.
The San Jose State game will be the final one at Sam Boyd for the Rebels, who move to Allegiant Stadium next season. And the game against UNR with the Fremont Cannon on the line is always emotional.
And they can play for Sanchez, who probably is coaching his final games at UNLV.
3. Bring back the Warriors.
Hawaii (7-4, 4-3) became bowl eligible for the third time in four years, and the Warriors usually play in their hometown bowl. They probably will again in what would be an intriguing matchup with Brigham Young, but don't count out the Las Vegas Bowl.
Hawaii also will win the West Division if it beats San Diego State next weekend, further strengthening the case for Las Vegas, which has the No. 1 selection of the Mountain West, to invite the Warriors.
More than 8,000 Warriors fans showed up Saturday, and many live in Southern Nevada.
This is the final year of the bowl's affiliation with the Mountain West, and Hawaii has never appeared in the game.
More Rebels: Follow at reviewjournal.com/Rebels and @RJ_Sports on Twitter.
Contact reporter Mark Anderson at manderson@reviewjournal.com. Follow @markanderson65 on Twitter.