UNLV more a class act than many realize
September 4, 2014 - 9:01 pm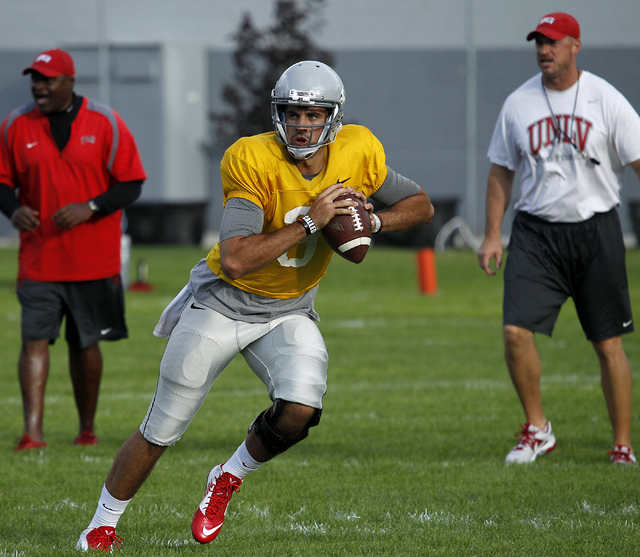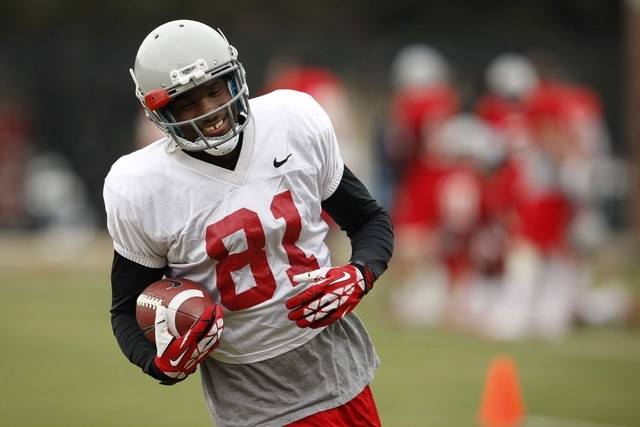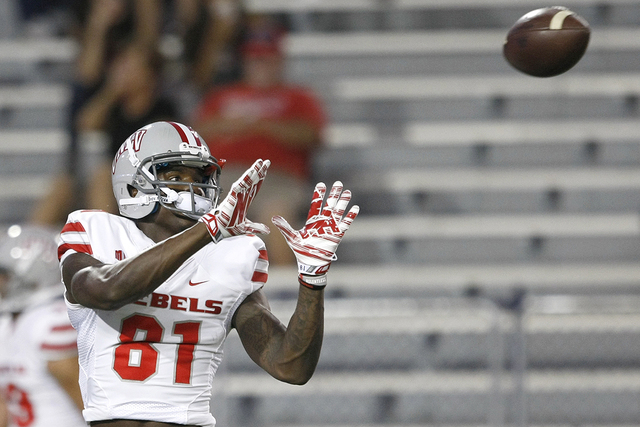 The hit UNLV's reputation took this year was harder than a wide receiver receives over the middle from a pumped-up linebacker.
UNLV had to announce in April its football team was ineligible to play in the postseason because of a low Academic Progress Rate score. And even though the school announced nearly two months later that the Rebels indeed would be eligible after getting the APR score up to the minimum 930, the damage had been done.
To most of the public, UNLV didn't make academics a priority.
But a different set of numbers shows otherwise. Ten Rebels are playing this season with degrees in hand, seventh-best nationally, though it should be noted two are senior transfers from Pac-12 Conference schools. Alabama and Boston College share the lead with 15 each.
Also, six more UNLV players are scheduled to receive their degrees in December, including senior wide receiver Devante Davis, who will be handed his diploma after just 3½ years. He is majoring in public administration.
"Graduating is something that's important to me," said Davis, who has three brothers and three sisters. "I want to be the first one to do it in my immediate family. It'll help teach the younger guys in my family it's important to graduate: 'If Devante can do it, we all can go do it.' I'm happy I'm close. I've just got to finish strong."
UNLV officials insisted even after the original APR four-year average of 925 came out that most of the players did the right thing, and these graduation figures underscore that message.
Those numbers also show the NCAA might have a problem on its hands regarding how the APR is calculated. If a school such as UNLV can be among the national leaders in graduating its players, how can it nearly be banned from the postseason based on a score that tracks such measurements?
"Our guys are graduating and doing a good job," coach Bobby Hauck said. "Certainly, that wouldn't be the perception when we had the near-miss on the APR, but the APR isn't about the guys that are here. It's about the guys that aren't here. The guys that are here are getting good GPAs and going to school."
The 10 players who have degrees are taking master's classes as they play this season and, more immediately, prepare for Saturday's 7 p.m. game against Northern Colorado at Sam Boyd Stadium.
Backup quarterback Nick Sherry is listed as a junior in terms of athletic eligibility, but he is one of those degree holders. He graduated in just three years with a degree in political science.
"Time management," Sherry said of how he was able to graduate so quickly while also playing football. "Go to football, go home and do the homework. It's a lot studying, but it's nice when you graduate, so it's worth it."
Offensive tackle Brett Boyko took 3½ years to get his degree in psychology.
"You come here, and school's a priority," Boyko said. "Obviously, that (degree is) something they can never take away from you."
Davis, Sherry and Boyko told a similar story of how they were able to graduate in such a quick period given that many in the nonathletic student population take five years before being able to shake the university president's hand.
Football actually helped speed the process because it's become a year-round sport. Instead of scattering to their various homes and finding part-time jobs, players stay in Las Vegas over the summer to go through offseason conditioning so they're in shape by the time training camp opens. By doing so, they also take classes and get a jump on getting their degrees.
But they also have to do school work during the season, which is difficult because of the time demands that go into preparing for a game each week.
They made academics a priority, and the success of so many players will surprise those who believe — and might continue to believe — graduating players is an afterthought at UNLV.
"It's the guys that are washed out and refuse to work at their degrees are the ones the team gets held accountable for," Hauck said, "and that's kind of a shame."
Contact reporter Mark Anderson at manderson@reviewjournal.com or 702-387-2914. Follow him on Twitter: @markanderson65.