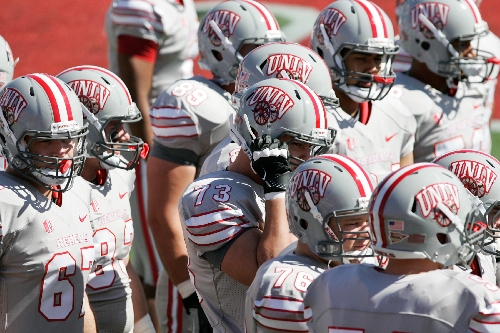 UNLV's football team went into halftime of its Oct. 13 game against UNR with 31 points on the scoreboard, and the Rebels seemed certain to reach the 40s or even the 50s.
Their offense was rolling, having scored more than the 30 points for the third time in four weeks – this time reaching that number in just one half.
But then the scoring stopped. The Rebels' once-potent offense has scored three touchdowns in the past 10 quarters, including only one in the second half against the Wolf Pack.
UNLV (1-8, 1-3 Mountain West Conference) needs to quickly find its offense as it enters a season-ending four-game stretch against what should be beatable teams. The first of those games is at 1 p.m. Saturday against New Mexico (4-5, 1-3) at Sam Boyd Stadium.
Coach Bobby Hauck said following Saturday's 24-13 loss at San Diego State that numerous injuries to the offensive line are the main reason for the scoring downturn. Left tackle Brett Boyko (leg) didn't play in that game, and guard Doug Zismann suffered an unspecified injury late in the third quarter.
Hauck said Monday he didn't have any updates on their status, and UNLV releases it weekly injury report today.
The injuries have revealed the lack of depth on UNLV's line, with the Rebels forced to play incoming freshman Ron Scoggins and walk-on Brad Overand.
Hauck said the problems caused by a lack of depth aren't surprising, noting coaches often are able to get through an entire season with the same five starters on the line.
"It's not a position that generally you take a bunch of hits and have attrition, but we have," Hauck said. "So you plan for it as best you can."
Uncertainty about when a starter will be able to return makes it difficult to determine who gets the most repetitions in practice, Hauck said.
"That's the conundrum we're in right now, and I don't see any way out of it really, other than just keep going," he said.
Especially given the line's difficulties, coaches could open up the playbook.
Hauck said San Diego State's blitzing and disguise-filled 3-3-5 defense created unique problems. He also wanted to make sure quarterback Nick Sherry was protected, and kept a running back in the backfield.
UNLV has the talent to become more wide open. Running backs Tim Cornett and Bradley Randle have big-play ability, and finding ways to get them into the open field could put pressure on opposing defenses.
Well-timed screens also could force linebackers and safeties to back off.
"We're always going to have some plays that are up and ready to go," Hauck said. "If we get to them, we get to them. If we can't, we can't. Last week's not a great example of that because (the Aztecs are) pretty different in what they do, so you have to constrict rather than expand your call sheet. But I'd anticipate we have a pretty long call sheet on the offensive side of the ball this week to try to take advantage of what they show us."
UNLV needs Sherry to build on his second half at San Diego State and resume his record-breaking pace. He completed 9 of 11 passes for 99 yards in the second half to overcome a slow start.
"He's got a unique ability to right himself in games," Hauck said. "One of the things I think as he matures more is we'll have fewer incidents of being streaky in a negative connotation. I think he'll be more consistent, which will in turn help our offense to be more consistent."
Contact reporter Mark Anderson at manderson@reviewjournal.com or 702-387-2914. Follow him on Twitter: @markanderson65.