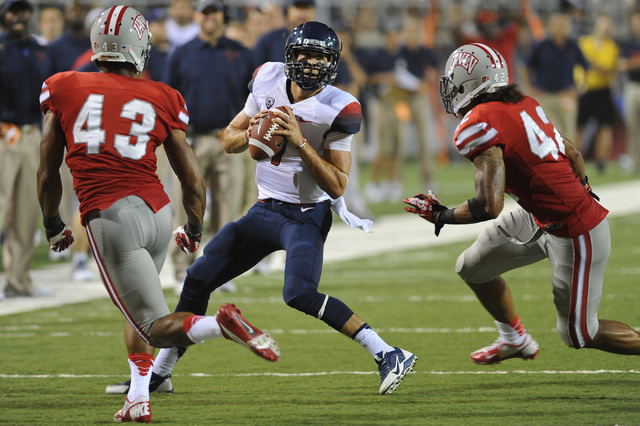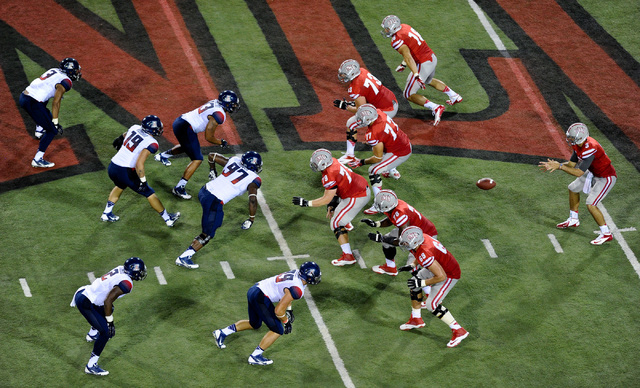 TUCSON, Ariz. — Boise State put its football program into the national conscience by beating big-name opponents and appearing regularly on Friday night on ESPN.
With little other competition in the sports world on those nights, the Broncos took advantage of the opportunities by winning routinely.
UNLV has just such a chance at 7:30 p.m. today at Arizona Stadium, though few expect the Rebels to do more than show up. They are 24-point underdogs to Arizona, but should the Rebels at least make the Wildcats earn the victory in the season opener, that could get the attention of a national audience on ESPN.
"We've got a tall task in going to Arizona and trying to beat a Pac-(12) team," UNLV coach Bobby Hauck said. "Arizona handled us a year ago, and we're well aware of that fact, like the way they handled Oregon and Boston College at the end of last season. So we've got our hands full with an awfully good football team, and to be in the game, we'll have to play our best game."
UNLV was never in last season's meeting, falling behind 45-6 by halftime in what became a 58-13 rout.
"We took a beating last year from their offense," Rebels safety Peni Vea said. "We've got to go in there and play as one."
Maybe the Rebels can catch an Arizona team believing tonight's game will play out much like that one. Wildcats coach Rich Rodriguez said he wasn't concerned about his team overlooking UNLV because it is the opener, and the players have the 2013 game in proper perspective.
"The guys that played in that game last year know it was one of those crazy games where everything that could go wrong for them early went wrong, and everything that could go right for us went right," Rodriguez said. "So there was a lot of luck involved, particularly in the first half where things were kind of bouncing our way."
Both teams enter tonight's game with questions, each needing to replace a quarterback and running back who led them to bowls last season.
The Rebels go with junior college transfer Blake Decker at quarterback, and will use a committee system at running back, with David Greene and Keith Whitely listed as co-starters. Arizona also plans to use multiple backs, and redshirt freshman and Bishop Gorman High School graduate Anu Solomon receives his first start at quarterback.
Rodriguez created the run-based zone-read offense, and the Rebels failed to properly defend it last season in giving up 397 yards rushing. But UNLV incorporates the zone read in its spread offense, so the Rebels' defense gets to see it in practice on a regular basis.
When Solomon runs the option, "we have to learn to be patient," UNLV defensive end Siuea Vaesau said. "Don't close your hips and turn so you can play both (pitch and quarterback keeper). It's pretty much the same plan as last year."
Few expect the Rebels to give Arizona much of a game, let alone win.
Hauck and his players have been relaxed all preseason, though, including this week. They believe they have a good team, and that's half the battle.
Hauck even took a dig at former Rebel and current Arizona backup running back Adonis Smith on Monday, something the coach didn't do in prior years, particularly the week of a game.
UNLV has a chance tonight to grab national attention and follow Boise State's lead. The Broncos won their first 15 games on ESPN or ESPN2, and since 2004 have gone 16-7 in games on Friday on either network.
"I like our team," Hauck said. "I think we'll have a good season. I think for the first time we have some depth. We've got guys that are experienced at almost every position. I think we're a more complete team than we've been.
"But going to Tucson and winning is going to be a tall order."
Contact reporter Mark Anderson at manderson@reviewjournal.com or 702-387-2914. Follow him on Twitter: @markanderson65.
UNLV @ ARIZONA
TIME: 7:30 p.m. Friday
LINE: Arizona -24; total 60
TV: ESPN
RADIO: KWWN (1100 AM, 98.9 FM)
Check our GameDay page for all the news leading up to the Arizona game.