UNLV prepares for Northern Illinois' dual-threat QB Hare
August 28, 2015 - 7:30 pm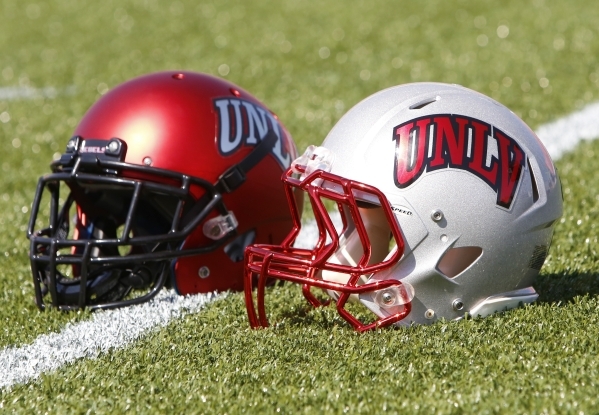 Northern Illinois junior Drew Hare is the kind of dual-threat quarterback who has given UNLV fits in the past several seasons.
He passed for 2,322 yards and 18 touchdowns last season, with two interceptions. Hare also was the Huskies' second-leading rusher, gaining 900 yards and scoring eight times on the ground.
The Rebels face Hare and the Huskies on Sept. 5 in DeKalb, Ill.
"He's a heck of a leader, and he has the ability to extend the play," UNLV coach Tony Sanchez said. "He's a dynamic runner with the football, and you've got to be concerned about that."
But for UNLV, at least, the Rebels have an extra week to prepare.
The beginning of the college and NFL seasons revolve around Labor Day, which is later than usual this year. UNLV typically would have been preparing for a game this week, so the Rebels have what amounts to a bye with this being the latest start to their season since 2009.
UNLV's past three seasons began in August, so Sanchez said the extra week allows the players to understand the new coaching staff's game-week routine.
"So you're not doing all of that the week of that first game," he said. "Then you get the second week to do it over, so it's a good thing."
BY THE BOOK — The players will take part in a rules seminar with officials today.
Several new rules that take effect include:
— The center judge will be added, making it an eight-person crew.
— A player found to have illegal equipment must sit out at least one play. Teams were charged a timeout in prior seasons.
— The referee will temporarily stop the game clock and reset the play clock to 25 seconds if officials have difficulty getting a ball from the sideline.
— If a defensive player's helmet comes off, the play clock is set to 40 seconds rather than 25. It remains at 25 seconds when it's the offensive player at fault. The change is so a defender won't purposely remove a helmet if the offense is trying to run out the clock.
— A player who pushes or pulls another player off a pile will draw an unsportsmanlike conduct penalty.
— Sideline warnings are back for when players or coaches go into the restricted area the first time. It had been a 5-yard penalty for the first offense.
— Instant replay will be used to determine if the kicking team on an onside kick blocks an opponent before the ball travels 10 yards, which would be a penalty.
GETTING STARTED EARLY — If you want to attend a practice at Rebel Park, don't wait until the afternoon.
Sanchez has his players working out in the mornings during the season, a departure from what previous UNLV coaches have done.
Though believed to be the first UNLV coach to try morning practices in season, Sanchez is not the first nationally.
"I never met one coach that went to the morning went back to the afternoon," Sanchez said. "I think it gets us rolling. A couple of weeks from now, we're almost two hours into kickoff (9 a.m. PDT Sept. 19 at Michigan).
"No. 1, it gets the kids up. It get some food in their belly. We get them into meetings. We practice. They leave here at 10:30. We make sure that they're eating right, so we make sure that they have lunch in them. And then everyone's in class on time. They have a chance to be a regular college kid, too."
INTERESTED SPECTATORS — Former UNLV running back Frank Summers, wearing Buffalo Bills shorts, showed up at practice Wednesday. Summers, who rushed for a combined 1,668 yards in 2007 and 2008 at UNLV, spent the past two seasons with the Bills. He now is a free agent.
Also, scouts from the Houston Texans and Kansas City Chiefs were at Rebel Park.
Contact Mark Anderson at manderson@reviewjournal.com or 702-387-2914. Follow him on Twitter: @markanderson65.